Stronga CommandSteer™ Innovation - The Forefront of Steering Technology
The Stronga CommandSteer™ steering axle can be fitted across the entire Stronga trailer range from our tandem axle hook-lift trailers to our tri-axle dumpers.
Ultra-strong kingpins, powerful steering cylinders and a lot of intelligent hydraulic technology is applied to our highly reliable CommandSteer™ technology, offering the benefits of tighter turning circles and simple tractor exchange. Discover the list of other significant benefits offered by CommandSteer™ in this article. Learn more in the video below.
CommandSteer™ for…
Tandem Axle Stronga Trailers
In typical tandem axle CommandSteer™ situations, customers would usually only steer the rear axle but both axles can be operated with CommandSteer™ for improved outcomes. Discover below the significant benefits of investing in CommandSteer™ technology on tandem axle Stronga trailers:
• Stronga steering axles improve the manoeuvrability of the trailer when travelling forwards. The trailer follows the prime mover much better which can be particularly important in tight areas around farm buildings or in small villages.
• Better reversing manoeuvrability can also be vital when backing into smaller buildings, around corners or up to conveyors. Tractors and trailers are getting bigger; old farm yards are not; you need CommandSteer™ to accurately position your trailer in those hard to access spaces.
• CommandSteer™ delivers smoother ride and better overall comfort for the operator.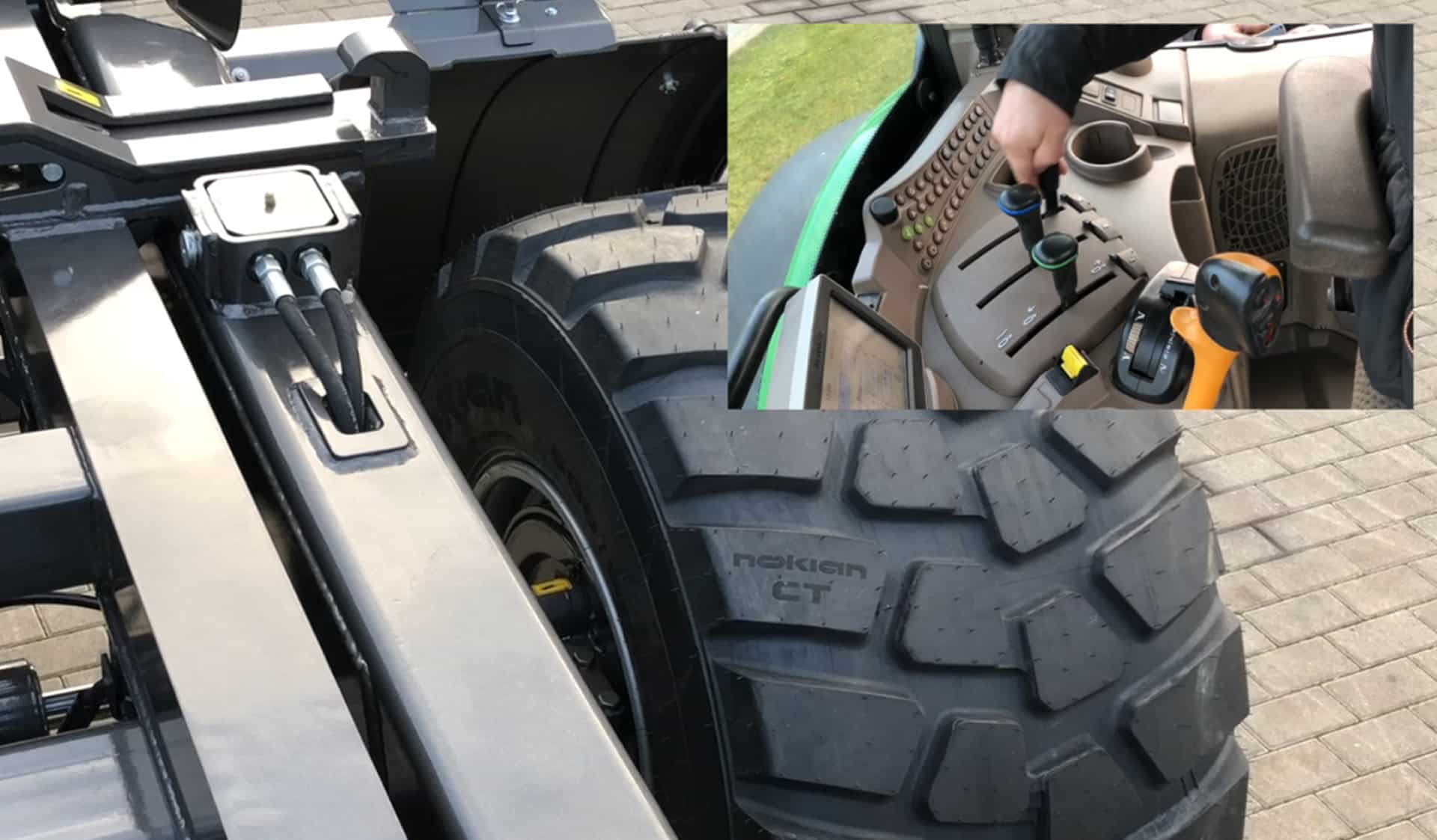 • What's more, CommandSteer™ also significantly reduces tyre scrub and wear, extending the life of the tyres and reducing unneeded operating costs associated with fixed tandem axles. CommandSteer™ savings really add up over time, particularly savings on front tyre scrub; big radial tyres create a large footprint contact surface area on roads and are expensive to replace.
• Reduced stress on wheels which leads to less risk of wheel cracking – extending equipment life and reducing costs.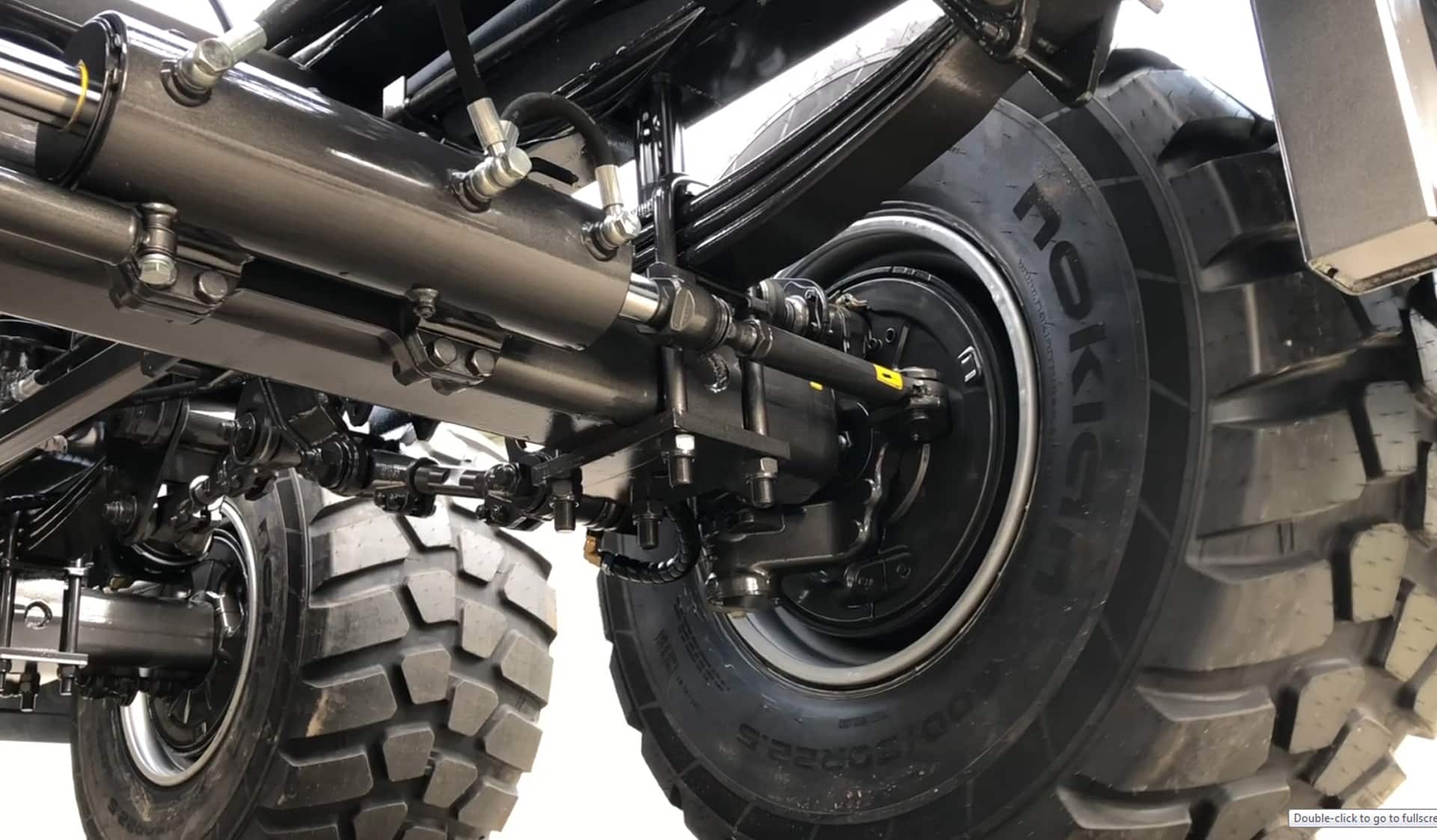 • Tractors and trailers are getting faster and heavier so forces are much bigger in modern arrangements. CommandSteer™ helps to reduce those stresses and scrubbing effects of tyres on hard surfaces.
• CommandSteer™ is much more road friendly than traditional positive steering solutions, leading to less road wear in corners.
• Less power is needed to pull the trailer, especially in cornering, so less fuel and CO² are consumed.
• Smaller tractors can be used so your transport system is lighter in the field. Reduced soil damage, less smearing in corners and less compaction offers a lighter touch to valuable field topsoil when you corner with steering.
• Less power is needed to pull the trailer. This is especially important on fields in wet conditions where CommandSteer™ can be the difference between getting stuck with all the downtime costs and frustration this causes. Cost to repair damaged soil can be huge.
• Reduced stress on trailer chassis, axles, stub axles, wheel bearings, tyre walls, and suspension parts. The overall effect of CommandSteer™ leads to a longer trailer life with lower operating costs.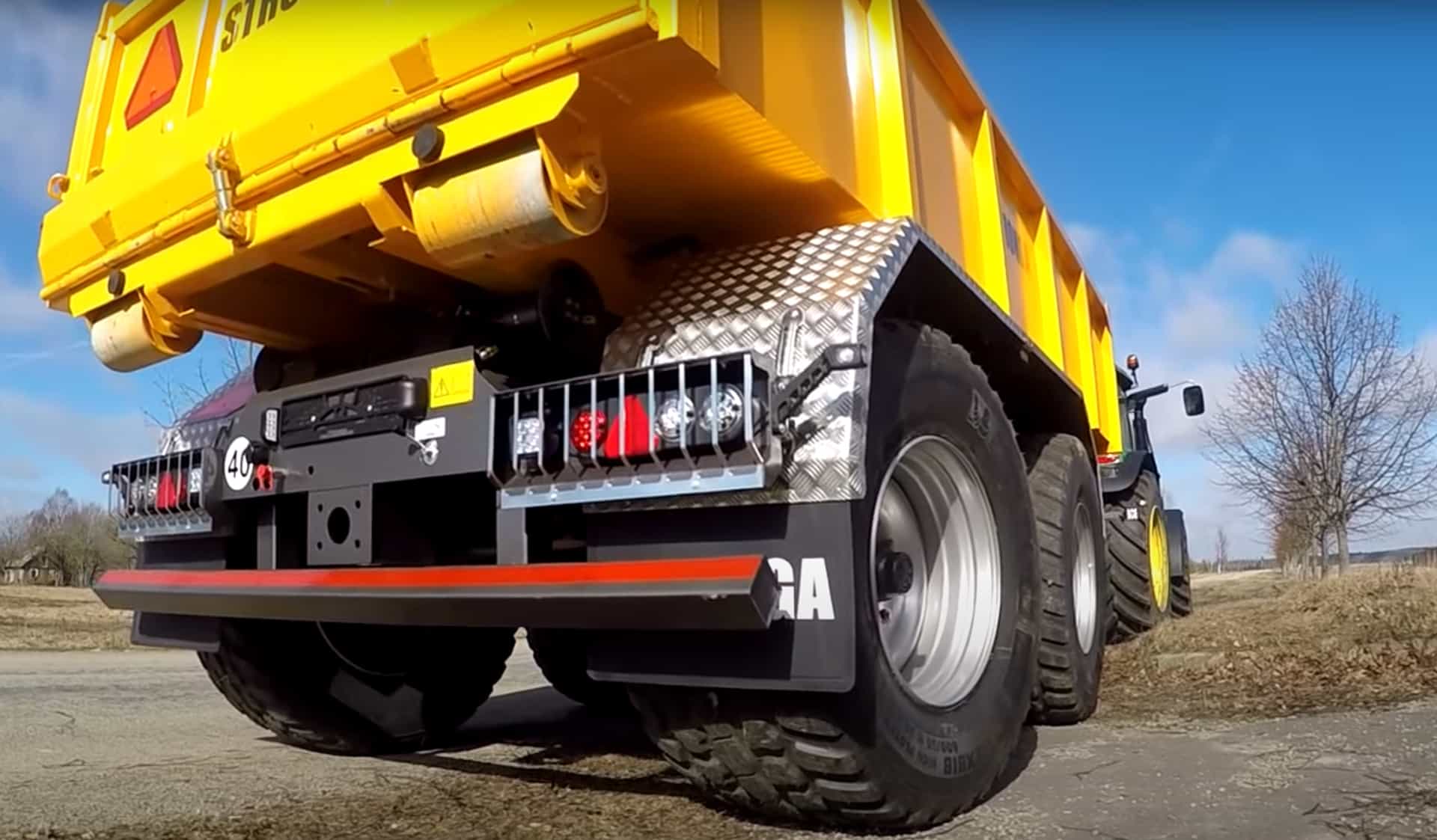 CommandSteer™ for…
Tri-Axle Stronga Trailers
CommandSteer™ steering technology becomes much more important on triaxle trailers where 3 fixed axles cause even more issues without the option to steer. Larger payloads with bigger, longer and heavier trailers lead to significantly larger forces than in tandem axle trailer situations. This makes CommandSteer™ all the more important.
Stronga will typically recommend front and rear steering to clients on triaxle models for optimal performance effect. CommandSteer™ is typically advised for the following trailer models:
HookLoada HL250, HL260, HL300
BulkLoada BL28-26 (pictured below)
DumpLoada DL1400HP
DumpLoada DL 1400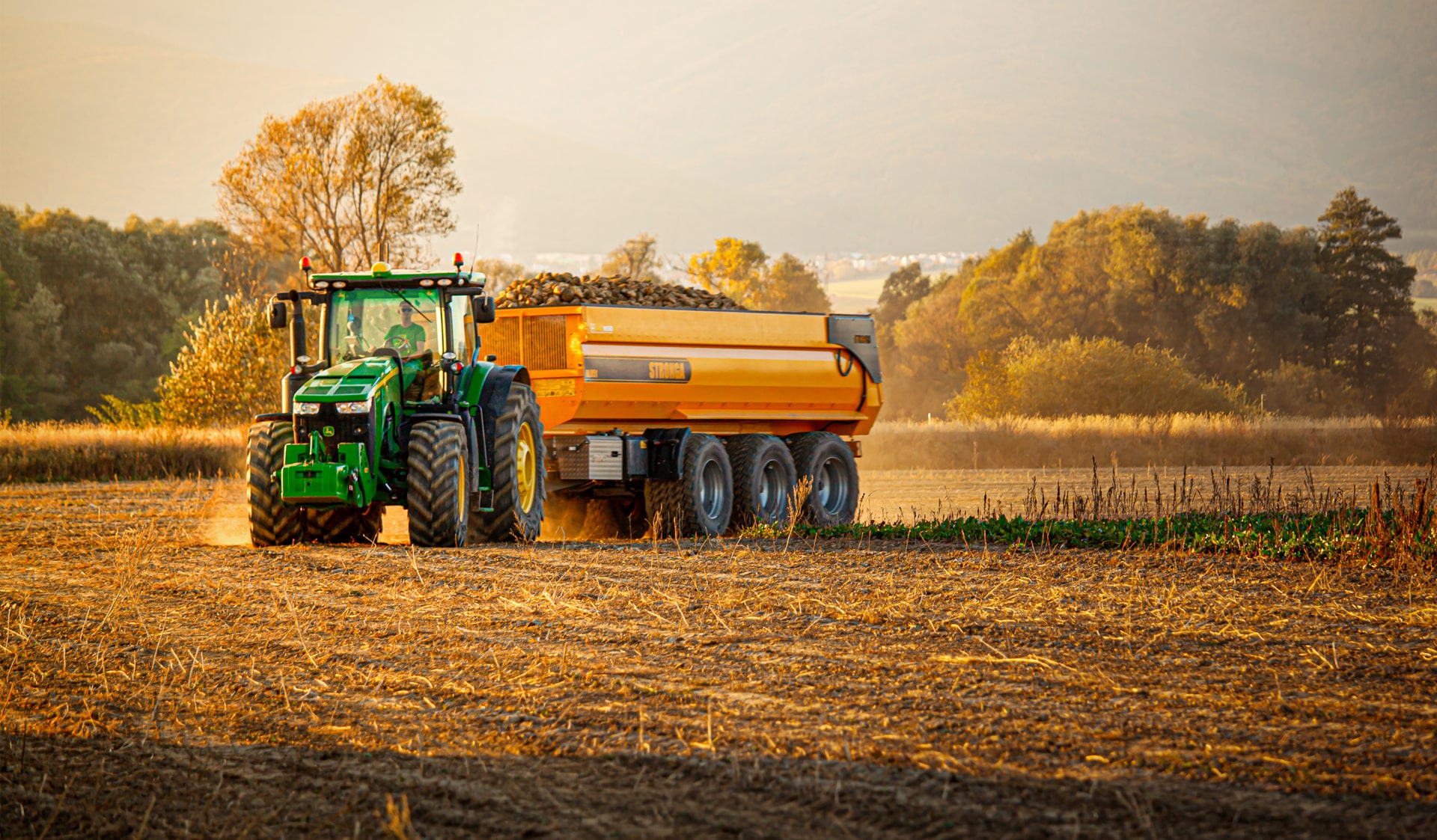 Discover the benefits of investing in CommandSteer™ for your Stronga triaxle trailer:
First, please note that all of the benefits stated in the above tandem axle section also apply to triaxle trailers. However, CommandSteer™ is even more vital in triaxle situations because the effect of each benefit is approximately 33% greater (potentially more). The following benefits are additional to those in the tandem axle section, and particularly noteworthy.
• Triaxle trailers are much longer so steering helps more in shortening the turning radius. This is clearly extremely important when you are taking your trailer into confined situations.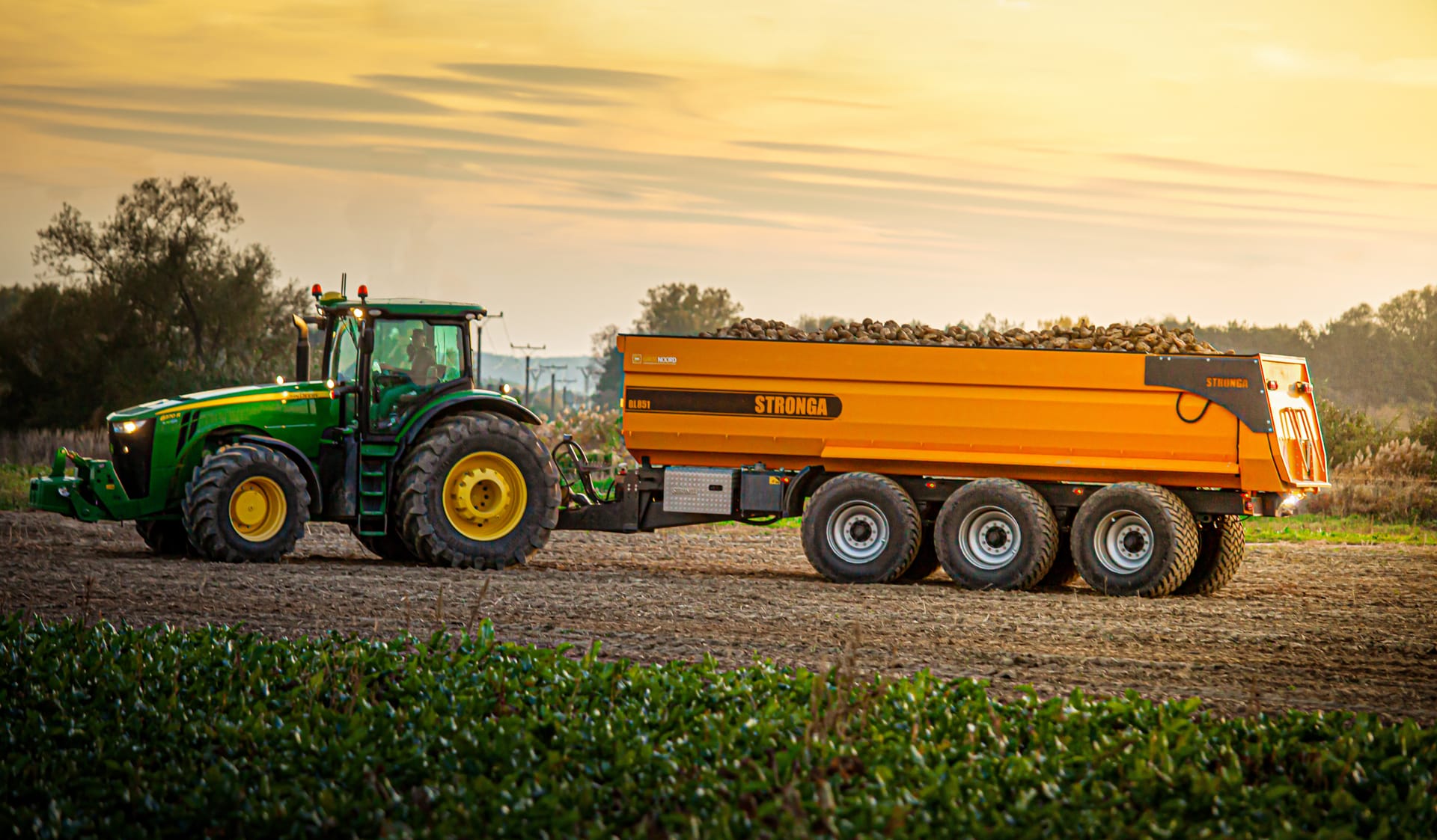 • Better reversing manoeuvrability can again be vital when turning in the road, around corners or on small work sites.
• Reduced tyre scrub and wear, extending the life of the equipment while reducing waste is especially important on triaxle trailers where there are 33% more components. Savings really add up over time.
• In total, CommandSteer™ has a much greater effect in triaxle situations where the extra axle accentuates the benefits listed above and in the tandem axle section of the article.

Traditional Positive Steering Solutions
Traditionally, the solution has typically been forced positive steering with a compensator ram fixed to the drawbar and a trailing arm fixed to ball socket on the tractor. CommandSteer™ delivers significant benefits over the traditional positive forced steering solution which has proven over the years to have issues in the following areas:
1. Trailing arms on the drawbar are vulnerable to impact damage from operator turning too sharply, causing the rear tractor wheel to strike the mechanism. All it takes is one in-experienced operator or one bad turn in forward or reverse to irreparably damage the arm, leading to immediate loss of steering capacity or even the inability to drive the trailer; this could be devastating if the damage was to occur at critical harvest periods.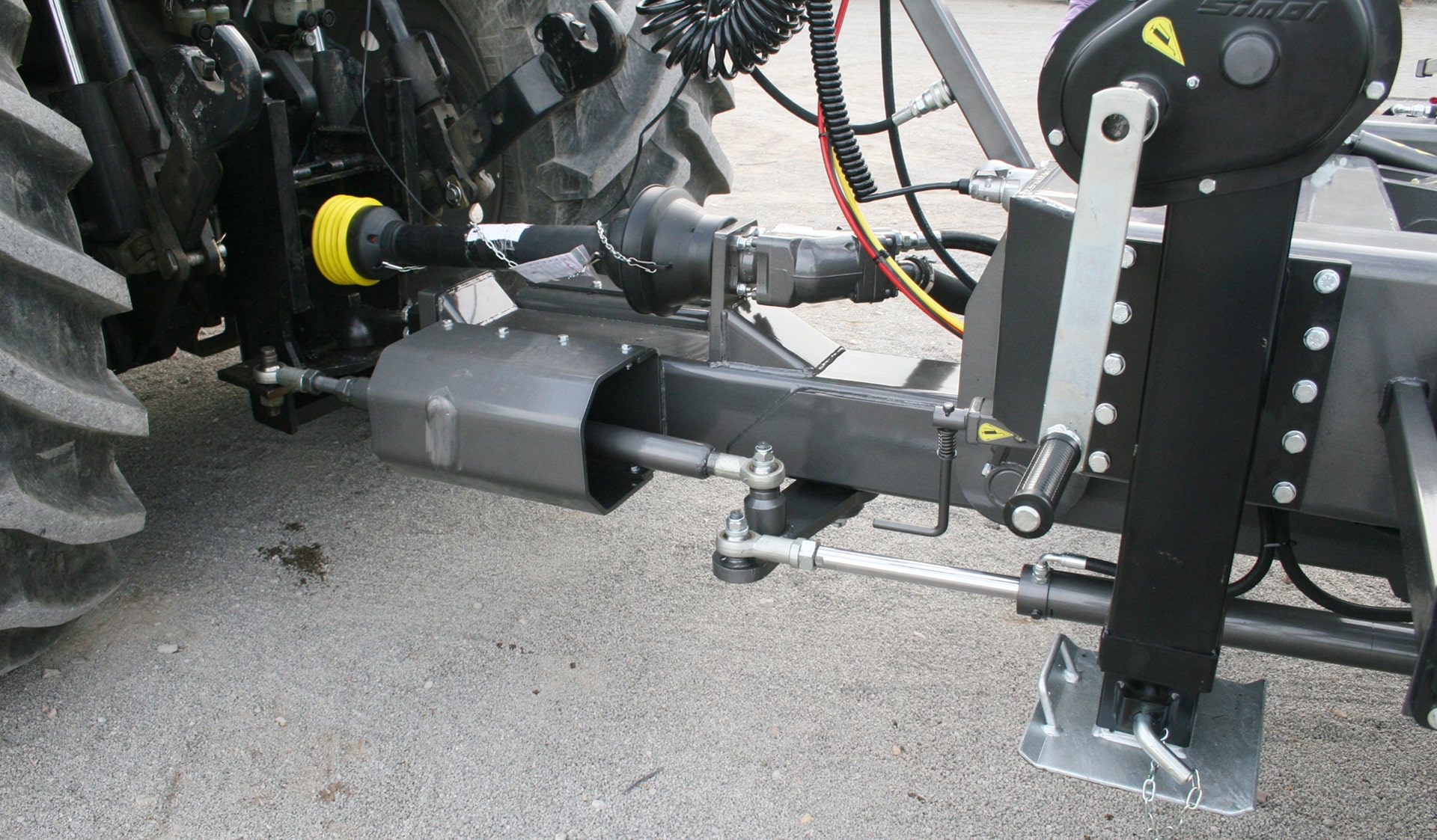 2. This type of bar operated steering is not universal and needs to be set up for each tractor. Swapping between tractors can cause issues in steering performance. Each time you swap tractors, steering needs be set up for the new geometry which is inconvenient and costly.
3. Each tractor needs to be modified with ball steering arms. This is a cost. Plus this can be a complex operation with different tyre and wheel base set ups.
3. Hitching and un-hitching the tractor from trailer is more complex with positive steering. Steering arms need to be aligned and fixed which is not the case with CommandSteer™.
4. In general, there is much greater complexity in the traditional, old style positive steering arrangement - Arms, ball joints and extra hydraulic cylinders - more wearing parts; More greasing and maintenance; More risk of damage; More weight (CommandSteer™ is much lighter).