Hook-lift is what we do
And it's what we always have done
At Stronga, we believe in the efficiencies that our world famous range of hook-lift trailers deliver. One multi-functional hook-lift can handle hundreds of applications when matched with appropriate containers, delivering improved efficiency and productivity for your transport business.
World-class containerised solutions
At the heart of Stronga is a specialist design team who have a passion for producing world-class containerised solutions for our hook-lift trailers. We care about what we do and take pride in our products, paying great attention to detail in producing quality hook-lift containers at affordable prices. We have the experience to assist customers in matching the size and type of each container for use across agriculture, waste, forestry and construction sectors.
Tailor-made containerised solutions
For your hook-lift equipment
Stronga have always offered a bespoke design service. We have manufactured an enormous variety of special-application hook-lift containers including, but not limited to, vacuum tankers, water bowsers, bulk containers, fire fighting units and plant-transportation flatbeds. Stronga's hook-lift containers are compliant with all hook-lift standards, including CHEM, DIN, AFNOR and Swedish.
In this day and age…
You need reliable, long life equipment
You want your hook-lift containers to last, and that is what you'll get with our long life, well-built solutions. We pride ourselves on our 'roll-on roll-off' containers; it's what we've done for decades, and it's a future we will continue to pioneer. From liquid handling to round wood forwarding, you can order your bespoke hook-lift container in a variety of types to suit your company and improve your image. We make sure that you get exactly what you need at competitive rates.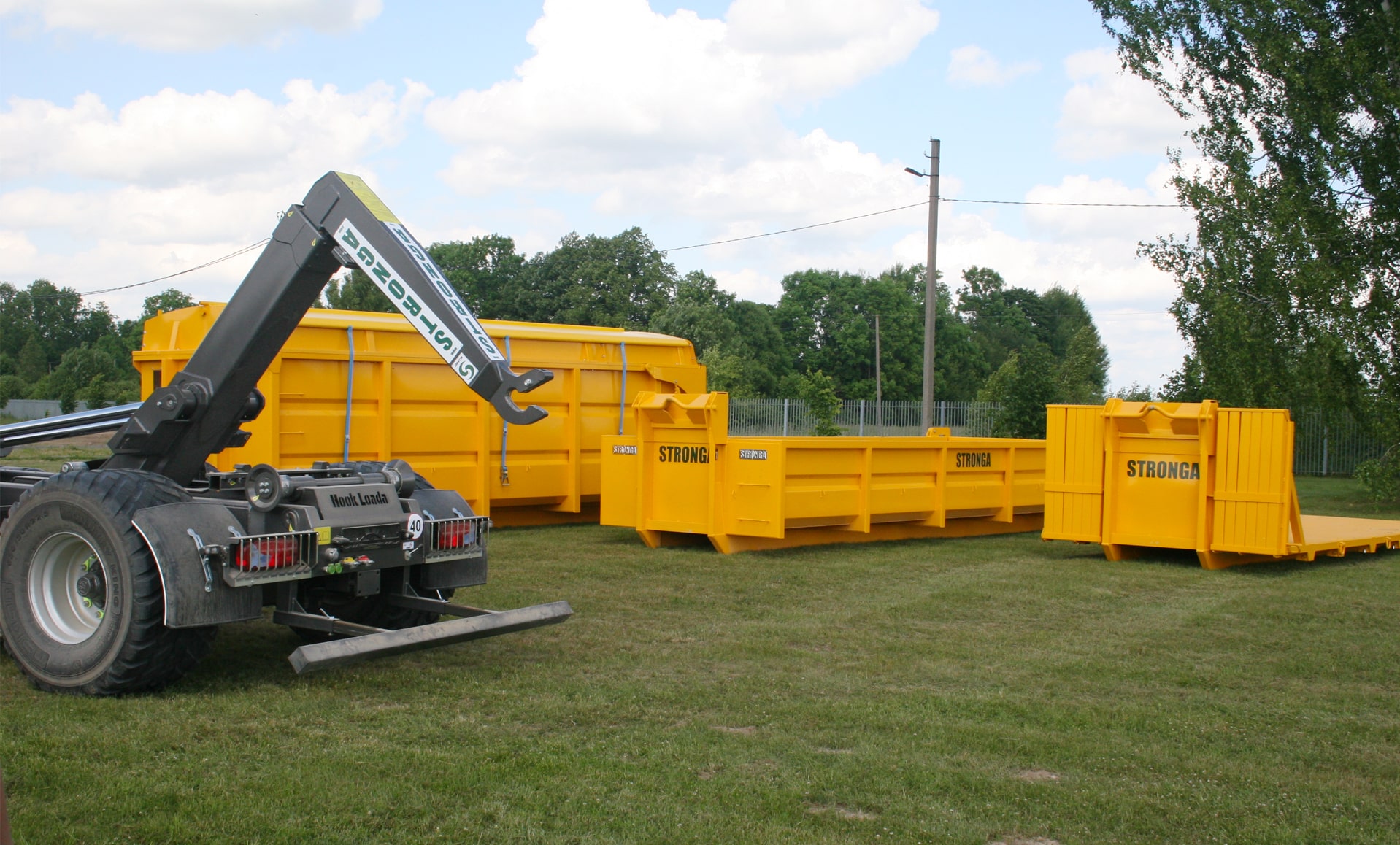 Bulk-cargo hooklift containers
Stronga build modern bulk hook lift attachments, giving our customers the competitive edge to get the job done to the best of their ability. Specifications, including the use of high strength steel and plate thickness, vary according to the duty of the container. See below some of the other hook-lift application opportunities made possible when you invest in a Stronga HookLoada trailer, starting with bulk cargo hooklift containers.
Heavy-cargo dump containers
An extremely durable container for transporting heavy materials in the quarrying, recycling and demolition industries, the hook-lift dumper container offers maximum strength and durability in a monocoque construction built using high strength Hardox 450 wear plates.
UniBowsa
Hook-lift liquid bowsers
The UniBowsa range of high quality polyethylene tanks are purpose-built for agricultural, industrial and commercial usage. We sell a comprehensive range of liquid bowsers, allowing the user to choose a size and type that suits their individual liquid handling operation.
ISOLoada
Hook-lift ISO skeletal frames
Stronga manufacture an extensive range of ISO skeletal frames, flatbeds and plant carriers in various lengths and duty ratings. ISOLoada represents one of the most versatile and economic pieces of equipment available with a vast range of uses and applications.
| Model | ISOLoada | UniBowsa |
| --- | --- | --- |
| Colour | | Black |