Smarter approach to road maintenance
Save thousands in costly road repairs year-after-year with the premium-level Stronga RoadGrada, allowing you to maintain your own surfaces when you want and with little-to-no extra materials. The Stronga Road Grader has become the industry-benchmark in operational efficiency and overall productivity.
Cost-efficient road grading
Maintain and upgrade loose material roads with little fuel or manpower. Suitable for removing pot-holes, grading, and creating camber to a wide range of surfaces - roadways, trails, tracks and rides. The well-proven SRG2400 model is a quality tow behind road grader for small-to-medium sized operations.
Let us take you on a journey...
Firstly, hardened rotating teeth scarify the surface before interlocking Hardox 450 blades then level the surface, ensuring no debris is missed so you only have to grade once. The surface is left level, compact and obstacle-free.
Extending machinery life
When haul roads are kept level, compacted and free of pot-holes, transport machinery lives longer and travels faster. Good road conditions are key for extending machinery life, reducing service and maintenance, lowering fuel costs and reducing tyre damage. As a result, cycle times are improved and more material is transported at a lower cost.
One-of-a-kind design
Stronga RoadGrada offers excellent durability, productivity and efficiency. From building new roads to maintaining them, RoadGrada is designed to help you get more done in less time. Discover the key features:
- Highly durable components. High strength Hardox wear blades, reliable DuraString™ scarifier teeth, and a Hardox and Weldox wear-plate chassis enable a lifetime of surface grading.
- Super down-force. Powerful hydraulic cylinders offer a compacting down-force, delivering firm and flat surfaces. The weight box can be loaded for additional down-force.
- Interlocking blade technology. Interlocking Hardox 450 blades level loose material tracks, leaving behind a level surface finish.
DuraString™ scarifier teeth
Super down-force cylinders
Well-proven, long life machinery
Over the years, Stronga RoadGrada has been proven to directly reduce the costs of road construction, maintenance and improvement. These long life road graders deliver years of reliable service for the professional contractor. Contact us today to get yours on order.
Standard Specifications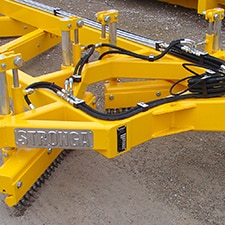 Front scarifier blades with hydraulic height and down force control, efficiently grading road surfaces of any texture and type.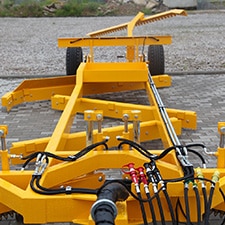 Each front scarifier is controlled independently by hydraulic cylinders, enabling in-cab adaption to changeable surface profiles.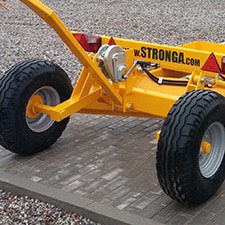 Rear transport tyres and wheels, allowing the whole chassis to be raised and transported at speed between grading operations.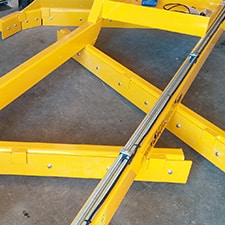 High strength bolt-on Hardox 450 wear plate blades, delivering long life grading, even on highly abrasive surfaces.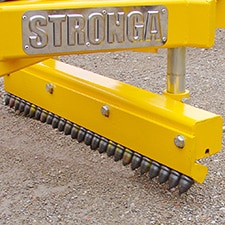 Front DuraString™ scarifier system, cutting even compacted surfaces up to 50mm depth in one pass.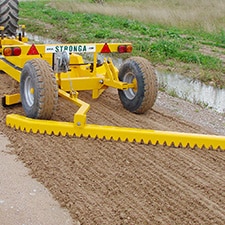 Adjustable height rear rake for smooth, level and textured surface finish.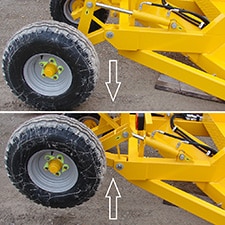 Independent rear wheel hydraulic height control enables in-cab contour and camber adjustment.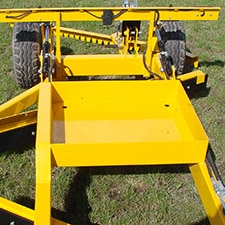 Weight box for additional weight to deliver extra down-force.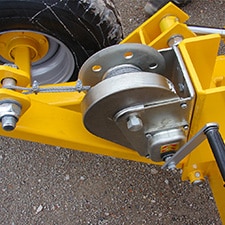 Easy twist rear rake height adjustment gear to alternate between road and working positions.
Easy fitting on tractor link arms enables quick grader levelling, front height control and excellent turning angles.
| Model | SRG2400 |
| --- | --- |
| Gross weight | 1200kg |
| Overall length | 7750mm |
| Overall width | 2785mm |
| Maximum speed (road) | 25km/h |
| Axles carrying capacity | 1800kg |
| Tyres maximum load | 1240kg |
| Tyres inflation | 3.1 bar |
| Tyres ply rating | 8 |
| Road legal electrical system | 12V |
| DuraString™ scarifier system | Standard |
| Hydraulic cylinders (front and rear) | Standard |
| Colour | Yellow |
All weights and measurements are subject to specification and regional laws. As we are continually improving our products, technical details, masses and measurements are given as reference values only.