Stronga DumpLoada earthmoving trailers offer strength, power and reliability in a long life, monocoque construction made from Hardox wear plates. Whether you're hauling coal, copper or iron ore, DumpLoada provides optimum strength, productivity and reliability; and we have a wide range of capacities available to suit your operation. It's no surprise why so many professional contractors choose DumpLoada for their earthmoving operations.
Discover the main advantages of the DumpLoada earthmover in the video below.
Earthmoving Trailers;
100% Made by Stronga
DumpLoada trailers are 100% made by the talented Stronga team of draughtsmen and engineers who specialise in the niche field of manufacturing earthmoving tipper trailers.
Each and every DumpLoada trailer is a product of our passion to produce world-class transport solutions that bring greater working efficiency and durability to our customer's contracting businesses. We bring together the very best component suppliers, including BPW, Michelin, Nokian and Hardox, and use our manufacturing expertise with innovative technical options to deliver optimised heavy material transport solutions.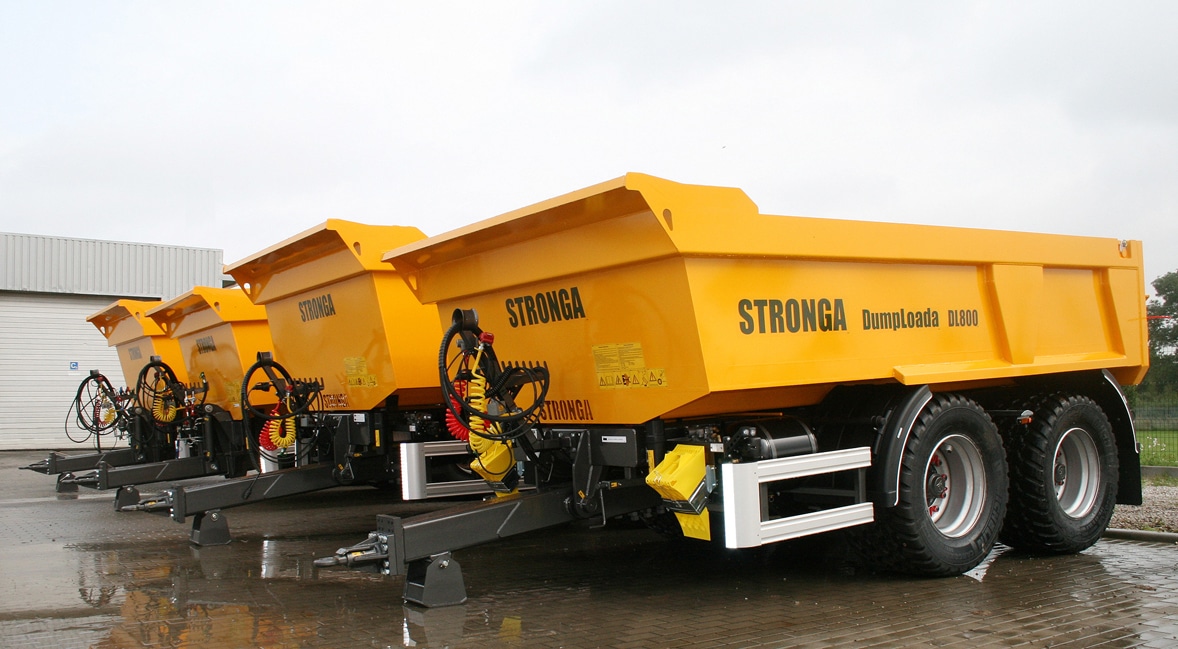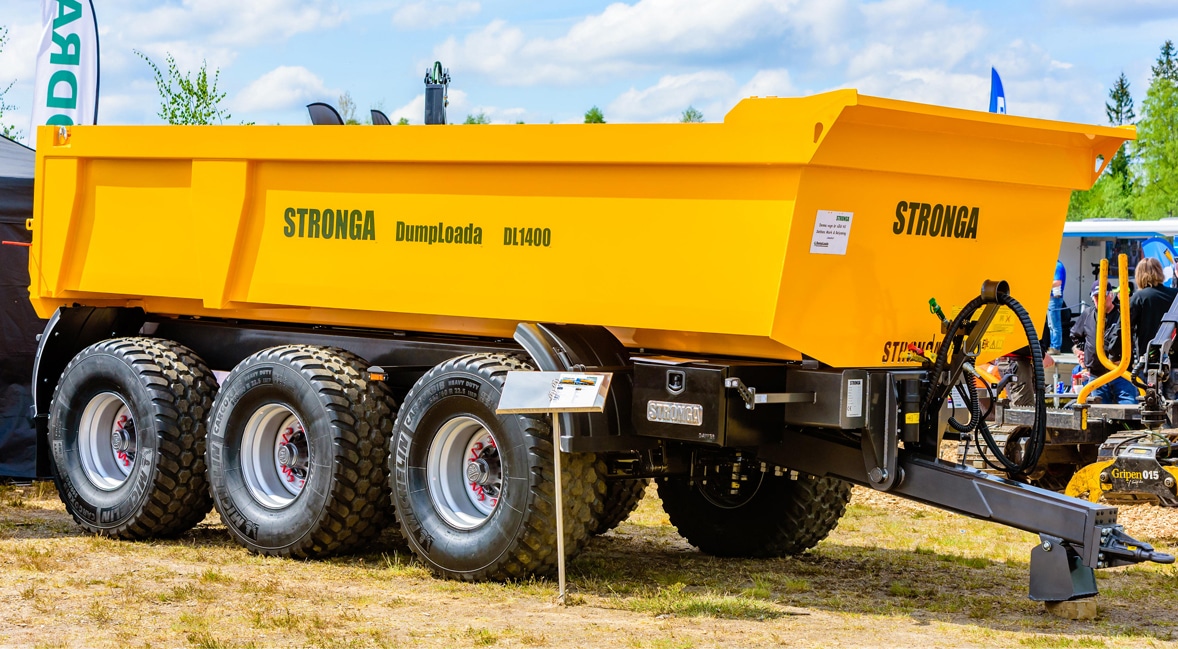 Stronger Design
Than 'The Other Guys'
When you see the 'Hardox® in My Body' logo on DumpLoada, you know you're looking at an earthmoving trailer that is extremely tough and made from genuine Hardox steel. Hardox wear plates are embedded all the way through the DumpLoada body and chassis; this ensures strength and toughness are optimised. Discover the main benefits of 'Hardox® in My Body' below.
Bigger Payload & Longer Service Life
Hardox 450 Wear Plate
Thoroughly-tested designs, coupled with full Hardox bodies, culminate in earthmoving trailers which lead the market in terms of payload and service life. Using Hardox wear plates, the Stronga design team are able to produce tipper trailers that are wear-resistant, strong and lightweight, all at the same time. This unique set of benefits maximises payload so you can get more done, every single day.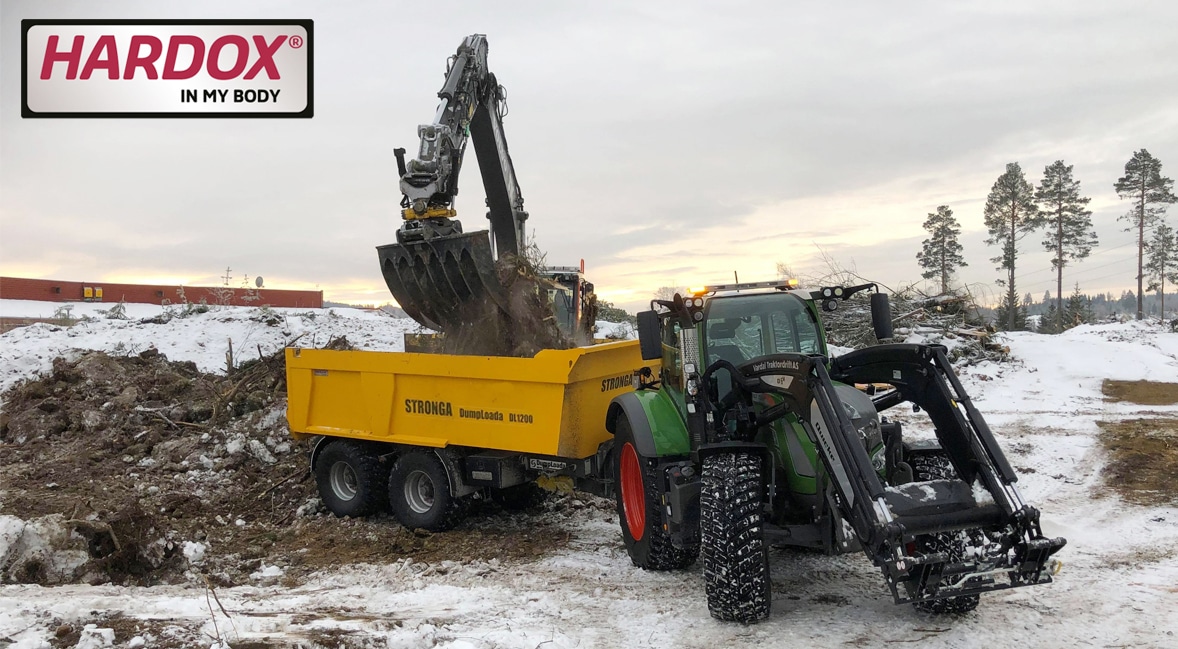 Extreme Abrasion Resistance
Hardox 450 Wear Plate
Extreme abrasion resistance has always been the key to success of the DumpLoada earthmoving trailer. Today, they are harder and tougher than ever before, able to withstand heavy impact without permanent deformation or cracking. Contractors investing in DumpLoada appreciate the unrivalled service life which is up to 2 or 3 times longer than 'The Other Guys'. Not only does DumpLoada boast leading lifespans, but without ugly cracks and dents, your Stronga earthmover looks superior while in use, too.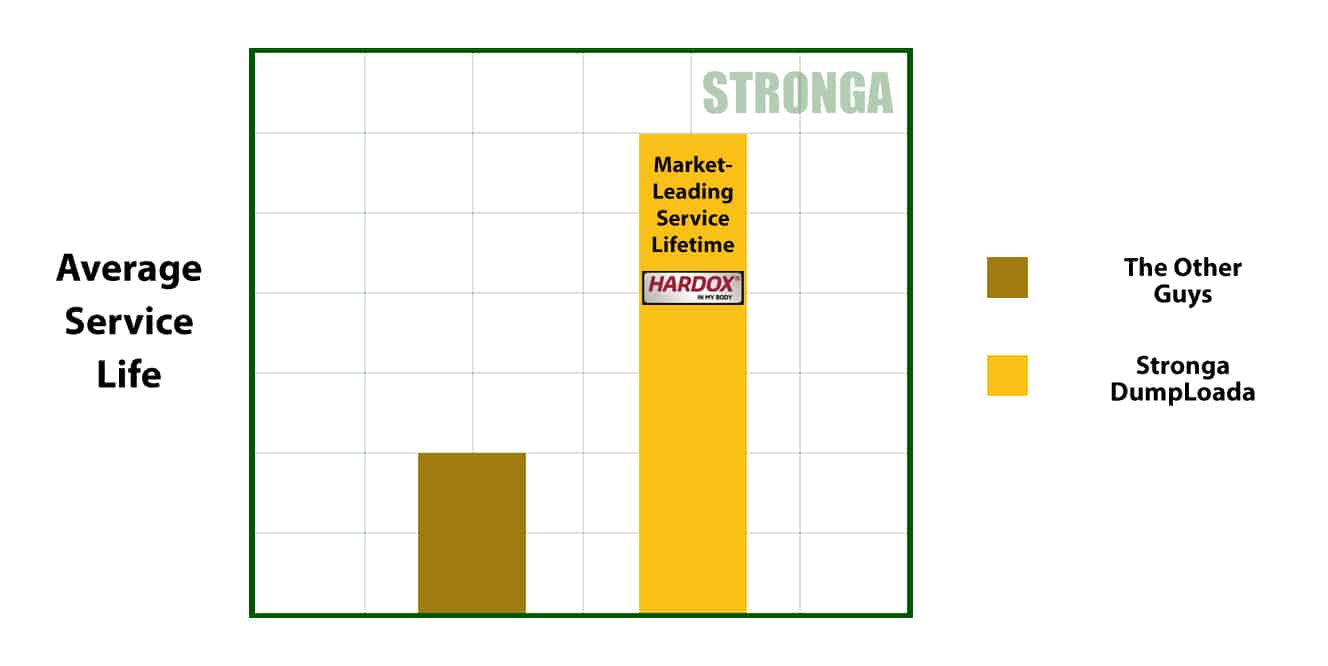 The Proof is in the Payload
Hardox 450 Wear Plate
Hardox wear plate tipper trailer bodies reduce the weight of the vehicle while keeping the same great strength; this improves fuel economy because operators can downsize to smaller, often more fuel-efficient, prime movers. Lighter trailer bodies allow fleets to carry more payload using the same vehicles; this extra capacity may result in fewer trips per day. A lower curb weight also reduces fuel consumption and, in turn, operating costs.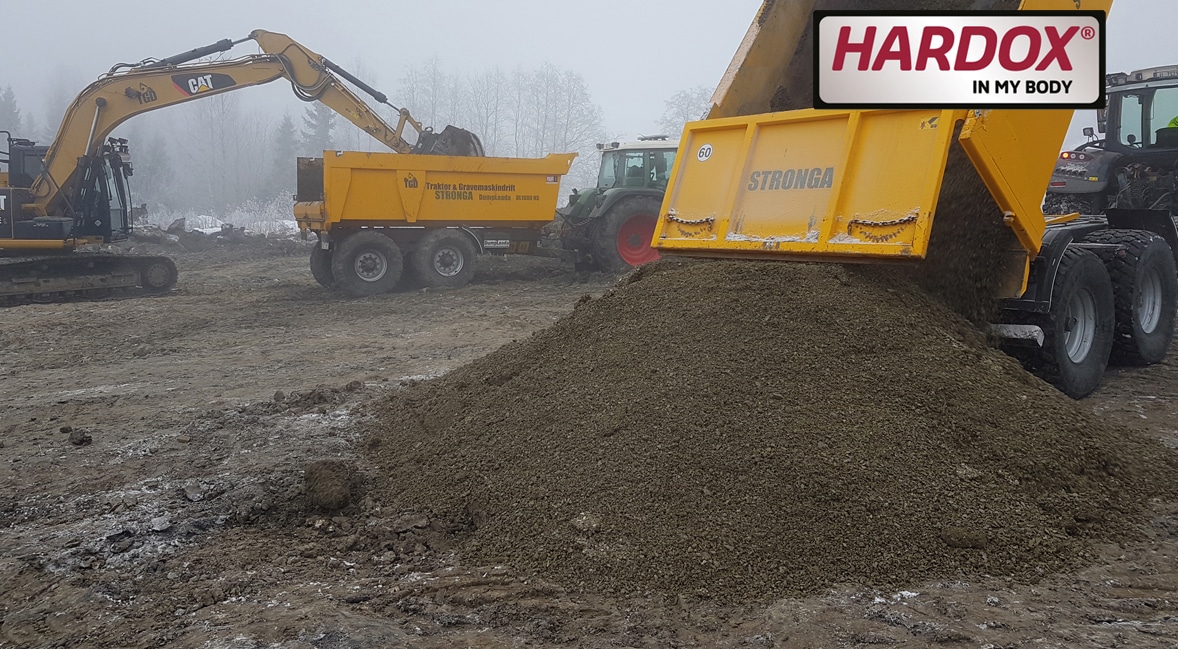 Higher Quality Componentry
Stronga Hydraulic Suspension
Stronga's unique Hydraulic Suspension option offers unparalleled performance for earthmoving contractors requiring the benefits set out below.
• Excellent control over the trailer's ride (roller) height.
• Lower power requirement to pull the tipper trailer when compared to conventional suspension systems.
• Better ride over uneven terrain, leading to better driver comfort and less stresses on the chassis and undercarriage, extending the service life of your equipment.
• Less downtime from getting stuck when working on difficult under-foot terrains.
• Better safety when tipping materials on sloping surfaces with the ability to manually level the chassis.
• Less wear and tear of expensive components like tyres and axles when coupled with the Lift Axle option.
Higher Quality Componentry
BPW Axles – Quality Inside
Supreme strength, loading capacities, braking power and safety factors are all reasons why Stronga work with the highly respected BPW brand. Discover the significant benefits of DumpLoada BPW axles in the extract below.
• Excellent support with BPW service departments in each country across Europe and the rest of the world.
• Minimal costly downtime with 24 hour spare part delivery times. Delivery times are often problematic with other axle suppliers.
• Specially welded one-piece beam, delivering stunning strength and service life. Axle stubs and axle tube are butt-welded together to produce one piece – the BPW axle beam.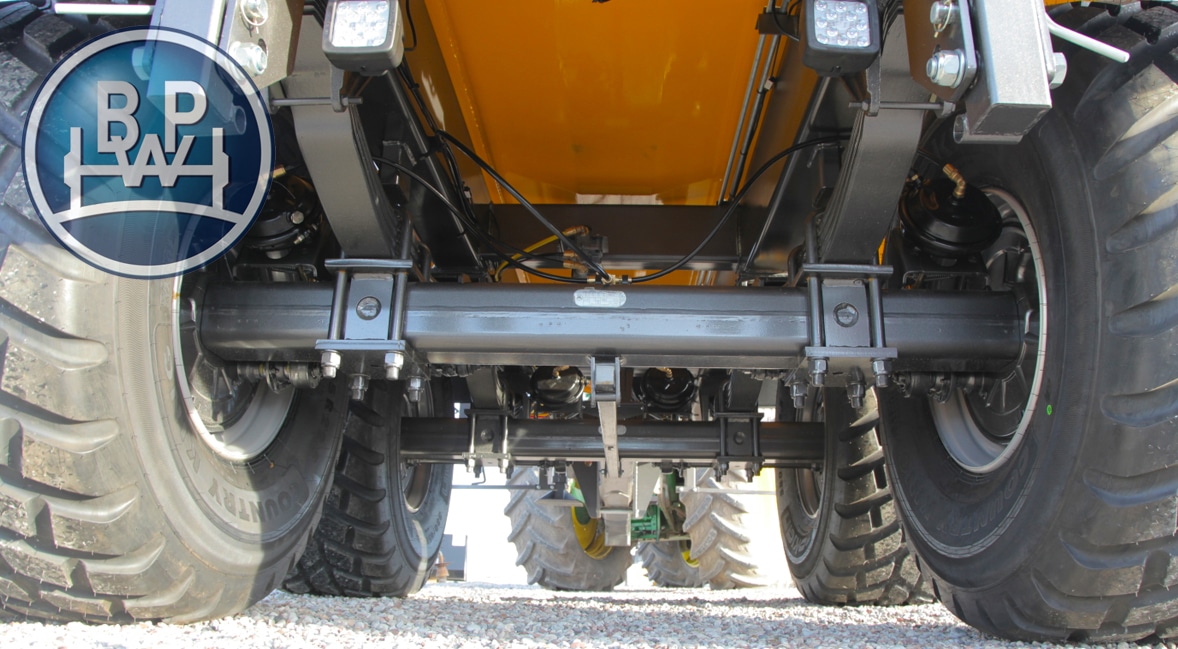 • Free steering benefit. The axle beam and axle stub are connected via a steering pivot with wave-like thrust bearings. When driving straight-ahead, the wave-like thrust washers hold the wheels on the track. The vehicle pushes the wave contours of the upper and lower thrust washer against each other with its weight. This benefit allows travel up to 40km/h without locking the axle.
• Access to the special Stronga CommandSteer™ steering axle option. With other free steering axles, the axle is steering when driving forwards and is locked while travelling in reverse. CommandSteer™ offers positive steering on free steering axles, direct from the tractor cab, allowing the operator to easily steer the axle in forwards and reverse.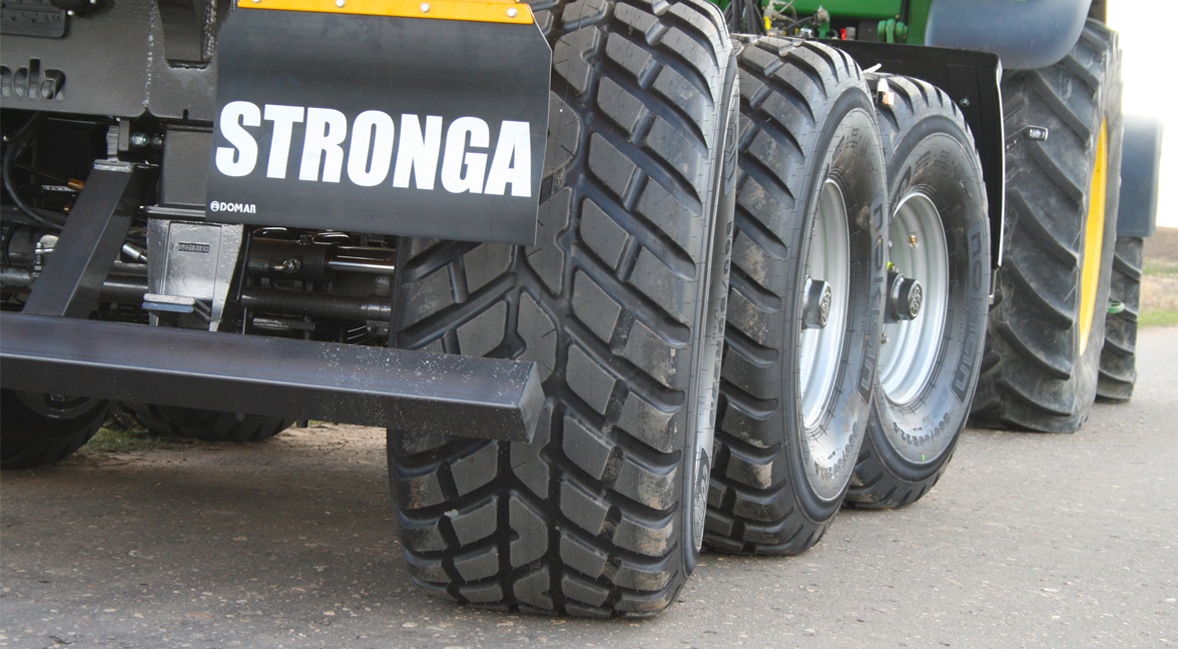 Higher Quality Componentry
Heavy-Duty Tyres Available
Stronga partner with the world's leading radial tyre suppliers to give our customers choice of the best technical tyres for the heavy material application at hand. From the Michelin CargoXBib to the Nokian Country King, Stronga are able to confidently fit each DumpLoada trailer with a tyre that will give years of reliable service with outstanding performance. Discover the unique benefits of each tyre brand below.
Michelin CargoXBib
DumpLoada Heavy-Duty Tyres
Michelin 'CargoXBib' is the most robust and durable tyre available in the Michelin range, offering better endurance for heavy loads at low pressure. It is the perfect tyre for the conditions in which DumpLoada typically operates. With less tractive effort required the pull the earthmoving trailer, the CargoXBib tyre significantly reduces operating costs with lower fuel consumption and better time efficiency.
Fuel savings really add up over time.
Learn more about the low rolling resistance of the Michelin CargoXBib tyre in the graph below. Tests were carried out at the Michelin test and research centre by the Michelin R&D team.
Nokian Country King
DumpLoada Heavy-Duty Tyres
Nokian Country King is the long-lasting, rugged floatation tyre for demanding use in heavy-duty tipper trailers. Nokian Country King's excellent self-cleaning properties and reliability have made it an extremely popular choice for our customers working in the most difficult environments.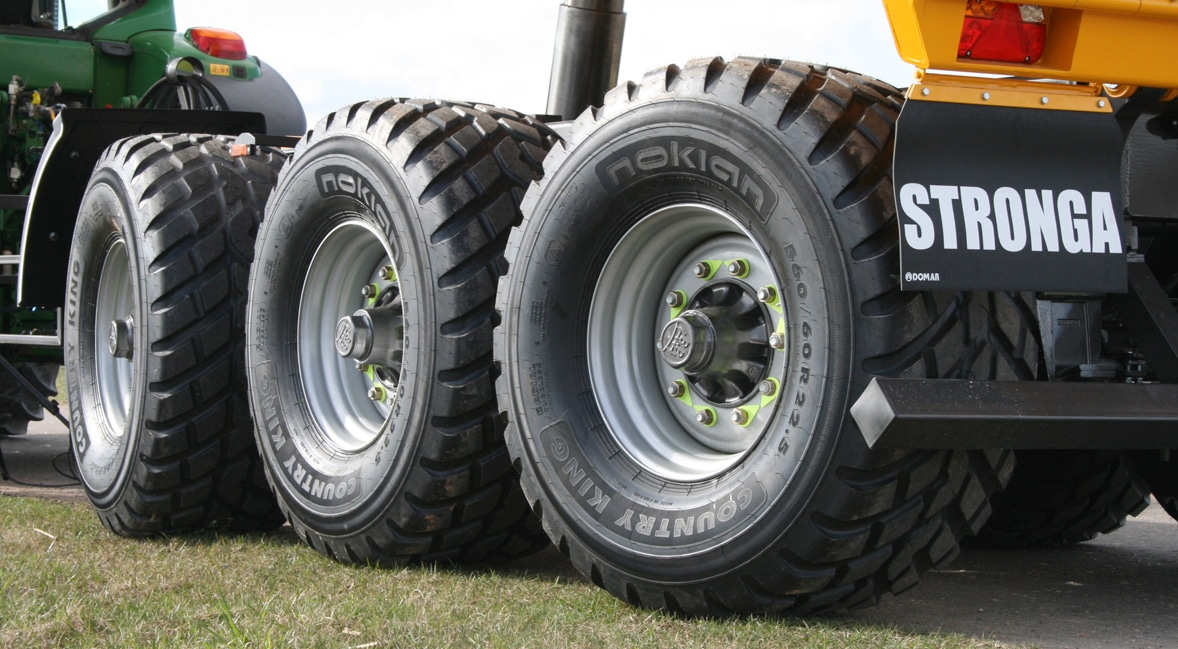 Nokian CT trailer tyres are designed for extremely heavy loads and the most demanding contracting applications. High loads and diverse working environments require special tyre properties. The Nokian CT tyre is a unique solution for heavy earthmoving trailers; its strength and stability are in a class of its own while tread grooves have been optimised for excellent self-cleaning.
Customers typically select the Nokian CT for their Stronga earthmoving trailer because of the ultra-strong multilayer construction which allows high load capacity; and also because the wide contact area provides good lateral balance and stability in all conditions. Discover the full list of benefits in the image below.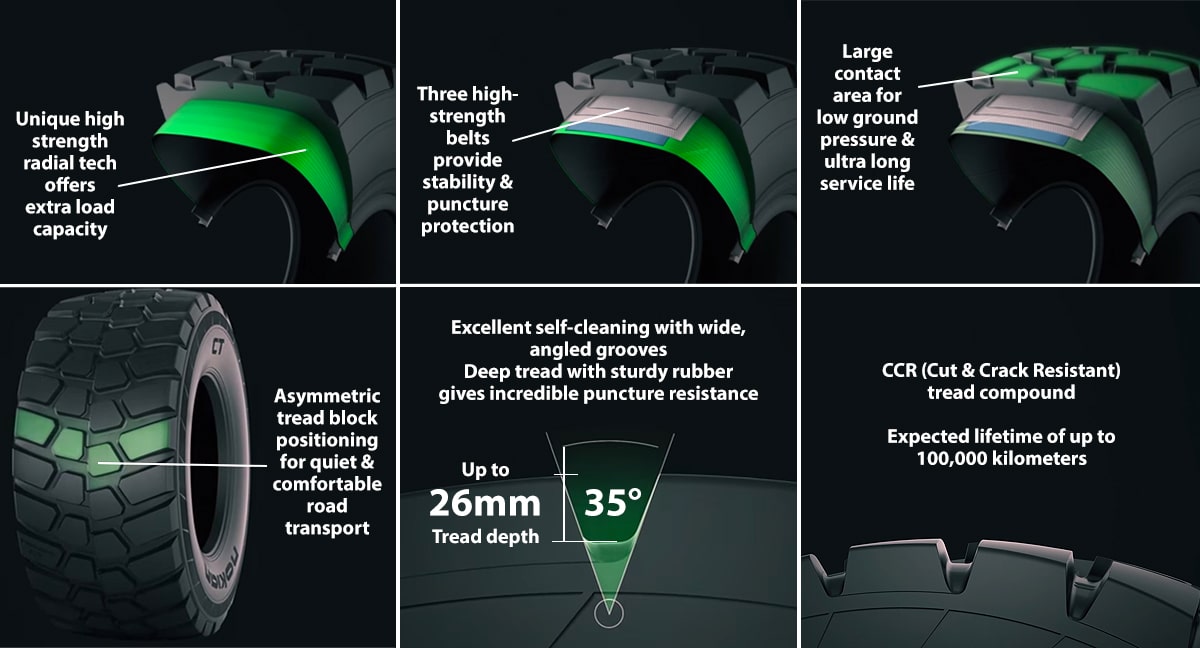 Higher Quality Componentry
Stronga Lift Axle
Extensive option choice is where Stronga really excels over other earthmoving trailers in the market.
Customers investing in Lift Axle equipment for tandem or triaxle earthmoving trailers enjoy the benefits of less wear and tear on tyres, axles and other expensive components, when travelling empty. Increasing the lifespan of these vital components significantly reduces ongoing maintenance costs; justifying the additional upfront cost to reduce costs and frustrating downtime.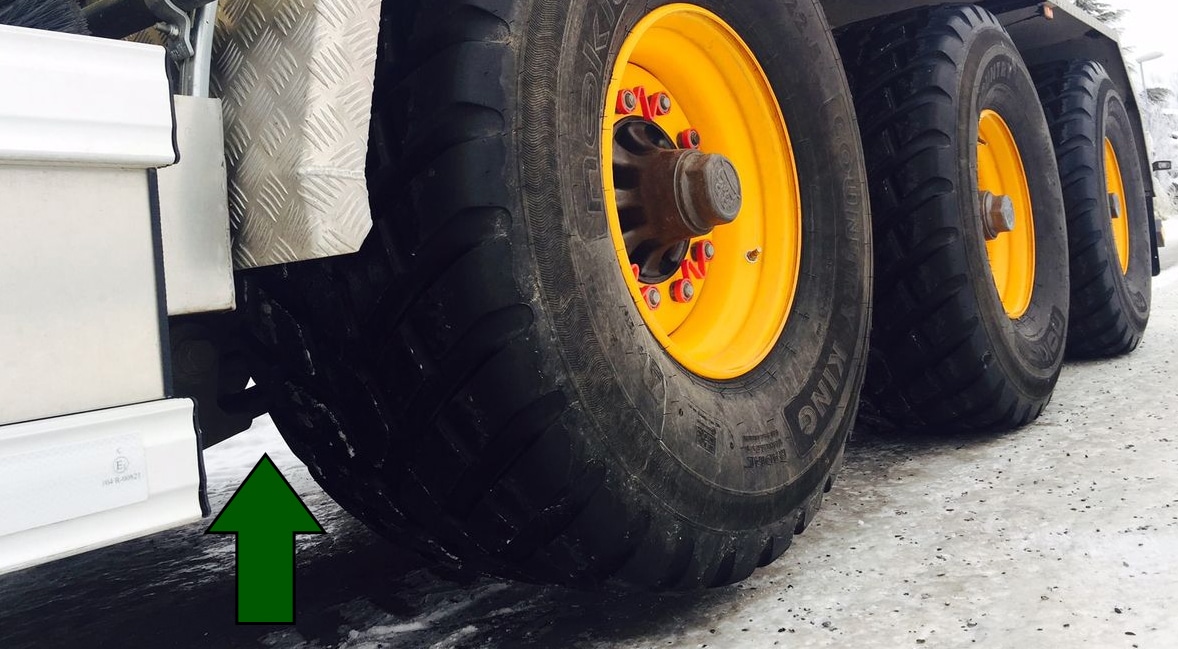 Better Proven in Difficult Environments
Than 'The Other Guys'
In the end, it comes down to reliability and service life.
Stronga DumpLoada trailers are extremely familiar with the arduous Scandinavian market where applications are that bit more difficult and demanding than your average worksite. Scandinavia is where we have sold most of our earthmoving trailers over the years and it has taught our talented designers and engineers exactly how to build the longest life heavy material tipper trailers. Investing in Stronga means investing in hard-wearing, long life, well-proven equipment. Discover below a few photographs from our DumpLoada customers.