Adequately drying wood chip biofuel is the most important aspect of optimising heat and biomass energy power production from woody types of biomass.
Drying techniques vary and can include a combination of methods. Stronga consider all the available information from each client's individual situation, including material density factors, location, local climate and heat source data, before recommending an optimal solution.
Moisture content in wood chips, as well as other biomass fuel used for energy production significantly influences system performance and is the single most important factor in the energy content, or calorific value, of your woody biomass fuel.
Stronga have evolved a uniquely simple and effective range of biomass dryers in the FlowDrya system, assisting clients to perfect moisture content profile in their respective onward processes while meeting the needs of system operators to maximise plant efficiency.
FlowDrya –The Endurance Pioneer from a Different Perspective
FlowDrya is extremely durable, long life and flexible with a low electrical energy requirement. In some cases, FlowDrya is being used in combination with and complementing other drying methods such as passive air drying techniques or dewatering solutions.
Moisture content in wood fuels is a universal problem, although variations exist due to local climate and location factors. Over the past few of years, the trend, driven by government green energy policies, has been towards using increased volumes of wood chip use for heat generation and co-generation CHP.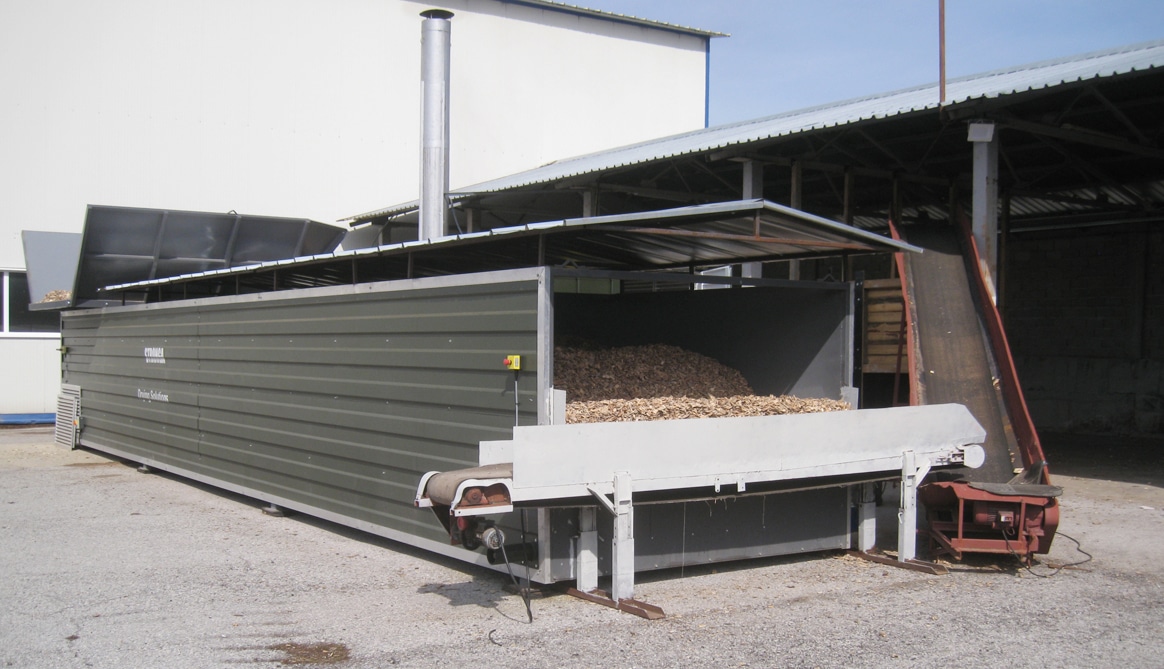 To meet the efficiency and emissions standards that get more stringent each year, fuel quality becomes even more important, and moisture content is really a big deal for efficiency. Moisture or water content is the single biggest factor in the variability in combustion behaviour of woody biomass.
The following video shows the dependence of net calorific value relating to moisture content:
Desiring More Consistently Dry Biomass Chip
There are many other factors for consideration when burning wet biomass including increased latent heat loss while boiler flue emission moisture vapour is a carrier for ultrafine particulates. Producers of wood chips as fuel are starting to realise that a drier and more consistent biomass chip are desired and have value.
At Stronga we believe there is tremendous scope for using residual process heat to dry wood fuel from various heat sources, including cogeneration, electricity generation, flue gas energy via gas to air exchangers and more. These are all viable and preferable input heat sources for the FlowDrya wood chip dryer. In effect, this "free heat" is turned into high value; when multiplied by annual operating hours, that income and those profits really add up.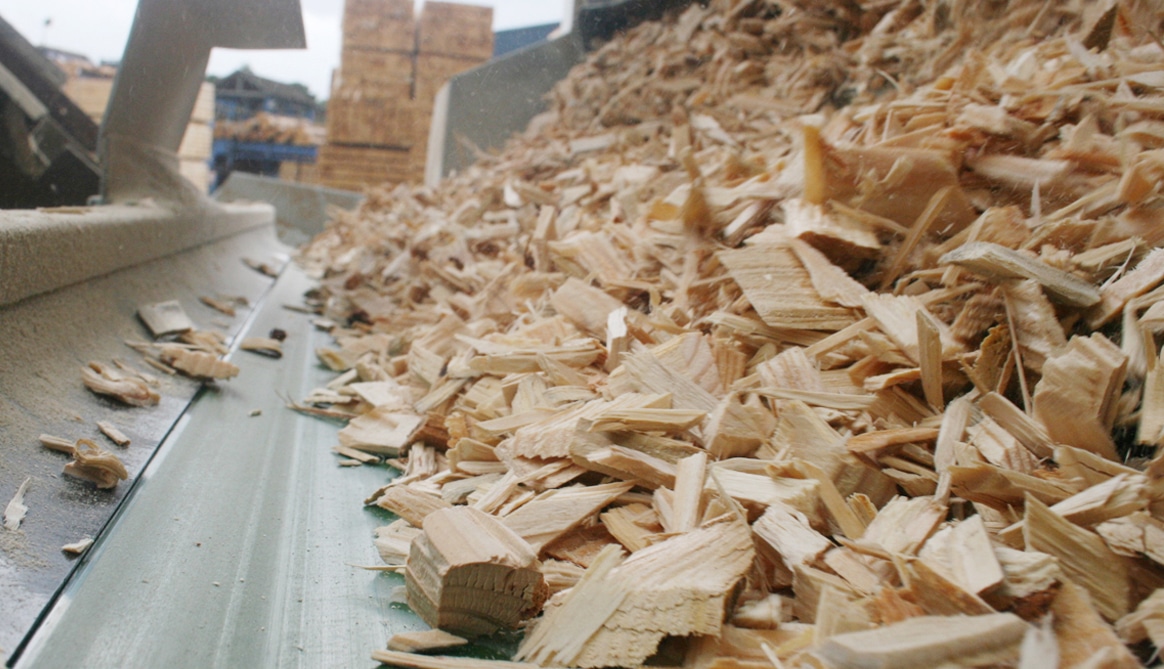 Why Dry Wood Chip for Biofuel?
Wet Fuel vs. Dry Fuel
Drying wood chip and biomass not only increases combustion values and lowers storage costs; it also makes the biomass fuel stable from degradation, locking in the calorific value.
Dry wood chips have less sensitivity to the natural harmful effects such as microbiological degradation. Dried wood chips will perform better. With dry woody biomass chips, the boiler flame burns hotter and more evenly. The added benefit is that a smaller quantity of ash is produced, reducing the cost of ash disposal.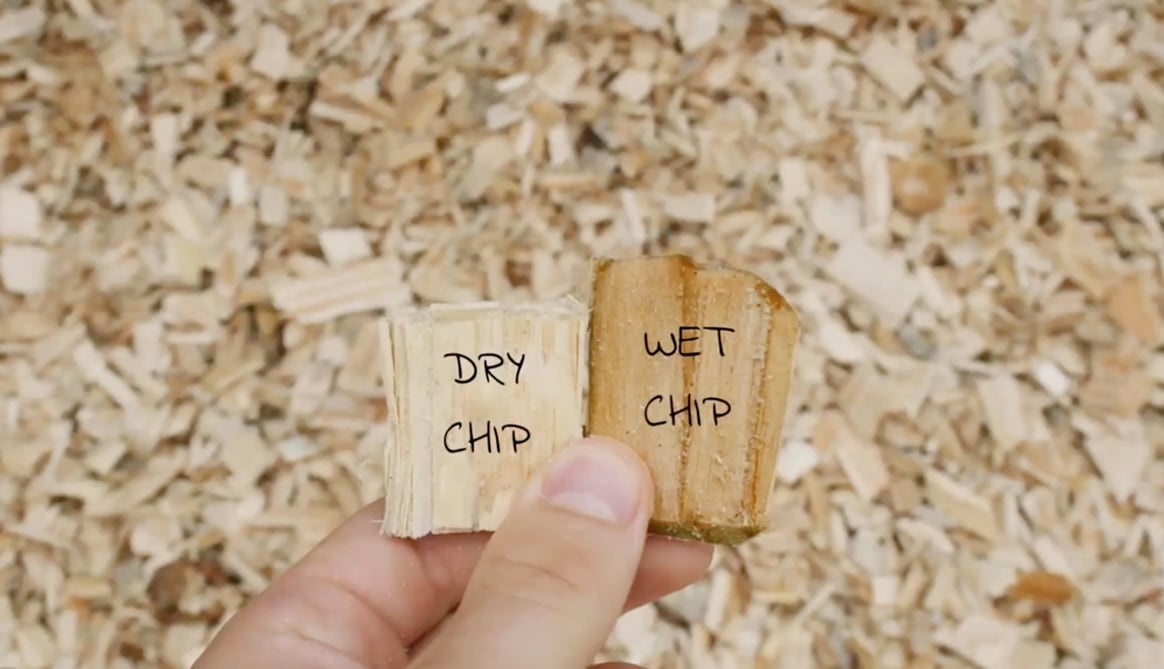 When we compare wood chips with a moisture content of 45%, the maximum standard boiler efficiency is about 74%. When the same boiler equipment is burning dry wood at 15-20%, the efficiency can be over 80%. Again, that increased efficiency really adds up over time.
Even greater efficiency effects can be seen with gasification and pyrolysis processes, leading to significantly increased onward production of both power and biochar outputs using less resources.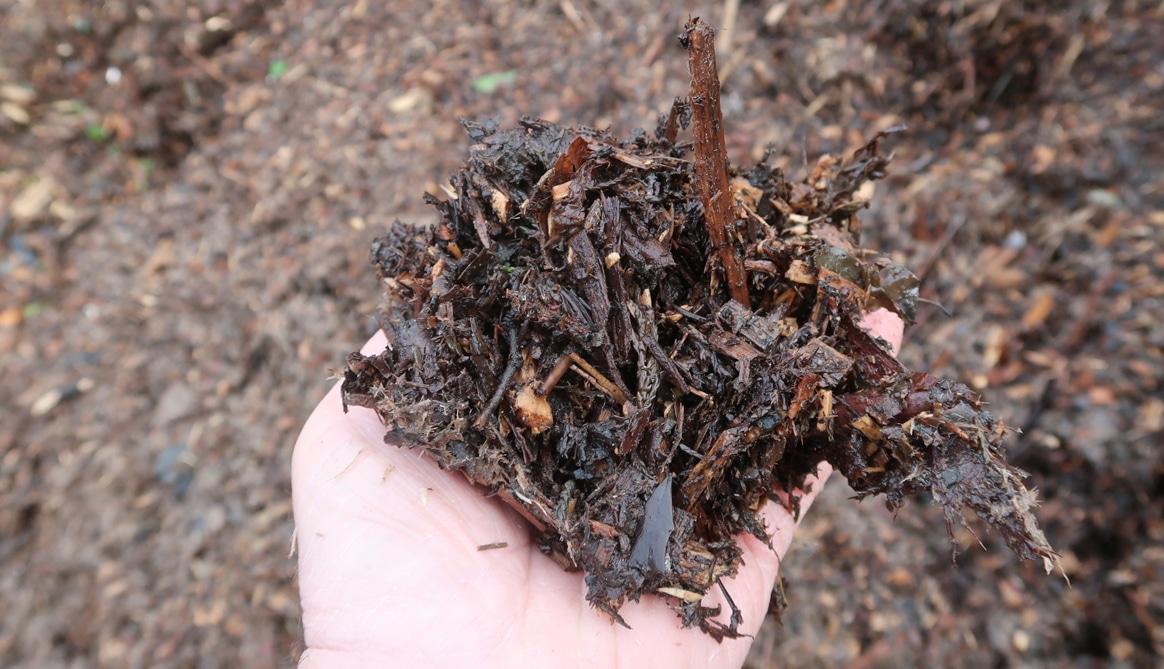 The drying process raises the net usable energy content of the material. What's more, it also provides a longer storage life for the material as degradation comes into play for green chips, after a very few months, rot and mildew issues become significant concerns. Furthermore, removal of the water makes transportation easier during cold weather because chips won't freeze to the truck body during long transport, or when trucks need to be parked overnight.
The same is true for the chip storage and handling. The drier the chips are, the less clumping will occur during storage so easier, better handling characteristics follow. In total, there is better fuel flow through the material handling systems.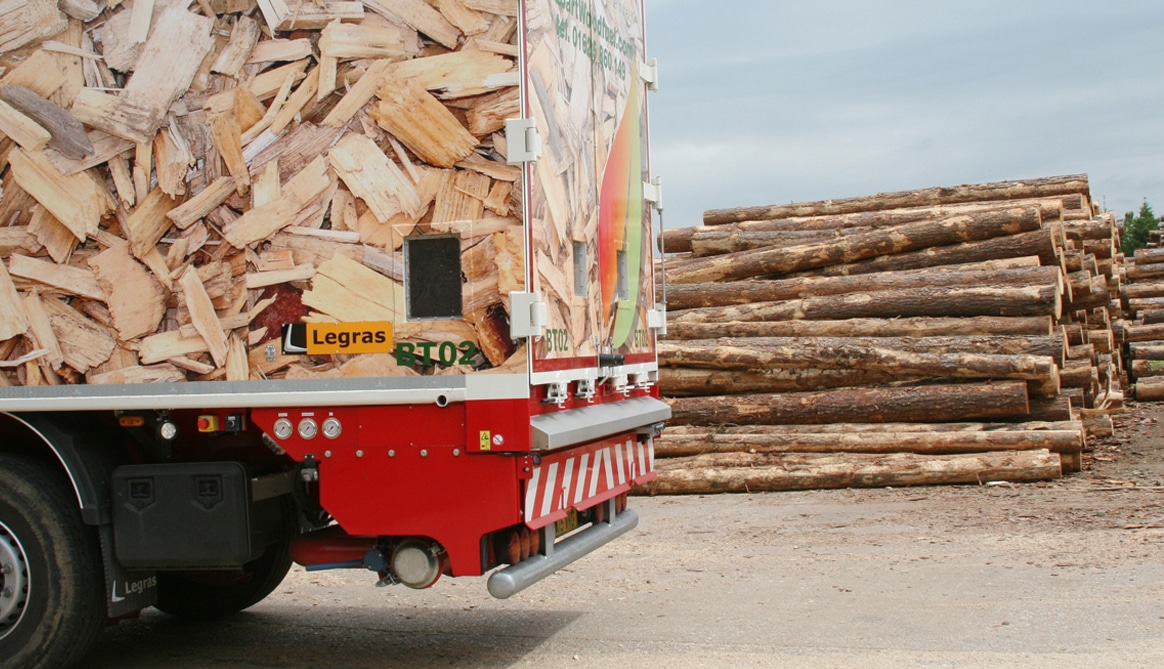 Why Not Just Air Dry Wood?
Air drying can be effective in lowering wood moisture content down to some level but performance varies depending on factors like location, local climate conditions and the season of harvesting the timber.
Air drying can economically get materials down part of the way towards target % moisture content but chipping dryer wood can lead to more biomass shatter, more dust creation and more wear and maintenance costs on chipping equipment. What's more, keeping wood chip size consistent when chipping dryer materials can be challenging. Air drying also involves tying up large amounts of capital on the cut / stacked material while fuel demand is often much higher in winter seasons when weather conditions are worse.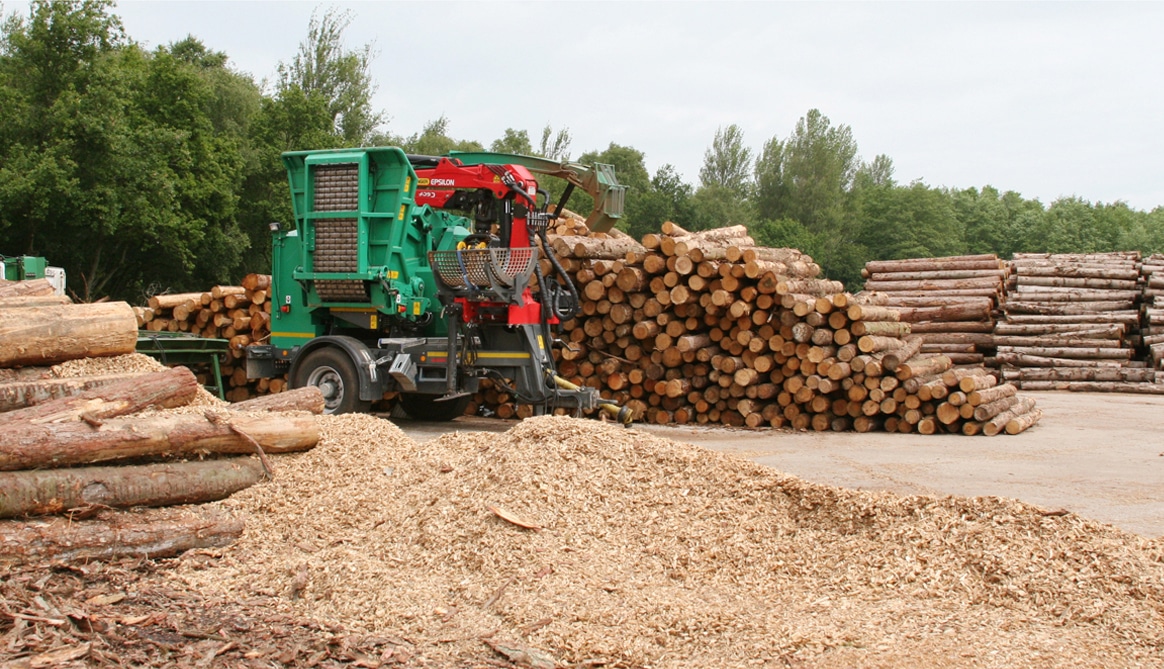 Forms of Biomass
There are many variables to consider when optimising drying outcomes, wet basis bulk density, including wood species, chip size and particle profile, to name a few.
FlowDrya offers a modular scalable wood chip drying solution that make the onwards production process more mechanised and efficient. Stronga FlowDrya offers continuous wood chip drying with an ultra-low labour requirement.
FlowDrya biomass dryers offer many advantages:
• They are less sensitive to particle size;
• They have very low service and maintenance costs;
• They offer great capacity with good control of material moisture output;
• They deliver excellent uniformity of drying due to the shallow depth of material and PulseWave™ agitation effect which occurs automatically on the drying floor.
Waste Heat Recovery Opportunities
FlowDrya models are well suited to take advantage of waste heat recovery opportunities since they operate at lower temperatures. The lower drying temperature also minimises fire hazards and importantly lowers emissions of volatile organic compounds.
Stronga's technical team can help optimise output characteristics, including the drying of thermolabile materials.
Stronga FlowDrya - Low Capital & Maintenance Costs
Efficiently reducing biomass water content cuts transport and storage costs and creates ideal conditions for direct firing or optimum pelletizing and briquetting properties across a range of woody biomass types.
As a result of the drying process, less fuel input is required, thus generating energy savings in valuable and increasingly scarce biomass resources, while also reducing the pollutant emissions caused by the combustion system.
Stronga continue to tailor each FlowDrya directly in line with optimal resource and energy efficiency outcomes. We work with precision and diligence to develop wood drying innovations for the wood chip and biomass industry. Speak to our technical team today to discuss your biomass drying project – info@stronga.co.uk.