Stronga are the original designers of the world-famous HookLoada trailer, ground demountable container shuttle system. HookLoada HL300 is the largest model available in the globally recognised Stronga hook-lift trailer series, delivering pure power and prowess in high bulk capacity transport. Discover the figures behind our biggest capacity hook-lift trailer when compared to the HL260 model.
1. 15% more fuel efficient, carrying 15% more weight
2. 15% fewer tractor hours per tonne transported
3. 15% lower labour cost
4. 15% fewer journeys
Max Power, Productivity & Performance
HookLoada HL300 is the most powerful tri-axle trailer available in the hook loader market today. This class-leading trailer is already proving to be a remarkably popular and hugely valuable transport solution for high output commercial users across a range of markets. There are numerous units already in the market, proving their worth for high output professional contractors.
Re-Imagine Hooklift Transport Capacity
HookLoada HL300 accepts longer containers than any other model available in the range. The hook tower stroke is 300mm longer than the HL260 model, allowing the operator to load hook-lift containers up the 8100mm long. That equates to over 50m³ of load capacity for excellent efficiency in bulk material transport.
Carry Heavy Loads While Protecting Soil
Michelin CargoXBib UltraFlex tyres operate at low pressure, reducing soil compaction and increasing ground protection, thereby preserving farmland productivity. Stronga customers are quickly noticing the benefits of getting to harvest earlier in the year without damaging subsoil, thanks to HookLoada HL300's Michelin flotation UltraFlex tyres, which come as standard in the specification.
Extraordinary Hooklift Power
The HookLoada HL300 trailer has an ultra-low tare weight from extensive use of extra-strong Hardox and Weldox in the construction, ensuring optimal payload and maximum power. The powerful chassis and hook tower ensure that HL300 operators can now pick up and tip 30 tonnes at any one time. This 30 tonne potential delivers extraordinary levels of transport and handling efficiency.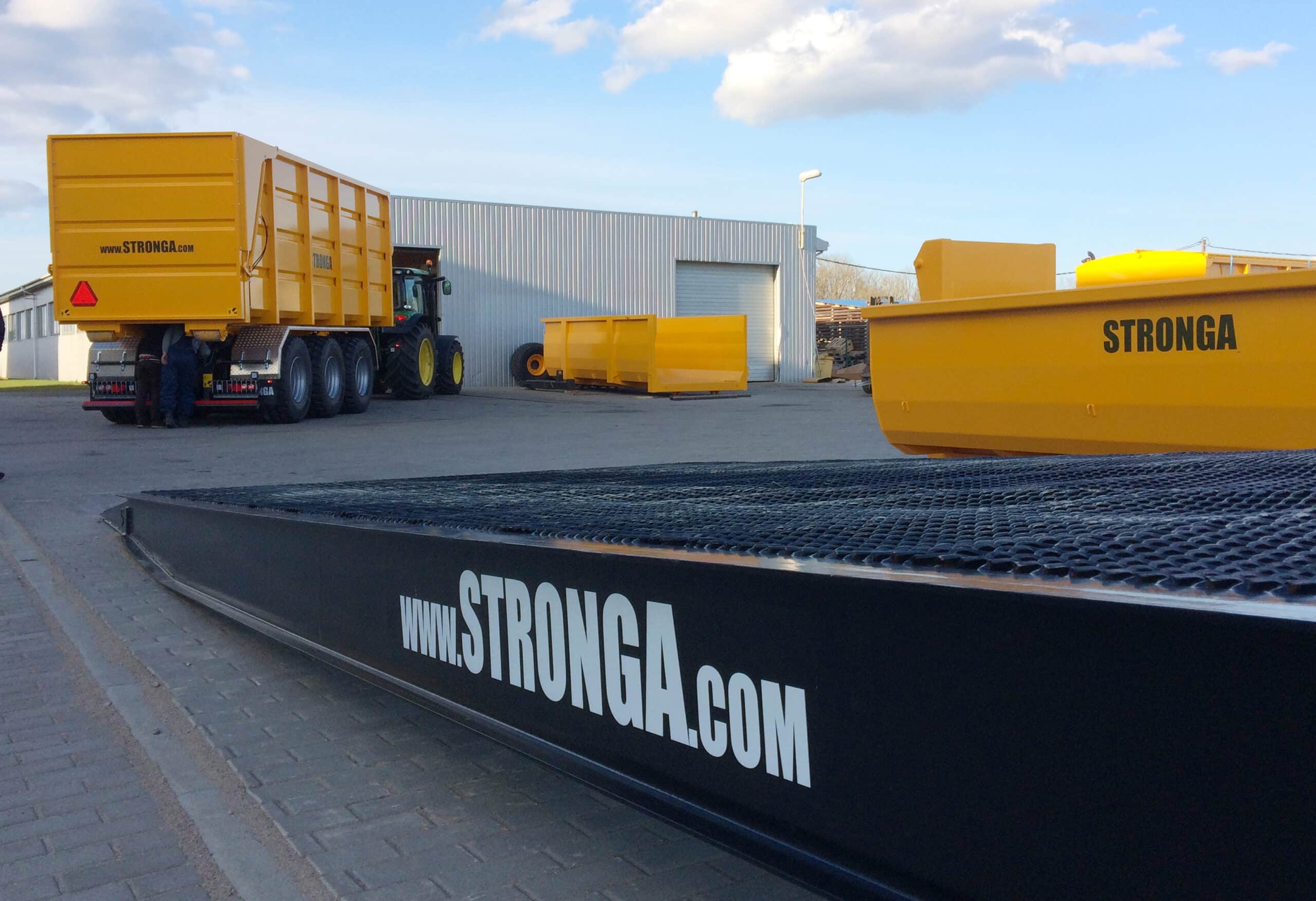 A Benchmark for Hooklift Equipment
Stunning Options Available
The stunning HookLoada HL300 standard specification can be further developed with additional optional equipment which are designed to extend utility, efficiency and productivity even further. The Other Guys simply cannot compete with the high level of equipment on offer in the HookLoada range.
• Stronga QuickLoada™. QuickLoada™ is a super-fast tipping valve which improves tipping and picking up speeds by 5X.
• Stronga Hydraulic Suspension. Our bespoke Hydraulic Suspension delivers smooth 14° articulation (10% better than others) for comfort on any terrain. There are many other benefits which can be better understood through speaking to our sales team.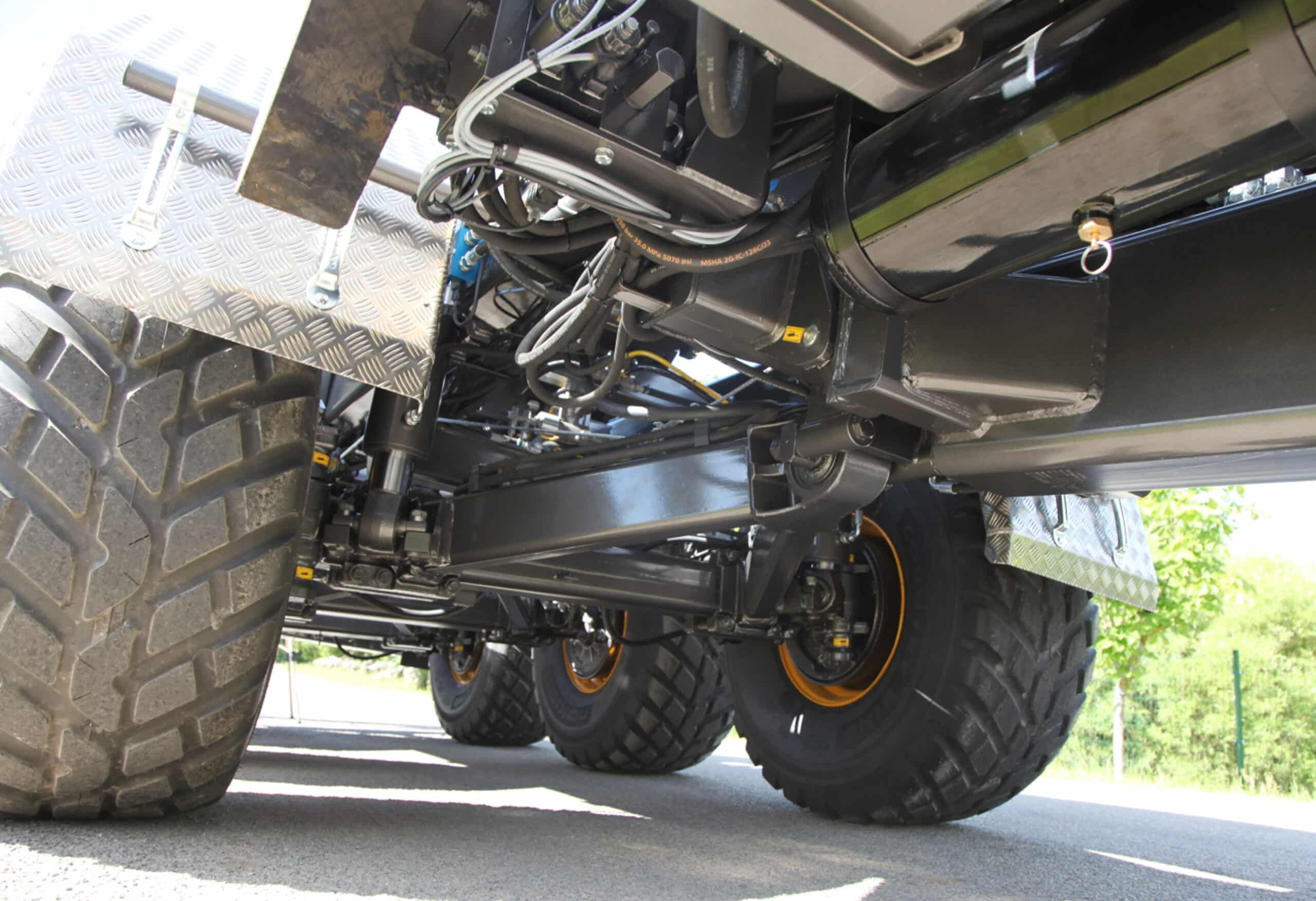 • Stronga Electronic Power Steering (EPS) sensor controls the steering function of the axle to improve cornering stability. Stronga EPS operates without mechanical connection between the tractor hitch and trailer axles, reducing tare weight, minimising fuel usage and increasing payload. EPS can be controlled remotely from outside of the tractor's cab through use of the handheld device pictured below.
• Inbuilt filtering systems. 1 for steering and 1 for main functions. Clean oil, long life components.
• Hydraulic bumper offers added safety on the road and in the field.
• And much more. Contact us to build your ideal hook trailer – info@stronga.co.uk
Handy Aluminium Components as Standard
The 30 tonne Stronga hooklift also features several aluminium components as standard, including ultra-strong mudguards, a handy large-size toolbox and strong side rails which all help to keep the tare weight of the trailer low while improving it's utility.