3,500 Euro SystaMatic™ Option; Included Free
For One Month Only
Stronga are pleased to announce a limited-time HookLoada special offer:
The 3,500 Euro 'SystaMatic™' option is included free-of-charge when customers confirm an order on selected HookLoada trailers between 2nd and 31st May, 2023. The offer is only valid for HL160, HL180, HL210 and HL211 models.
Act now; contact Stronga to specify your premium-level HookLoada trailer and enjoy many years of improved efficiency from the world's most reliable hook-lift trailer.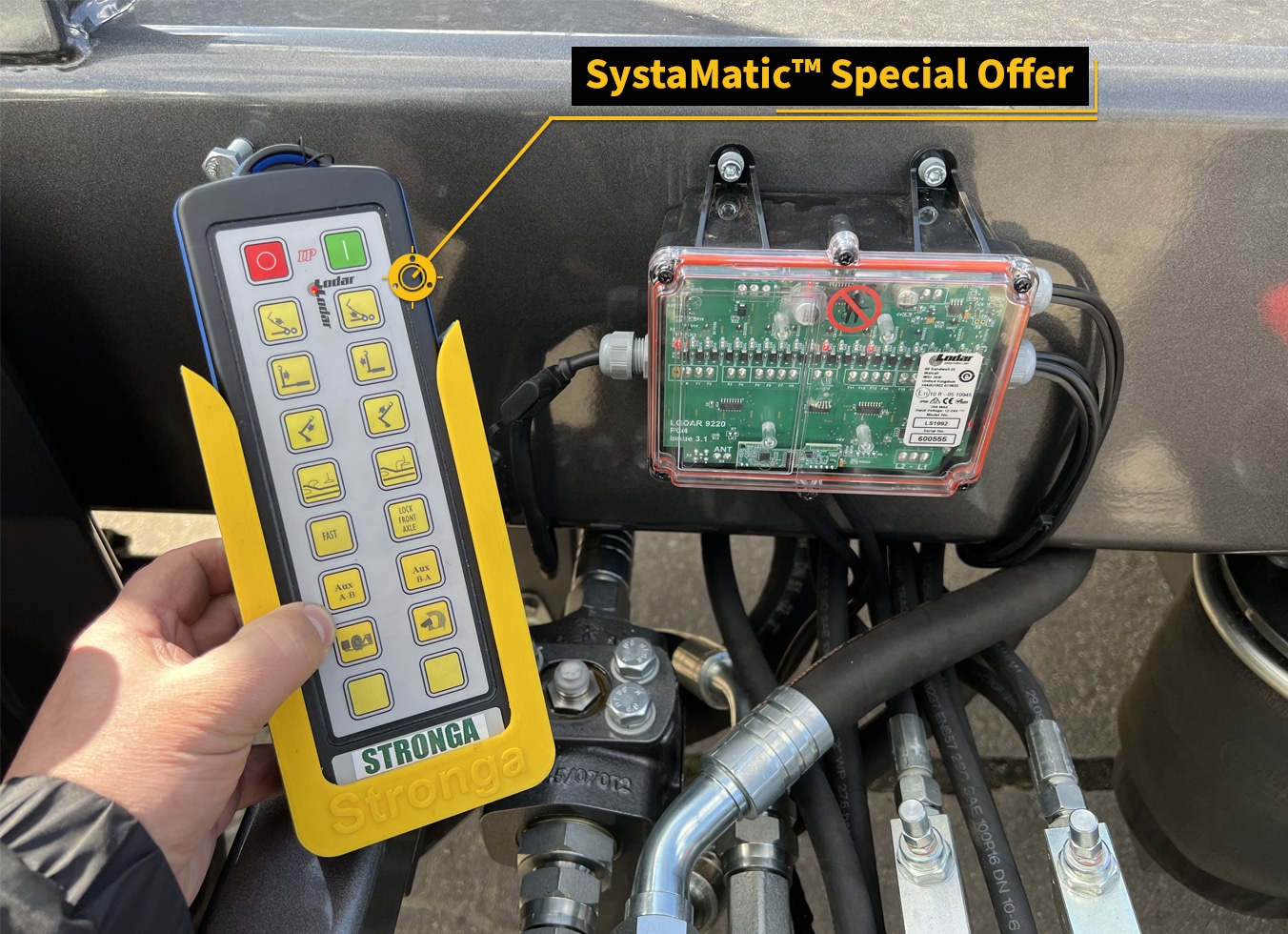 Exploring SystaMatic™
What's included in the free SystaMatic™ package?
1. Two-pipes to tractor offers a clean and tidy trailer configuration. This avoids the needs for multiple flow and return hydraulic pipes which can get snagged on rear tractor linkage.
2. Super-modern, highly-useful, robust remote-control transmitter offers control over all hook-lift functions, including; tipping and off-loading, working lights, air suspension operation and much more. The remote control is operable from the best vantage points, offering significant improvements in safety and efficiency.
3. Manual valve, back-up system mounted on the trailer, offering override control of the trailer's main functions.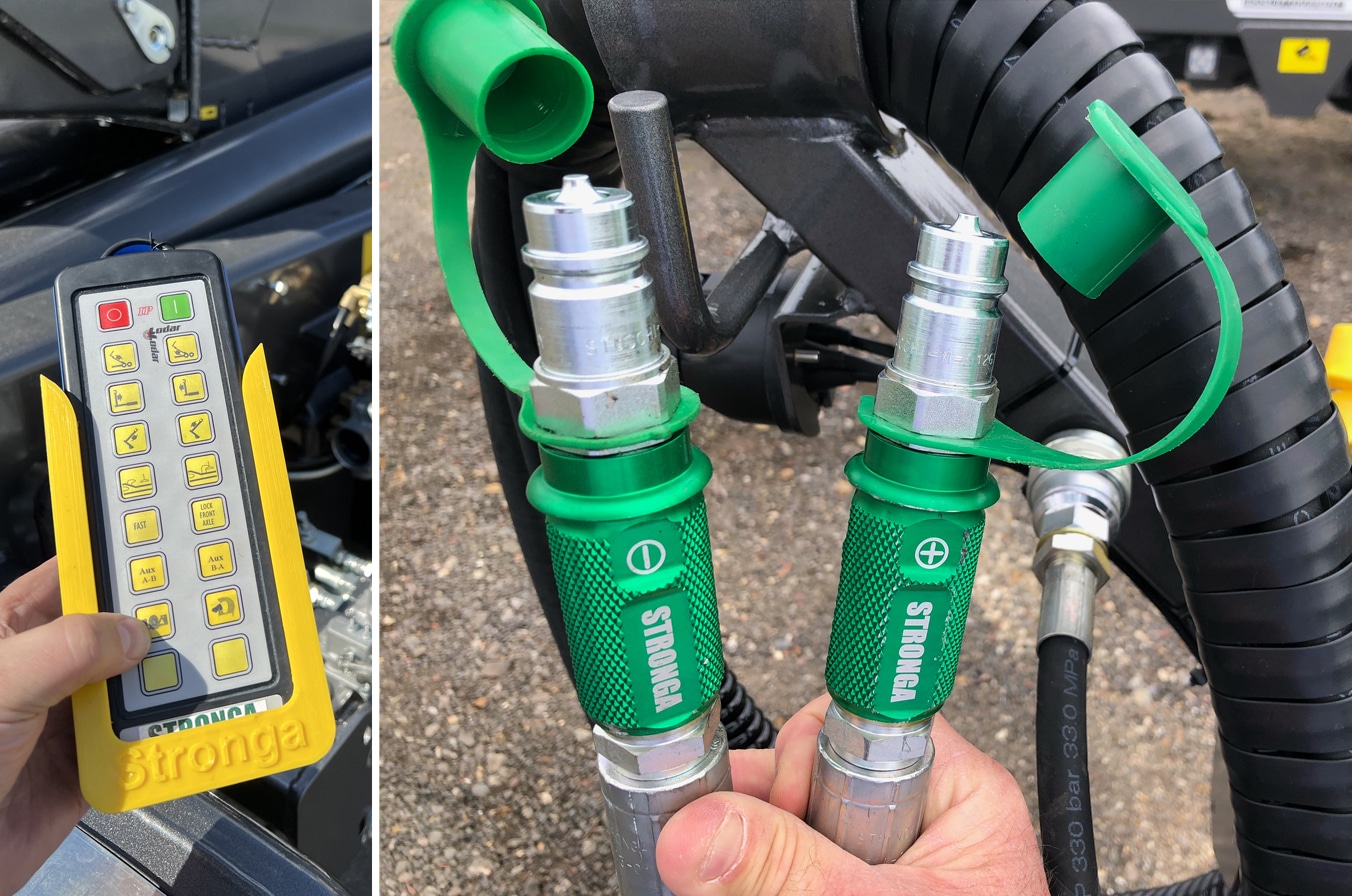 The Details of the Offer
Special Offer Start Date: 2nd May 2023
Special Offer End Date: 31st May 2023
The Offer: SystaMatic™ option included for free in the standard specification on HookLoada HL160, HL180, HL210 and HL211 trailers ordered within the offer period. The offer does not include Danfoss Valve or Load Sensing options. These will have to be purchased at the client's expense.
Locations: Offer available globally (hook-lift trailer specifications will vary depending on market).
T&Cs apply: Stronga Special Offer is subject to Stronga's standard Terms & Conditions. To secure your free SystaMatic™, you must place and confirm your order before midnight on 31st May 2023. Order confirmation and 20% advance payment required before the deadline.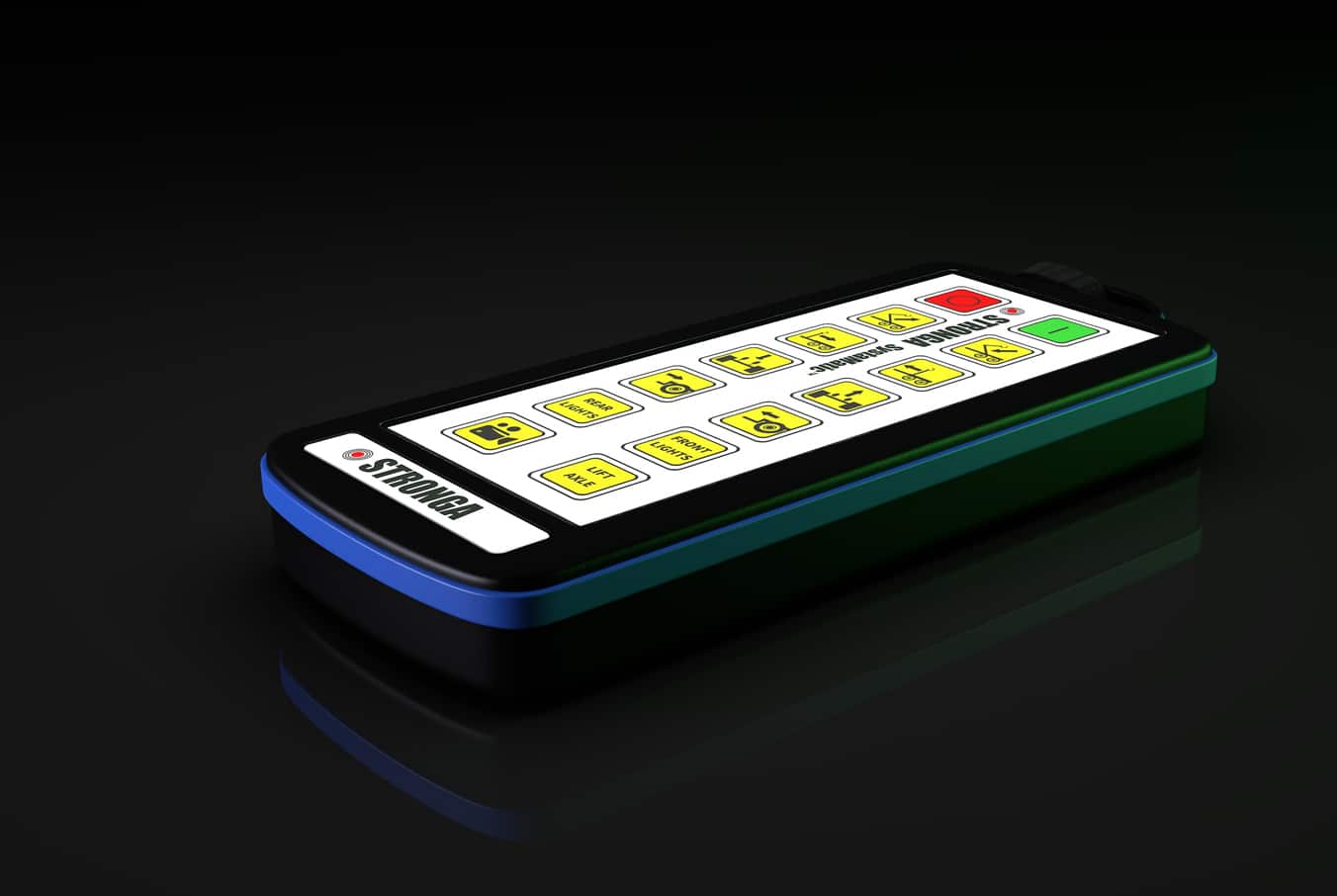 How Does SystaMatic™ Benefit Your Business?
Modern, Smart, Robust Remote Control
Modern SystaMatic™ smart remote-control operation delivers a whole host of significant benefits for the operator.
- SystaMatic™ is super-modern, highly durable and extremely easy to use, allowing operators to benefit from years of reliable control.
- Significantly improved visibility. SystaMatic™ allows the operator to select the optimal spot for operating various functions of the hook lift trailer, including tipping, unloading containers, operating Air and Hydraulic Suspensions and much more.
- An outcome of improved visibility is optimal operator safety. SystaMatic™ keeps your assets and personnel safe at all times.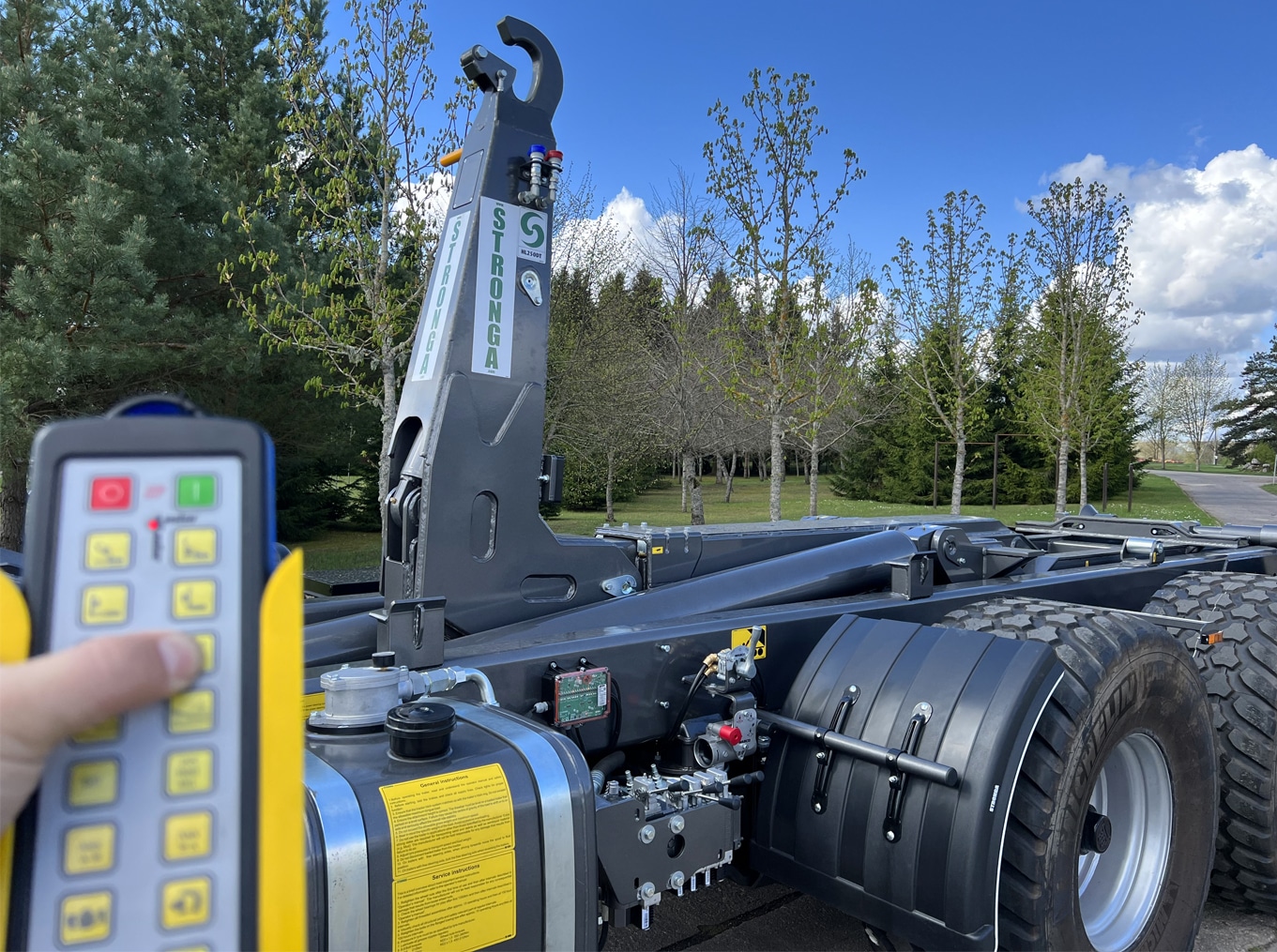 SystaMatic™ Option Benefits, Continued…
- All the functions of the hook-lift trailer are available on one neat, visual control interface.
- SystaMatic™ controls more than just the standard functions of the hook lift. Operator's benefit from being able to easily control each and every option on one device, including Lift Axle, QuickLoada™, Air Suspension, Working Lights and more.
- SystaMatic™ is completely wireless, meaning there are far fewer pipes between your tractor and hook lift trailer. The outcome is a simpler design with less maintenance, increased uptime and faster and safer hitching.
- With manual valves on the trailer for key hydraulic functions, you have added peace of mind that a back-up control system is available should there unexpectedly be an issue with the remote control.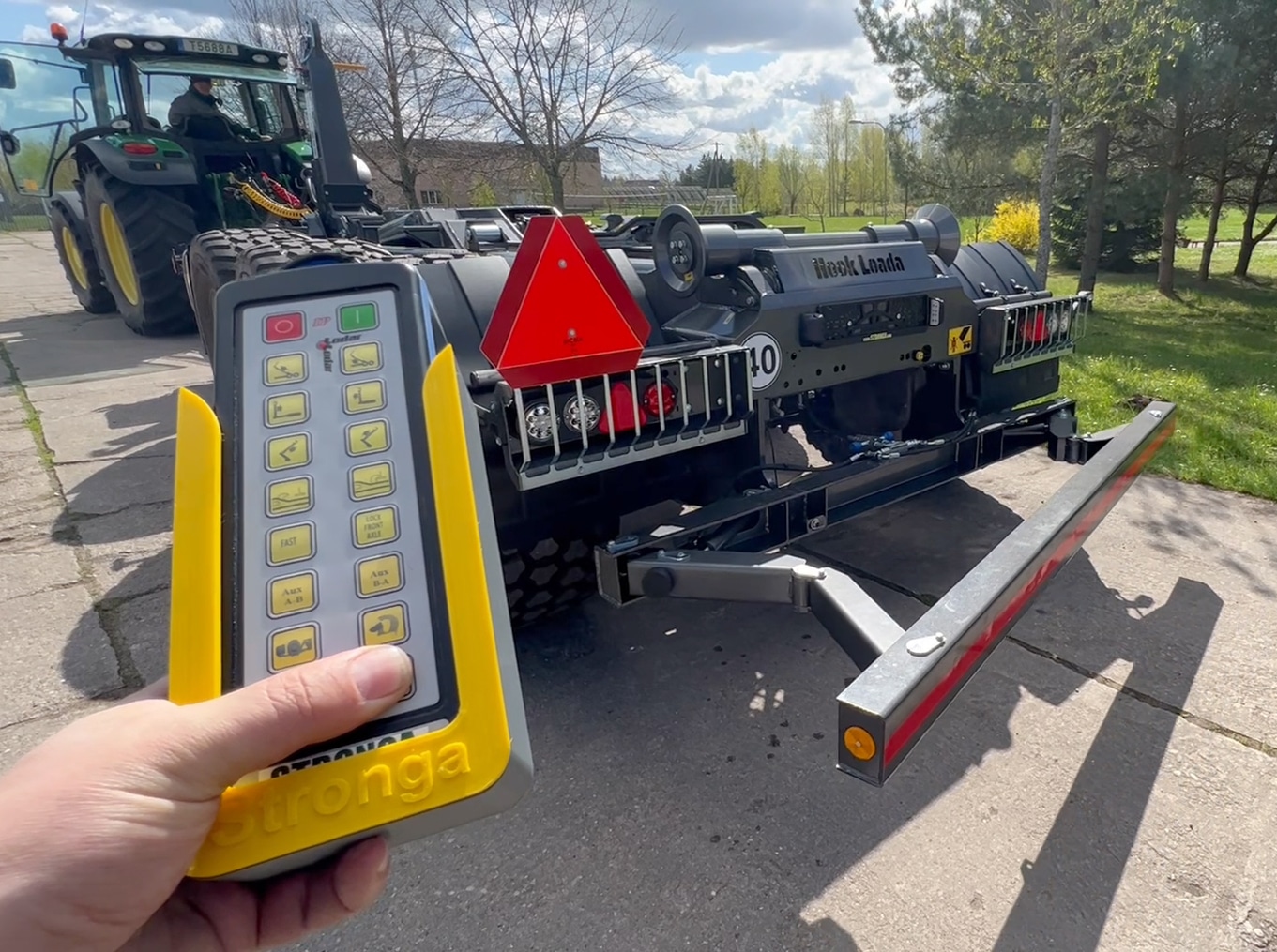 How Does SystaMatic™ Benefit Your Business?
Fewer Pipes on the Hooklift
With the SystaMatic™ package, the operator of the hooklift benefits from fewer pipes to connect to the tractor – there are in fact only 2 no. ¾ inch pipes compared to the usual 6 or more. This is a huge benefit to the operator, because:
- Less risk of damaging pipes and cables during the hitching and unhitching process.
- Faster hitching. It is far faster to hitch and unhitch the trailer to the tractor with only 2 pipes.
- Fewer oil connections which may leak after a period of time.
- Longer service life for both the tractor and hooklift trailer.
- Less pressure in the system.
- Less loading of the pump.
- Overall, the reduction in pipes offers better outcomes for the operator.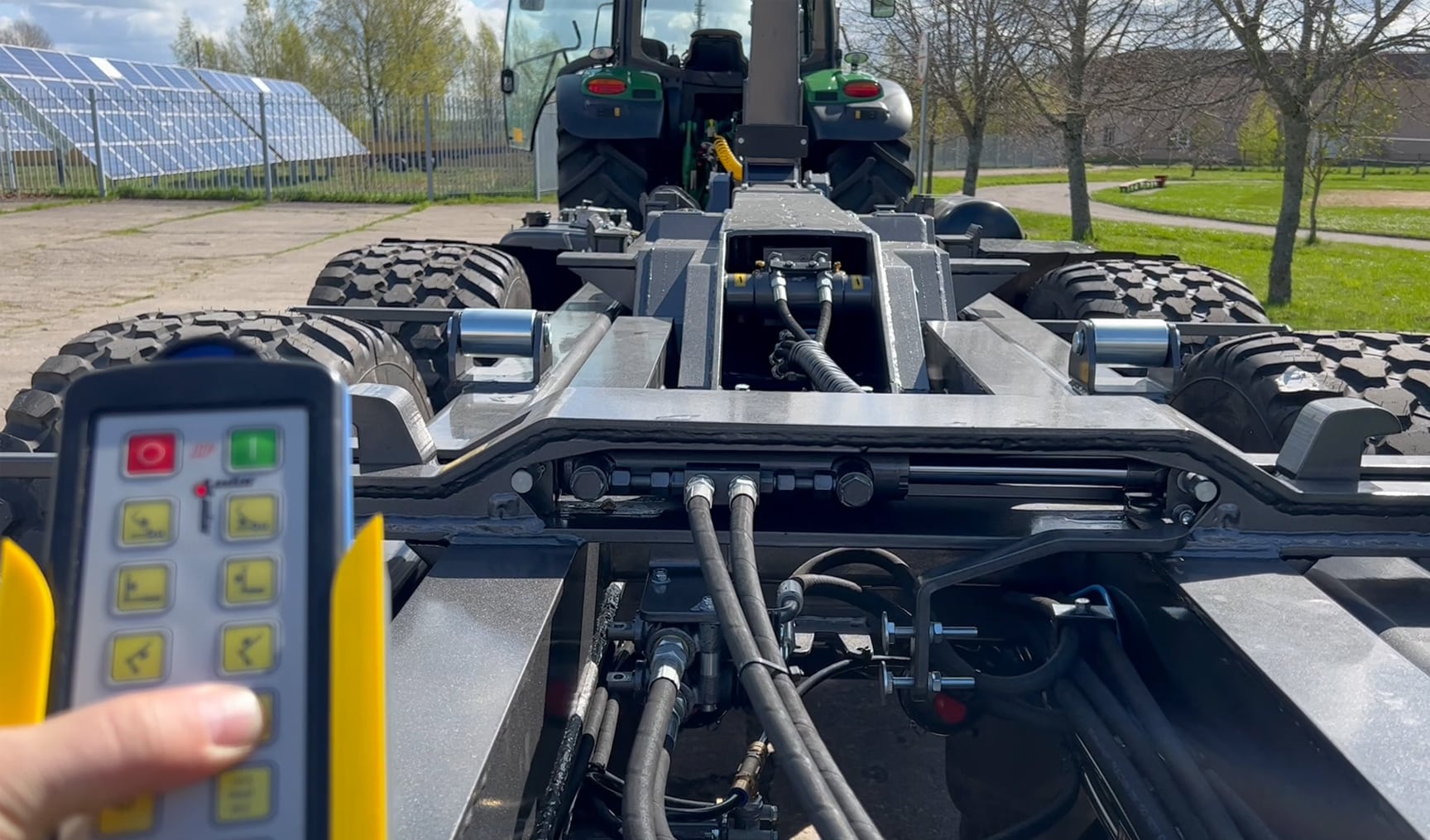 Danfoss Proportional Valve Option
While the Danfoss Valve option isn't included as part of the SystaMatic™ package, operators choosing SystaMatic™ often bolt the option on to their trailer's specification.
Whether you're moving heavy loads or need the precise control that allows your hooklift to feel like an extension of your arm, Danfoss valves enables increased productivity for your Stronga hooklift. Customers investing SystaMatic™ often choose to small the extra amount to gain the substantial benefits that the Danfoss Proportional Valve blocks offer.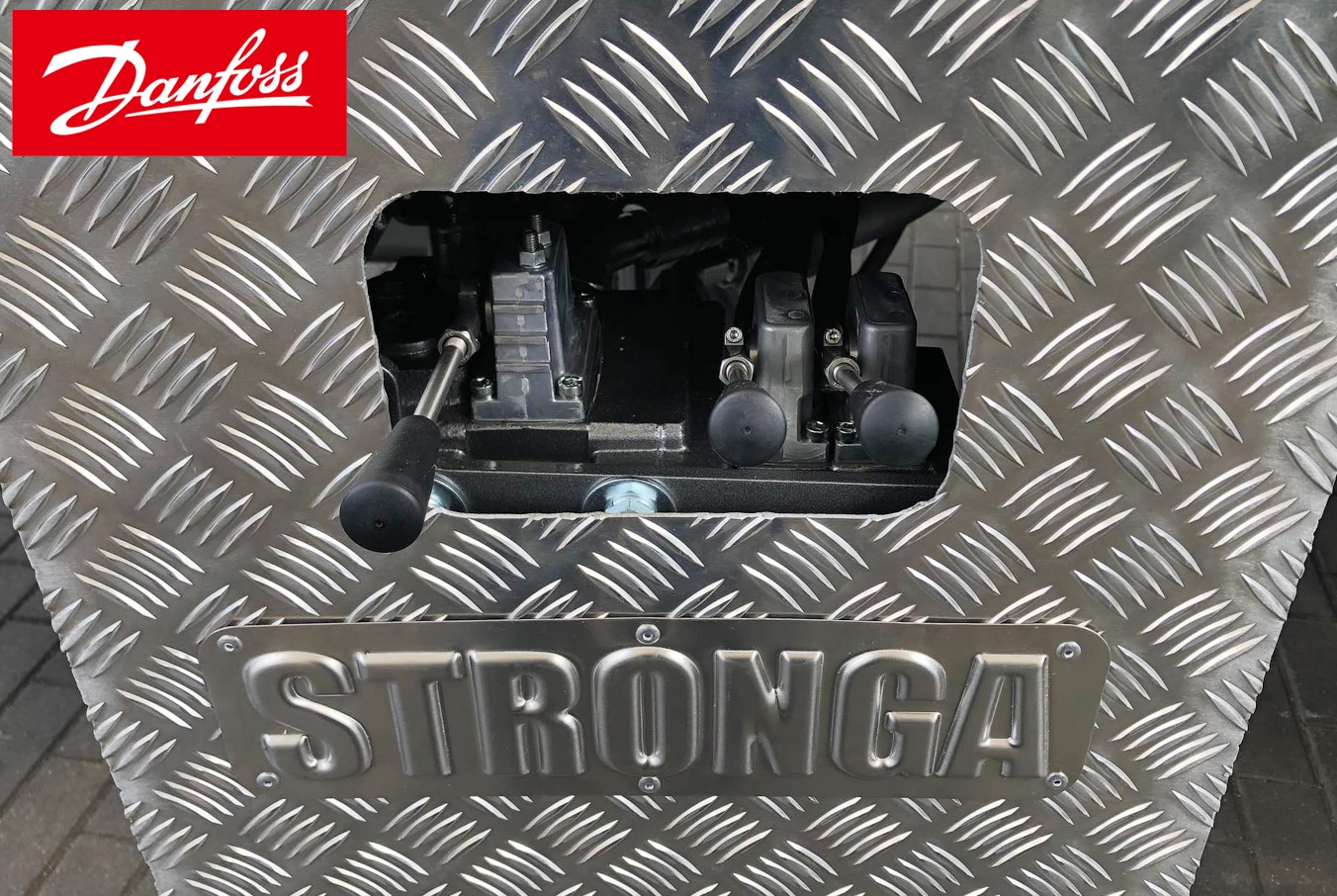 Discover the benefits of the Danfoss Proportional Valve option:
- Danfoss' modular electrohydraulic valves provide an almost infinite number of configurations, enabling you to realise innovative solutions. As the specification of your Stronga hooklift grows in size and capability, Load Sensing (LS) becomes a highly useful feature.
- Danfoss offer the best service support is every country in the world. That means you benefit from the peace of mind knowing spare parts and excellent fast service are only a short time away.
- In the long term, investing in Danfoss Proportional Valves increases the service life of your tractor because it is required to run for fewer working hours with less hydraulic stress on the system.
- As a consequence of the tractor working for fewer hours, you will also benefit from reduced fuel consumption – a huge benefit in these times where fuel costs are exceptionally high.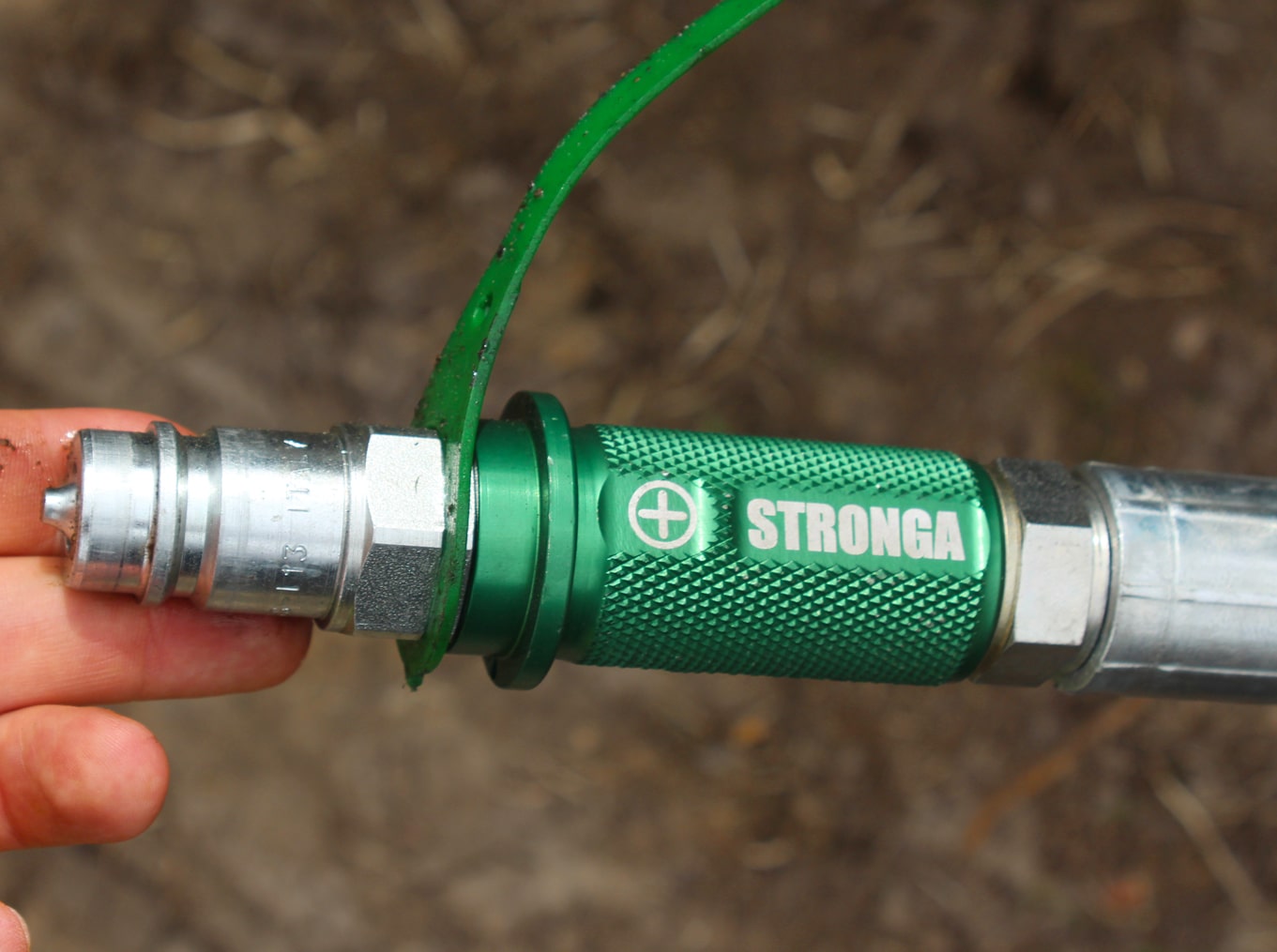 A Great Business Decision
Investing in a premium-level HookLoada trailer is a great business decision.
Buy now and save 3,500 euros on a brand-new, high-specification HookLoada trailer fitted with the SystaMatic™ option for free. Contact our sales team today for full terms and conditions of the spring special offer. We look forward to hearing from you.
Email - sales@stronga.co.uk
Telephone - 01992 519000