Level-Up with Stronga Air Suspension
Buy DumpLoada Now & Get Air Suspension Included Free
Stronga are pleased to announce a limited-time Special Offer, entitling customers to free Air Suspension when they confirm an order on a DumpLoada trailer between 1st November and 31st December 2022. Contact Stronga to arrange your new DumpLoada trailer and enjoy many years of improved efficiency from the world's most reliable dumper trailer.
Levelling-up to Stronga Air Suspension ensures your new DumpLoada reliably keeps the pace with modern high-speed tractors, ensuring you optimise productivity in your daily work.
2022 Special Offer; Summarised:
Special Offer Start Date: 1st November 2022
Special Offer End Date: 31st December 2022
The Offer: Air Suspension included free on selected DumpLoada trailers ordered within the offer period.
Selected Models: Special offer only valid for DumpLoada DL1000, DL1200 and DL1400 square body models; and DumpLoada DL1000HP and DL1400HP half pipe models.
Locations: Offer available globally (specifications will vary depending on market).
T&Cs apply: Stronga Special Offer is subject to Stronga's standard Terms & Conditions. To secure free Air Suspension, you must place and confirm your order before midnight on 31st December 2022. Signed order confirmation and advance payment required before the deadline.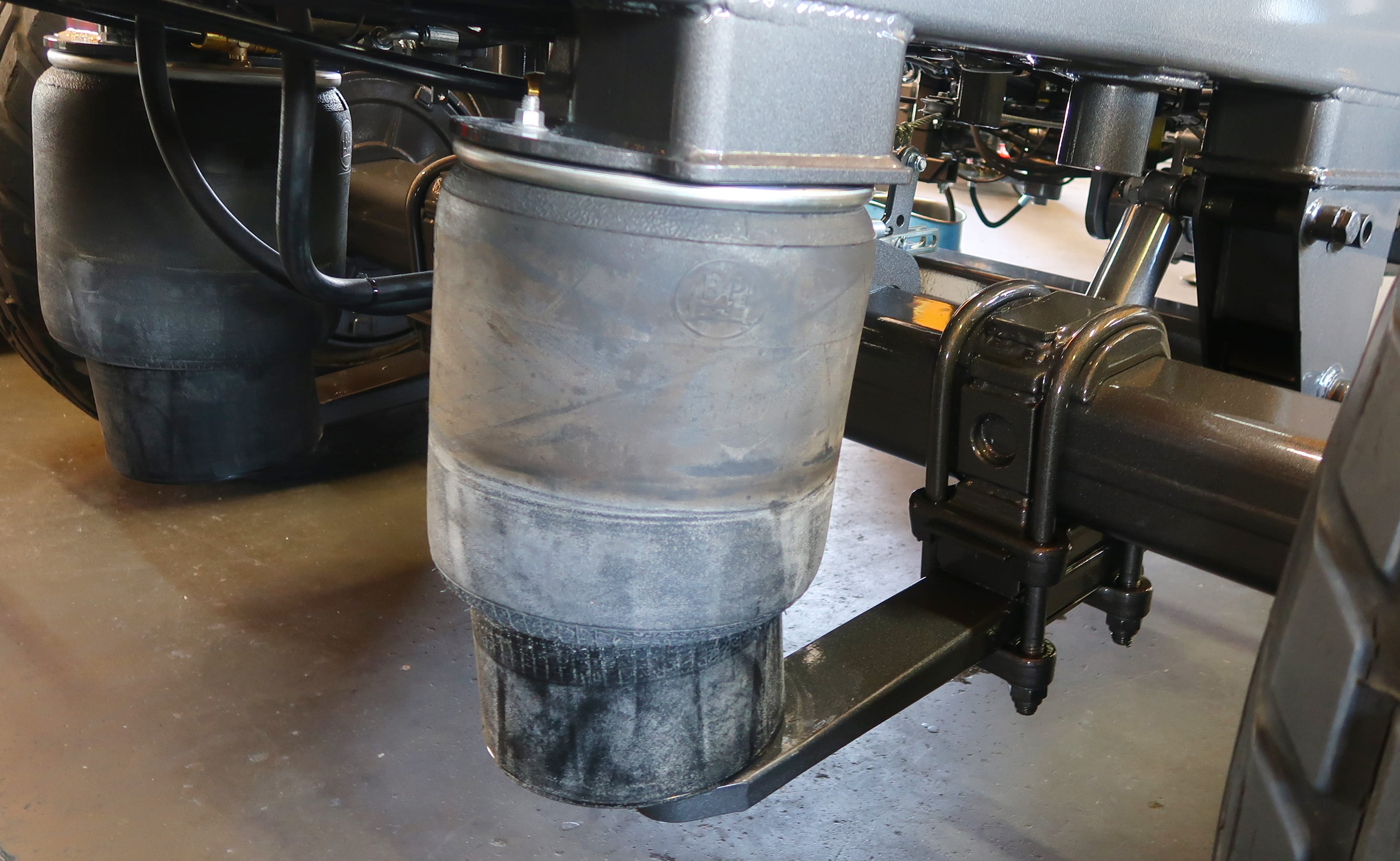 Stronga Air Suspension, Explained
Modern Air-Ride Suspension from Stronga provides a useful upgrade to traditional steel springs. Durable airbags are made of extra-hard rubber and polyurethane which is designed to perform over many years on the most challenging terrains. Fewer moving parts ensure the equipment lasts longer than the heavier, more-expensive-to-maintain sprung suspension alternative. It's no coincidence that millions of trucks across the globe choose to ride on Air Suspensions.
This premium-level, professional suspension system offers several significant benefits when compared to metal sprung suspension. These benefits are described in detail below.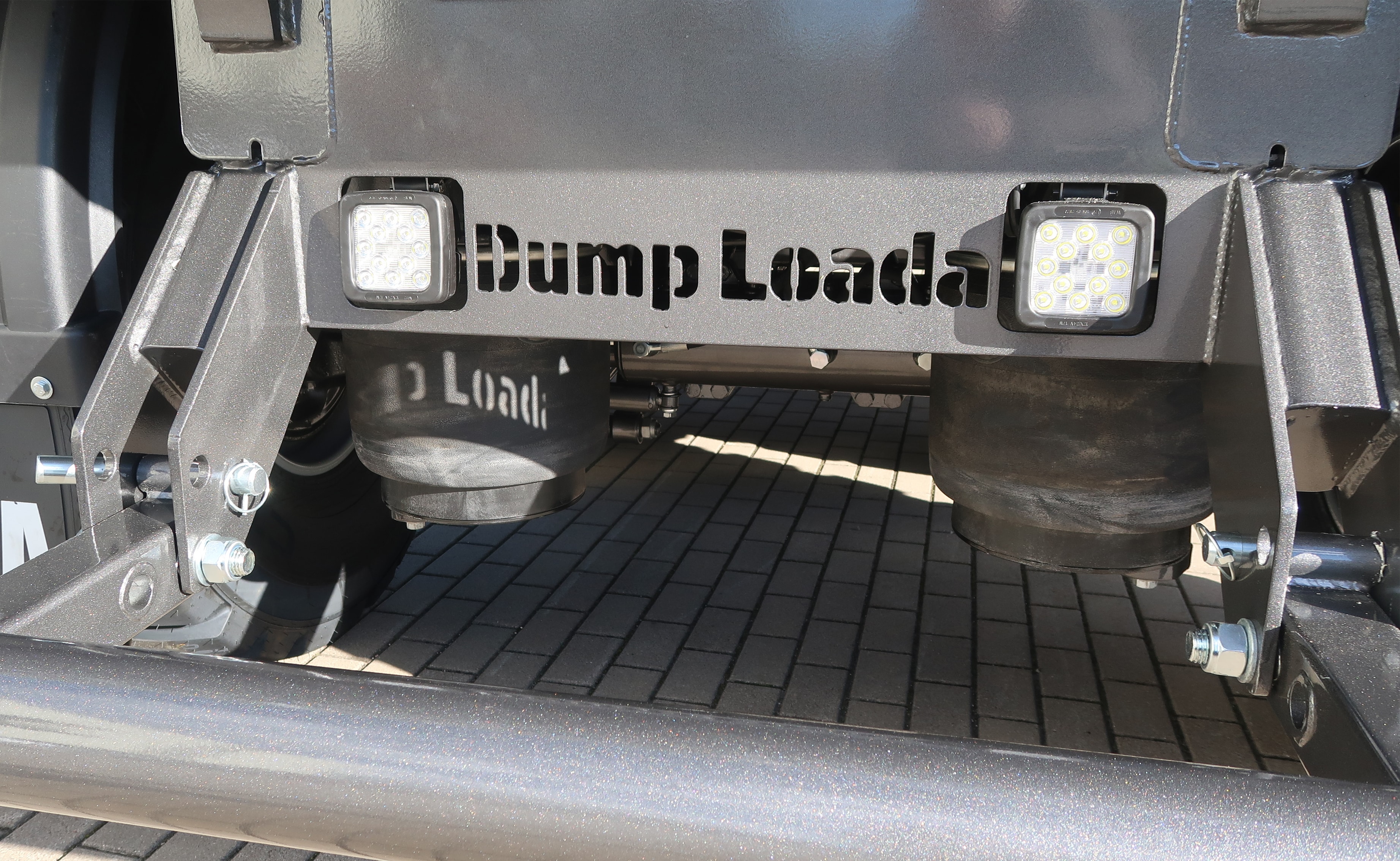 No. 1 Benefit of Stronga Air Suspension
Air-Ride Comfort, On-Road & On-Track
A key benefit of Stronga Air Suspension is the significantly improved comfort enjoyed by the driver. Comfort which is appreciated day-in, day-out, over many years of work.
The air spring itself is not the only reason why professional-fleet operators choose Air Suspensions over traditional multi-leaf or parabolic sprung suspensions. Air Suspension systems are more-so mounted as an independent axle suspension arrangement compared to the interconnected metal sprung-type suspensions. There is a well-designed damper in the Air Suspension geometry which further dampens oscillation over bumps; this makes the ride far more comfortable for the operator, both on and off the road.
Metal Sprung Suspensions simply do not damp as effectively as Air Suspensions in harsh, high-speed environments; especially in DumpLoada-type, heavy material transport operations. Air Suspension damping is especially important with dumper trailers due to the high load duties of the trailer. Large forces are at work.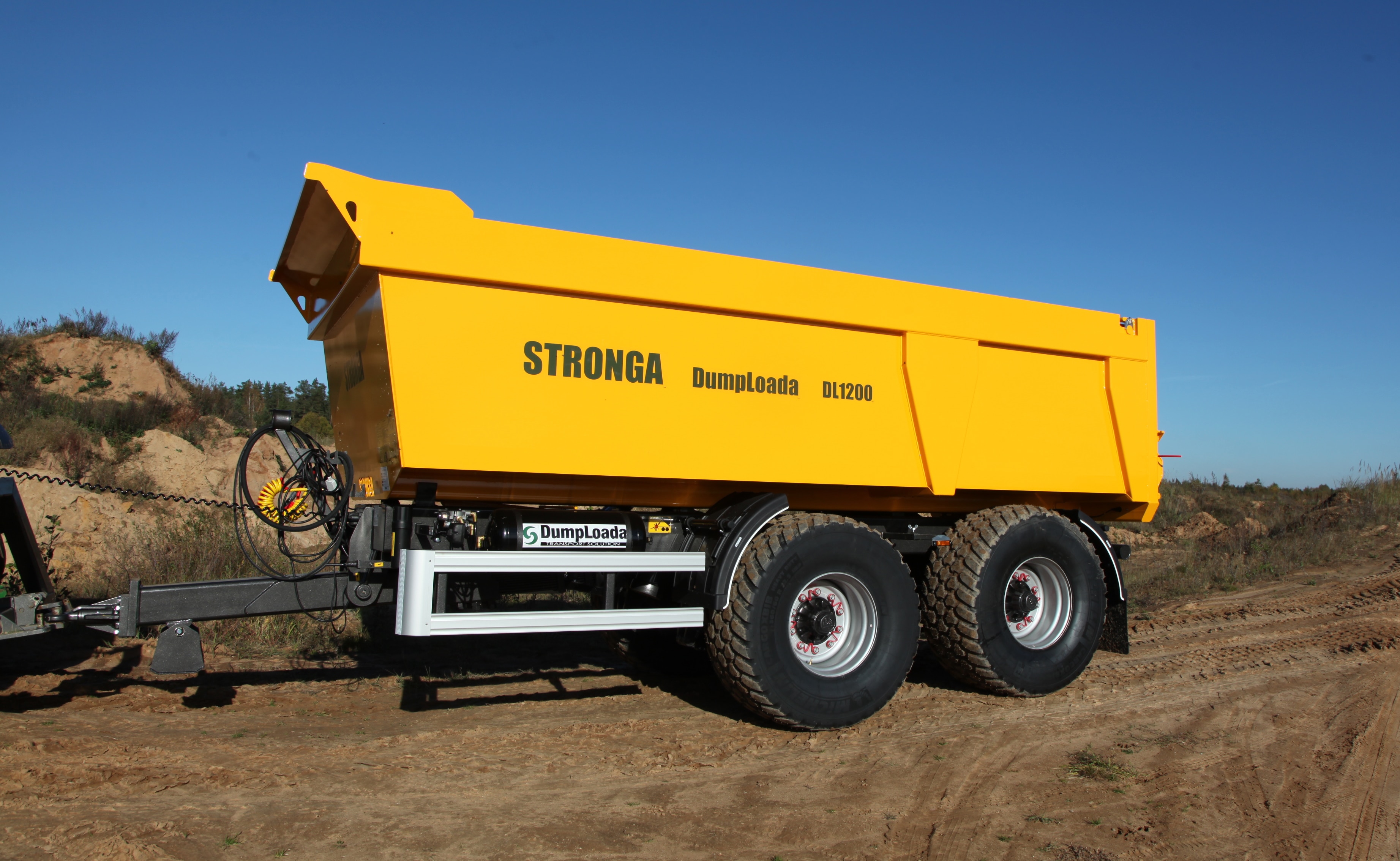 No. 2 Benefit of Stronga Air Suspension
Reduced Shock Loads on the Tractor
Increasing tractor power, higher speed tractors, bigger trailers and bigger payloads bring new challenges and increased dynamic forces. Stronga air-ride suspensions offer an effective way to reduce shock loads transference to:
(1) The trailer's hitch and importantly – the operator;
(2) The trailer's axles, bearings, wheels and overall running gear;
(3) The trailer's chassis. Shock loads are dampened and softened, extending the trailer's service life.
The above benefits compound together to bring significant useful advantages for operators of Stronga dumper trailers.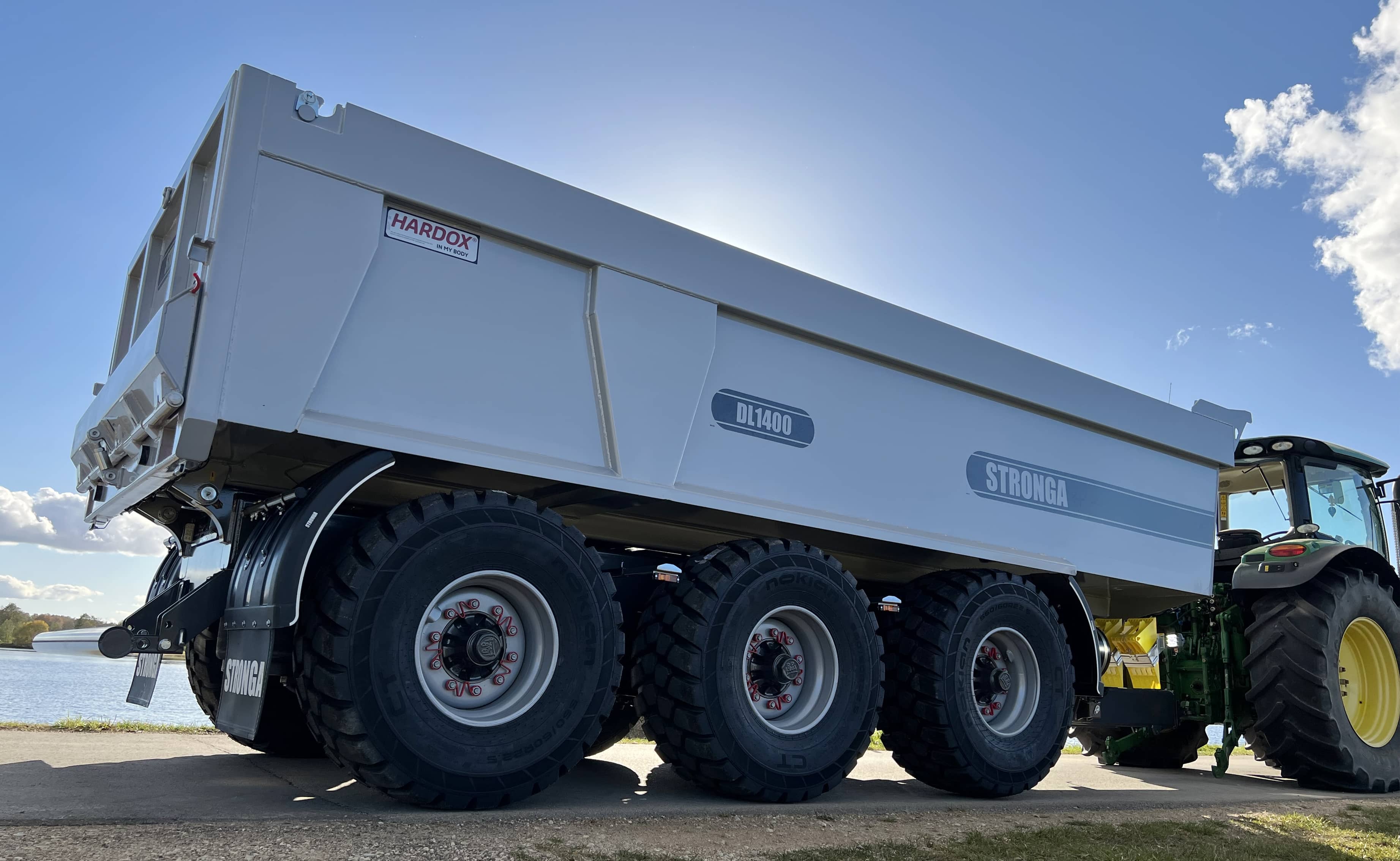 No. 3 Benefit of Stronga Air Suspension
Extended Service Life & Lower Maintenance Costs
Through our work with leading fleet-owning road building contractors across the globe, Stronga have learnt that Air Suspensions require significantly less maintenance than traditional steel Sprung Suspensions. Owners and operators benefit from significantly less wear and tear on the suspension system and associated components (axles, bearings and so on).
Part of the reason for this is that Air Suspensions easily compensate for potholes and road bumps, extending the service life of your trailer whilst minimising the expensive maintenance costs associated with Sprung Suspensions. Ease the burden of lifetime service costs by making the smart investment in professional-level, air damping technology for your new DumpLoada.
The reasons for lower maintenance costs are:
● Fewer wearing parts in air-ride suspensions. Metal Sprung Suspensions have more pins, more bushes and more wearing movement with rocker beam oscillation and spring hangers.
● Air Suspension parts have lower dynamic wearing movement. This leads to increased service life and uptime which is so important for professional operators who need high performance equipment with maximum uptime.
● On the infrequent occurrence that there is fault with the Air Suspension, you are normally able to continue driving back-to-base before service is required. You'll generally always be able to return the equipment home.
● After long service at end of life, component exchange is faster and simpler on Stronga air-ride suspensions. Air Suspension parts are far easier to replace than Sprung Suspension parts. That means you can get up and running again faster – especially with BPW's leading global parts support service.
● There are fewer lubrication points on Air Suspensions. Unless Metal Sprung Suspensions are frequently lubricated on all grease points, they are at greater risk of premature wear, requiring replacement.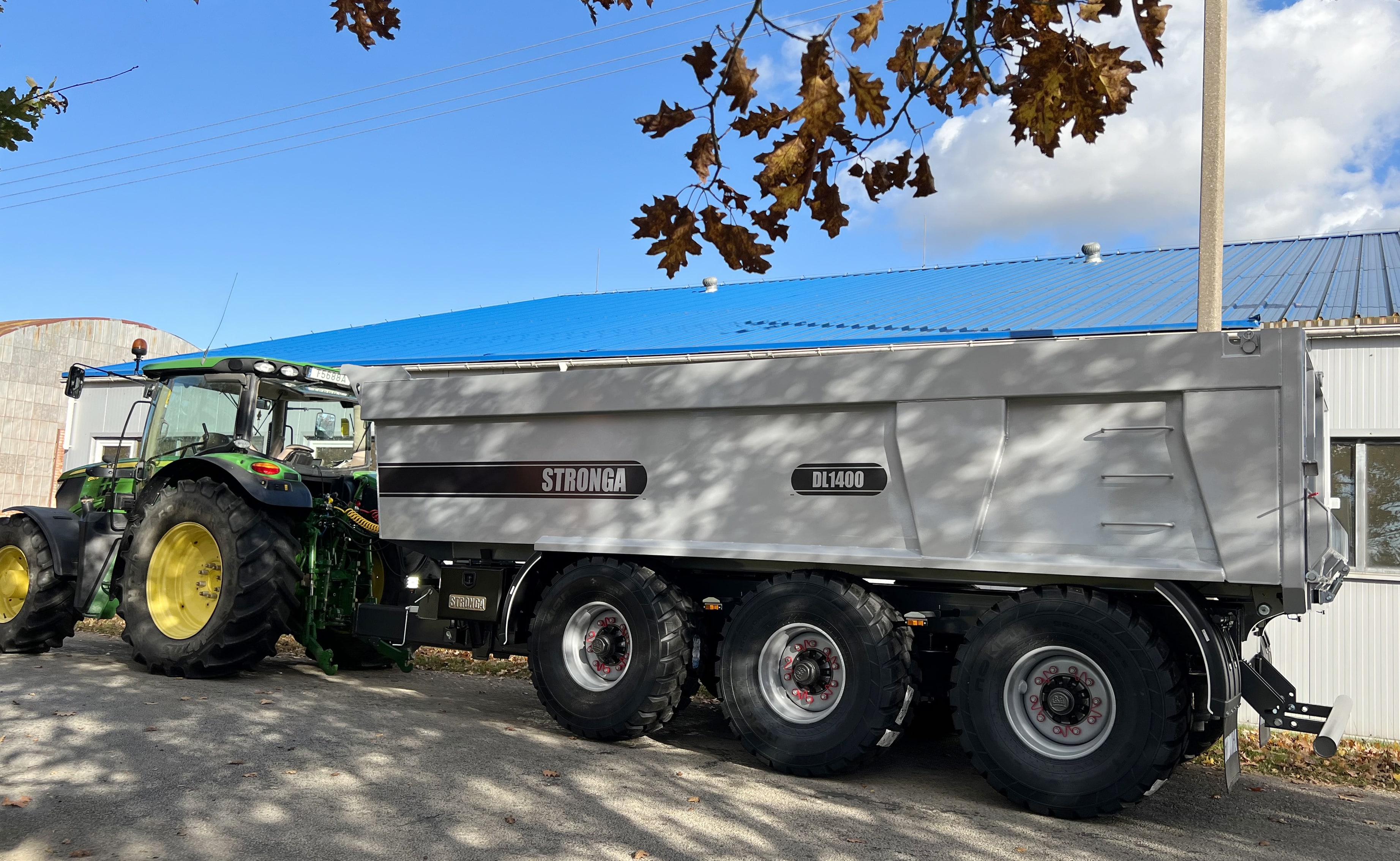 No. 4 Benefit of Stronga Air Suspension
Millions of Truck Drivers Ride on Air Suspensions. Are They Wrong?
Stronga Air Suspension systems have been developed by BPW over many years and billions of kilometres in the harshest environments. What's more, they are currently fitted on millions of trucks across the world. Trucks working on the toughest roads, tracks and terrain. Ask yourself; why would the majority of global truck operators choose Air Suspension if it wasn't proven as the premier suspension system?
Stronga supply our market-leading DumpLoada trailers for leading professional contractors in regions across the globe. Each of these organisations have fleets of Stronga trailers fitted with Air Suspension systems. These trailers, together with the many thousands of trucks, have demonstrated over time the genuine long-term cost and technical benefits of Air Suspension.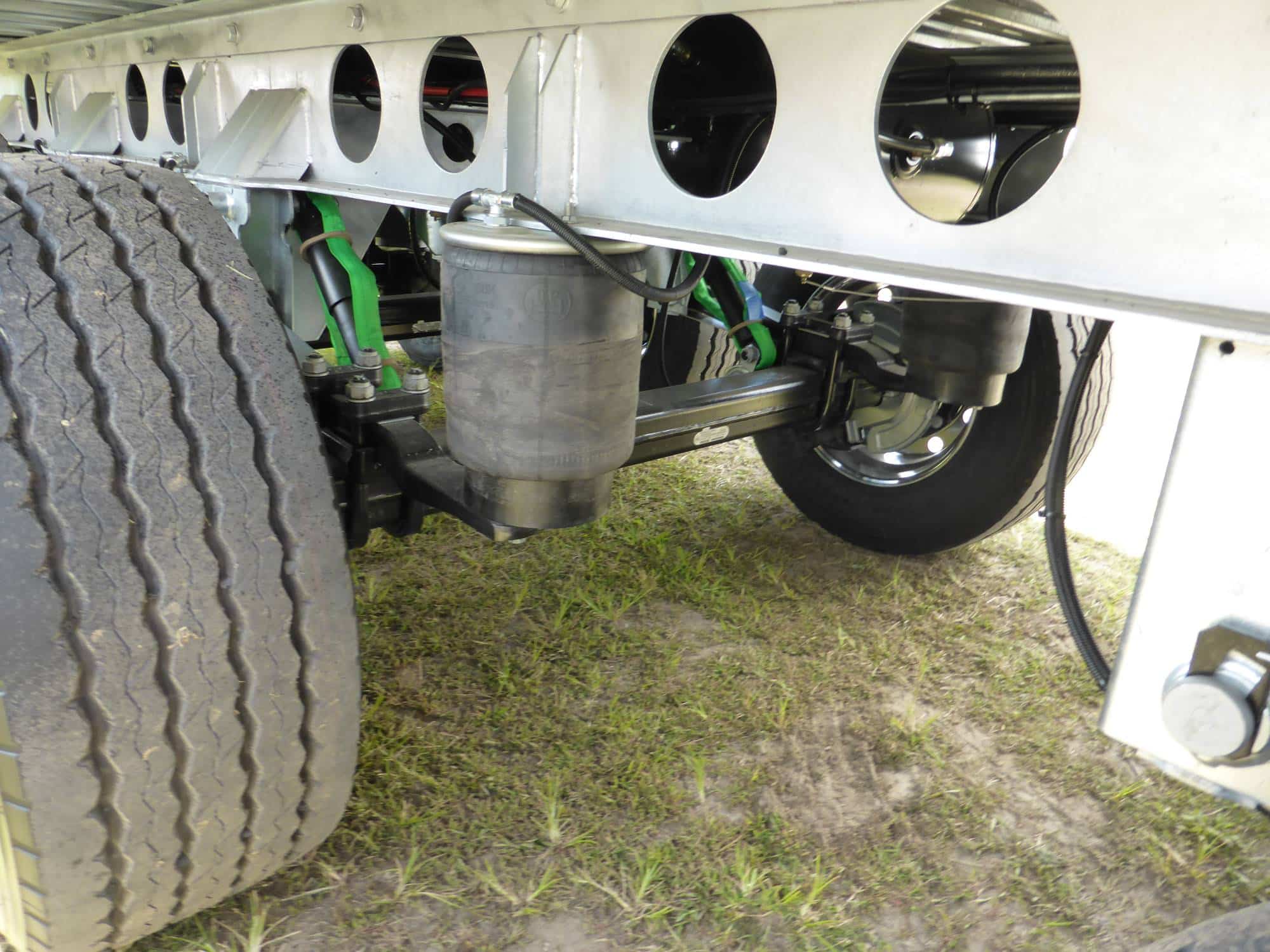 No. 5 Benefit of Stronga Air Suspension
Ride Height Control
Ride height control comes as standard when you choose Stronga air-ride suspension on DumpLoada trailers, allowing the operator to select the optimal trailer ride height. Consider the 3 situations below:
(1) Setting the Air Suspension to "road-height" on good terrain lowers the trailer's centre of gravity; this in-turn improves cornering at increased speeds to keep the pace with modern, high speed tractors.
(2) Alternatively, setting the Air Suspension to "track-height" off the road raises the chassis; this provides optimal articulation and clearance, increasing capability over challenging off-road, track-type terrains.
(3) During trailer loading cycles, the chassis can be lowered to its lowest setting to improve visibility for the loader.
Beyond suspension choice, Stronga can also advise on the best tyre choices to suit your transport application, providing the overall optimal package for your requirements.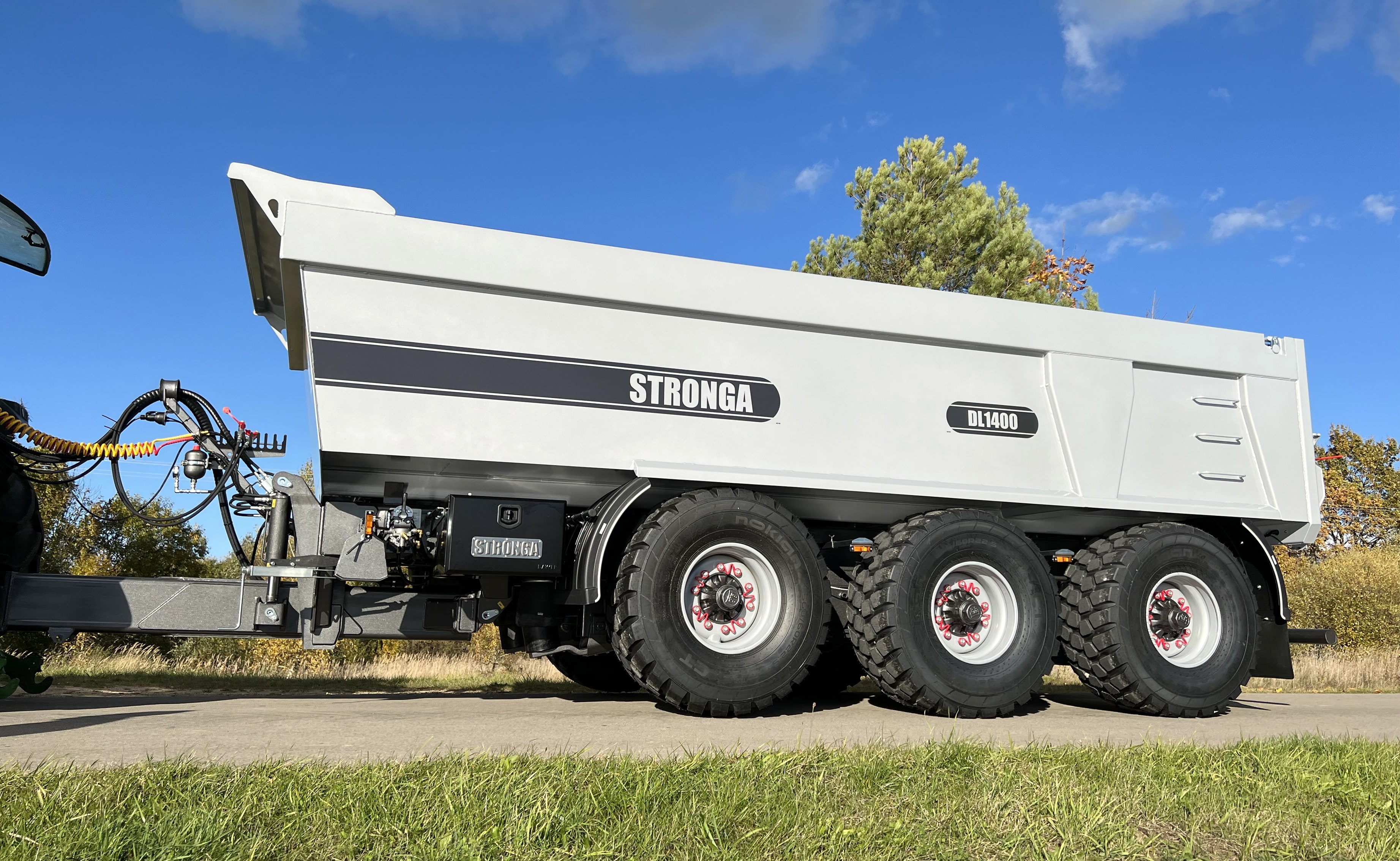 No. 6 Benefit of Stronga Air Suspension
Tipping Height Control
With Stronga AirLoada™, the DumpLoada trailer automatically releases air from the air bags at the start of each tipping cycle. This greatly improving the tipping stability of the trailer on modern, high capacity dumpers tipping at height, especially on uneven or soft terrain types.
This improvement in safety is especially important with large-scale, tri-axle, high-tip dumpers.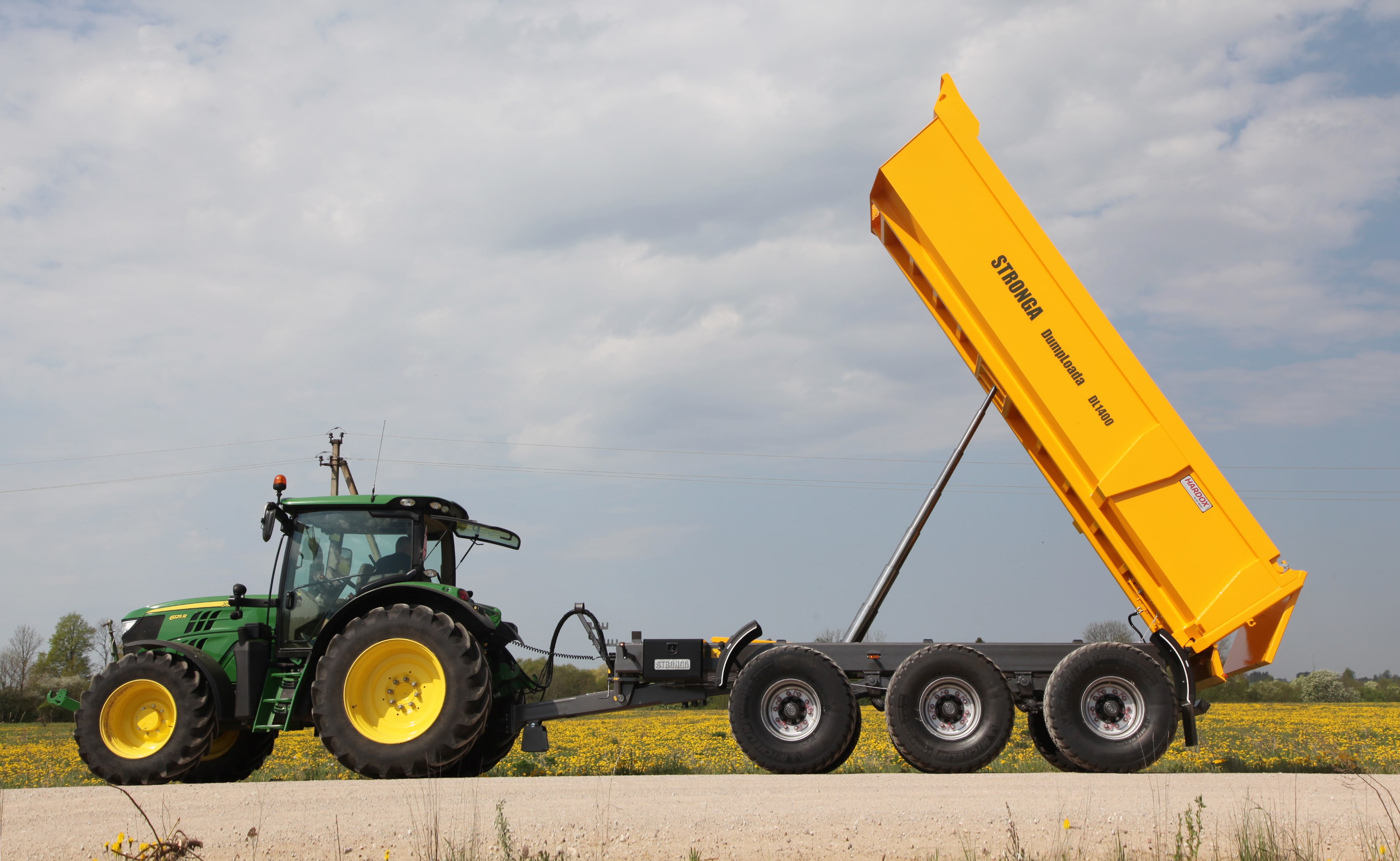 No. 7 Benefit of Stronga Air Suspension
Lift Axle – Option Enabled
The added benefit of choosing Air Suspension is that it enables you to select other very useful options; the most popular choice being the front Lift Axle on tri-axle dumpers.
By raising the front axle during empty-travel, the operator enjoys significantly less fuel consumption over-time; a benefit which has become increasingly important for CO² and cost-saving purposes. Moreover, raising the axle also reduces tyre wear over the long term, meaning those expensive replacement costs can be forgotten about. During loading, the pneumatic Lift Axle automatically lowers down as a self-protection feature.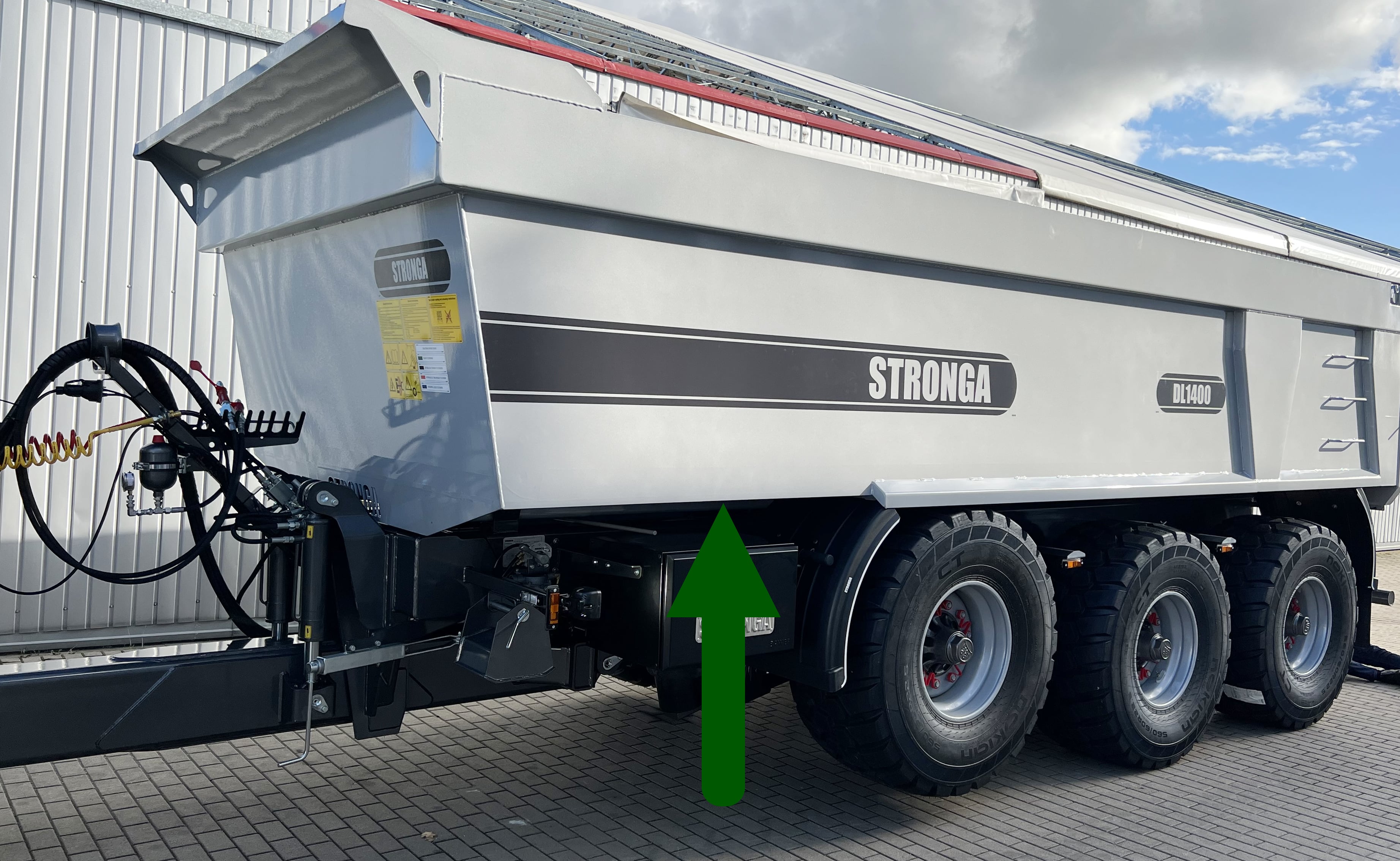 No. 8 Benefit of Stronga Air Suspension
Roll Stability Control – Option Enabled
Another great feature enabled by Stronga Air Suspension is the wonderful Roll Stability Control (RSC) option. RSC is smart control offered by the WABCO system; it is a function integrated into the steering system to ensure better safety and stability in corners. Speak to our sales team today to learn more about the RSC function.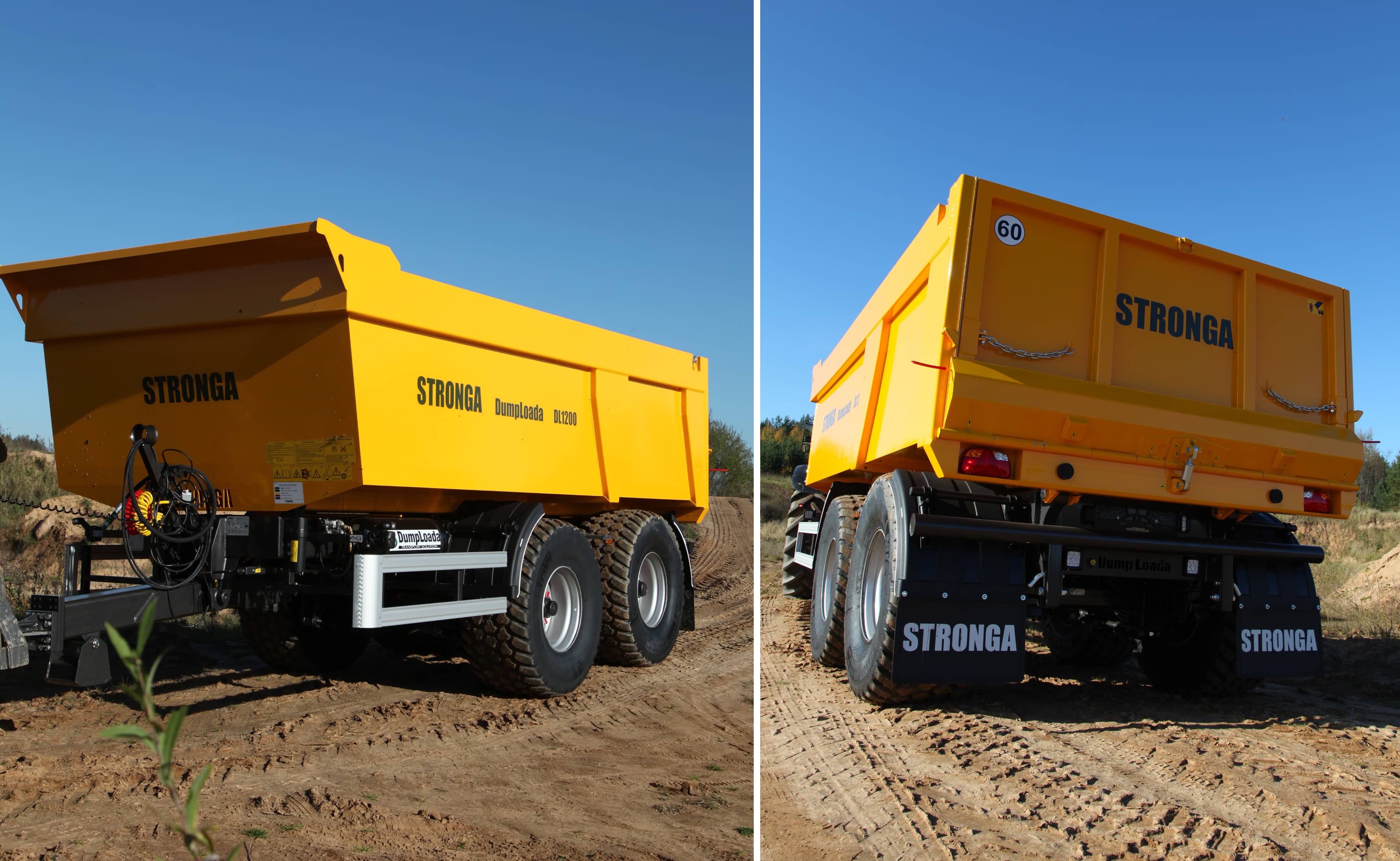 No. 9 Benefit of Stronga Air Suspension
Commercial, Well-Proven Suspension System
When you select Air Suspension as your chosen suspension type, you are selecting premium-level BPW equipment which is backed by an extensive global dealer support network. BPW's famous support service ensures you can source spare parts quickly and reliably whilst enjoying the peace of mind knowing that help is never too far away.
Air Suspension from Stronga has been developed over many years of hard work. This is a well-developed, well-proven and extremely well-applied commercial suspension system designed for the longest performance life.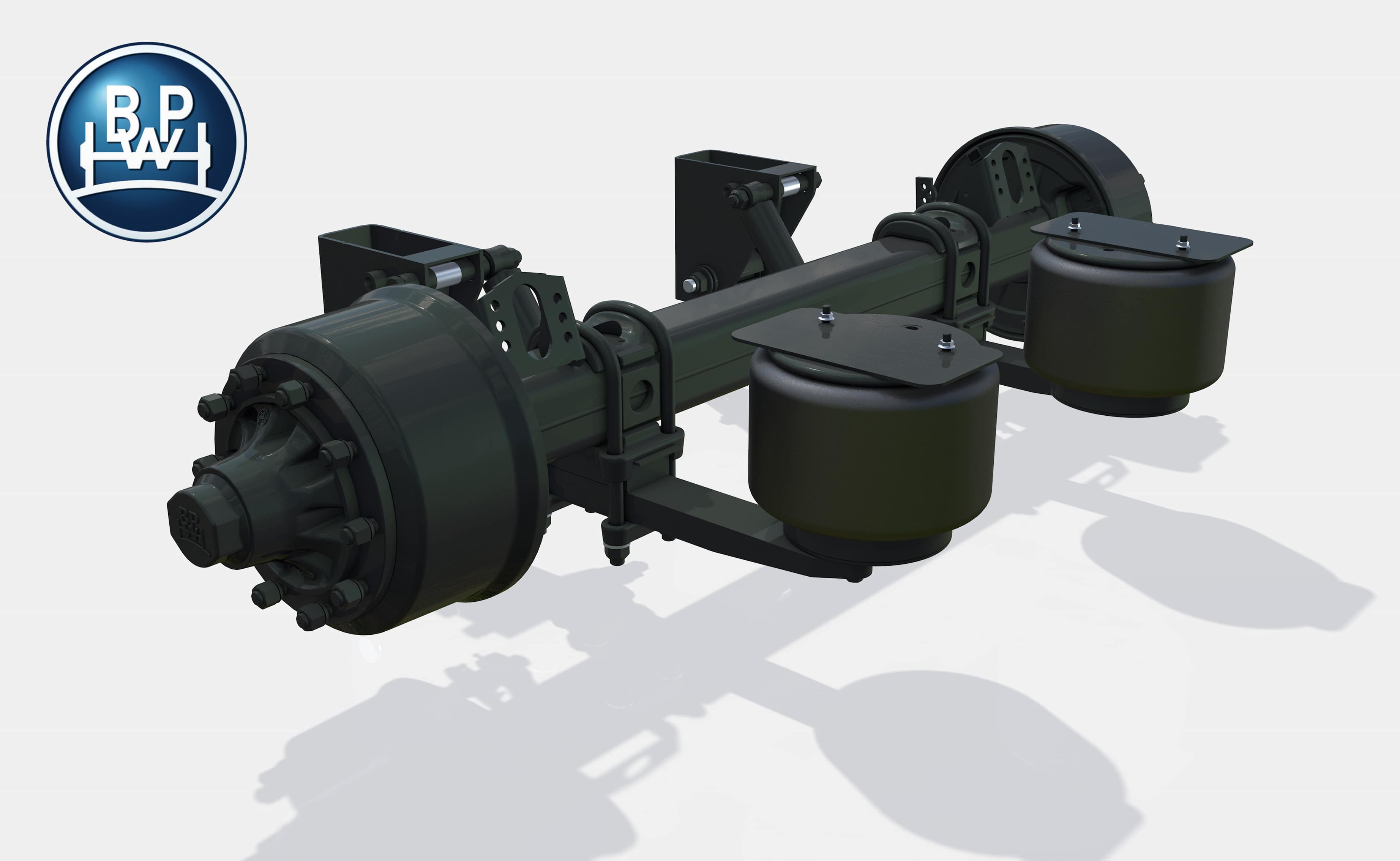 No. 10 Benefit of Stronga Air Suspension
Lightness with Strength
Air Suspension Systems offer a significant saving in tare weight when set against comparable sprung suspensions on tri-axle DumpLoada trailers – all whilst maintaining the exceptional strength and service life operators come to expect from Stronga. This weight saving can be added to the trailer's payload which is hugely important when working with heavy materials – improving productivity, every single load.
Our design philosophy of "lightness with strength" is also why Stronga use premium-level Hardox wear plates in the design of our trailers. Hardox reduces the overall tare weight of our equipment whilst offering vastly improved impact strength compared to other available steels.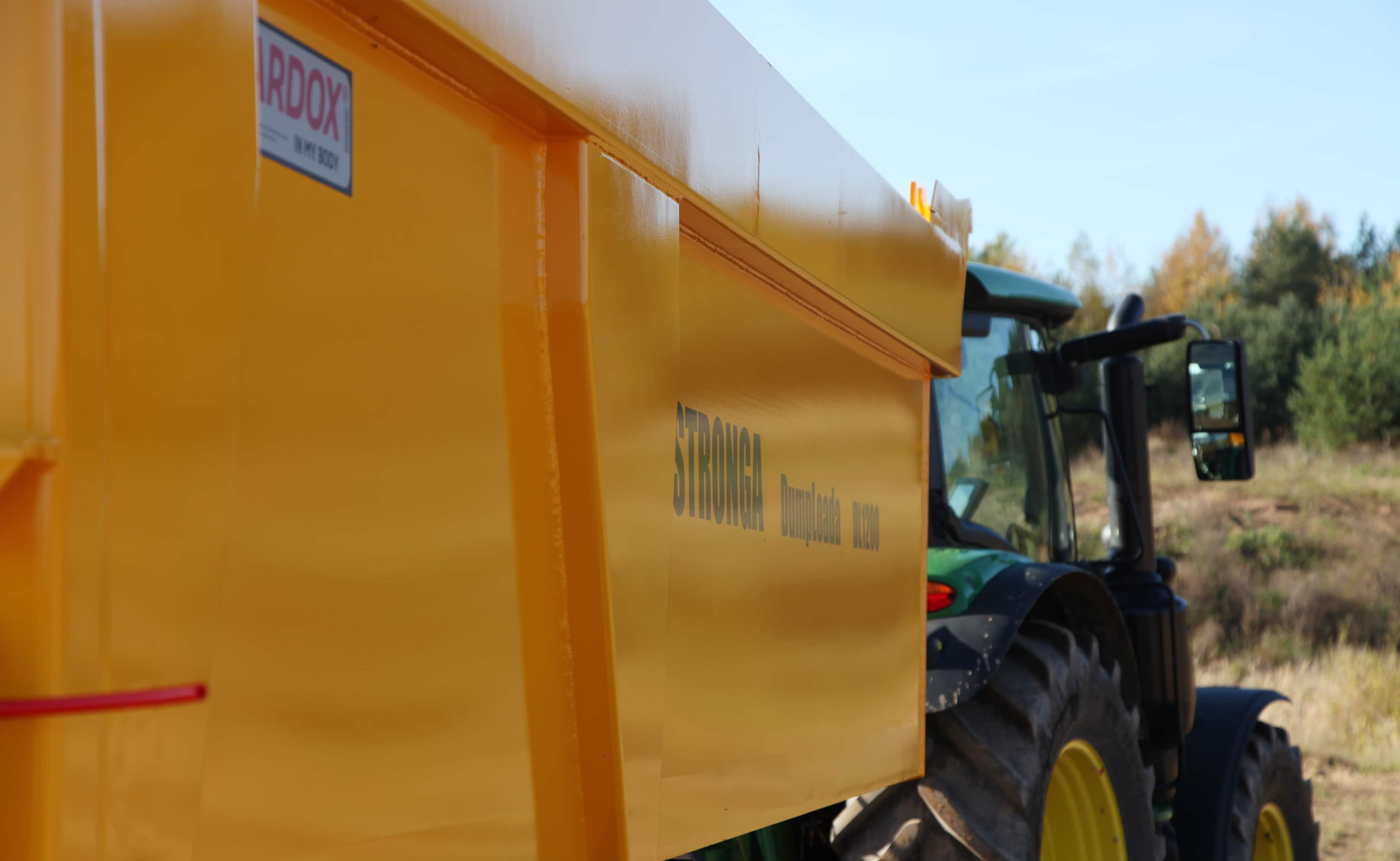 Save Money Now on a Premium-Spec Trailer
Whilst the arguments for choosing Air Suspension are formidable, it may not be a suitable selection for every customer and there are outstanding available alternatives. Premium-quality Hydraulic Suspensions, for example, may be better for some off-road situations whereas Sprung Suspensions do offer credible benefits for others.
It is undoubted, though, that Air Suspension really is the leading solution as we listen to our respected customers who feedback their experiences to us. To save money now on a brand-new, high-specification DumpLoada trailer, contact our sales team and let them help you specify the right configuration for your operation. We look forward to hearing from you.
Email - sales@stronga.co.uk
Telephone - 01992 519000
Reminder – Stronga's HookLoada special offer is valid until 31st December, 2022. This offer entitles customers to a free steering axle when they purchase a HookLoada trailer (selected models) in the offer period (T&Cs apply). Speak to us today to learn more.