More flexibility, less waste
Stronga design a classic range of highly versatile hook lift vacuum tankers to suit your vacuum tank and liquid jetting needs. These highly reliable, tried and tested hook lift chassis-mounted assemblies can be used for filling, spraying, or simply transporting liquid products. Stronga supplies hook lift vacuum tankers around the world with one objective - to continually improve our the handling efficiency of our customers businesses.
Purpose-built. Specifically for you.
Purpose-designed, every SuperTanka is unique and can be built for any type of hooklift equipment - truck or trailer. All Stronga hook lift vacuum tanks feature internal baffles to prevent wave surge during transport. For deep lifting efficiency, our super-suction vacuum tankers provide an excellent solution with 150mm diameter suction hoses to cope with liquids of varying viscosity.
At Stronga, it's not about what we make; it's about what our customers accomplish.
Think Big. Think SuperTanka.
The equation is simple. Greater transport flexibility, enabled by HookLoada trailers, translates into more profitable business. SuperTanka is commonly used across the following diverse liquid handling applications. Invest in flexibility today with HookLoada.
Septic tank & cesspit emptying
Industrial sludge removal
Grease trap desludging
Cleaning roadside gullies
Oil & water removal
Servicing welfare units
Safe water disposal
High pressure jetting
Dust suppression and more…
Discover the details of SuperTanka
Interact with the 3D model below to discover the details of the SuperTanka hook lift vacuum tank.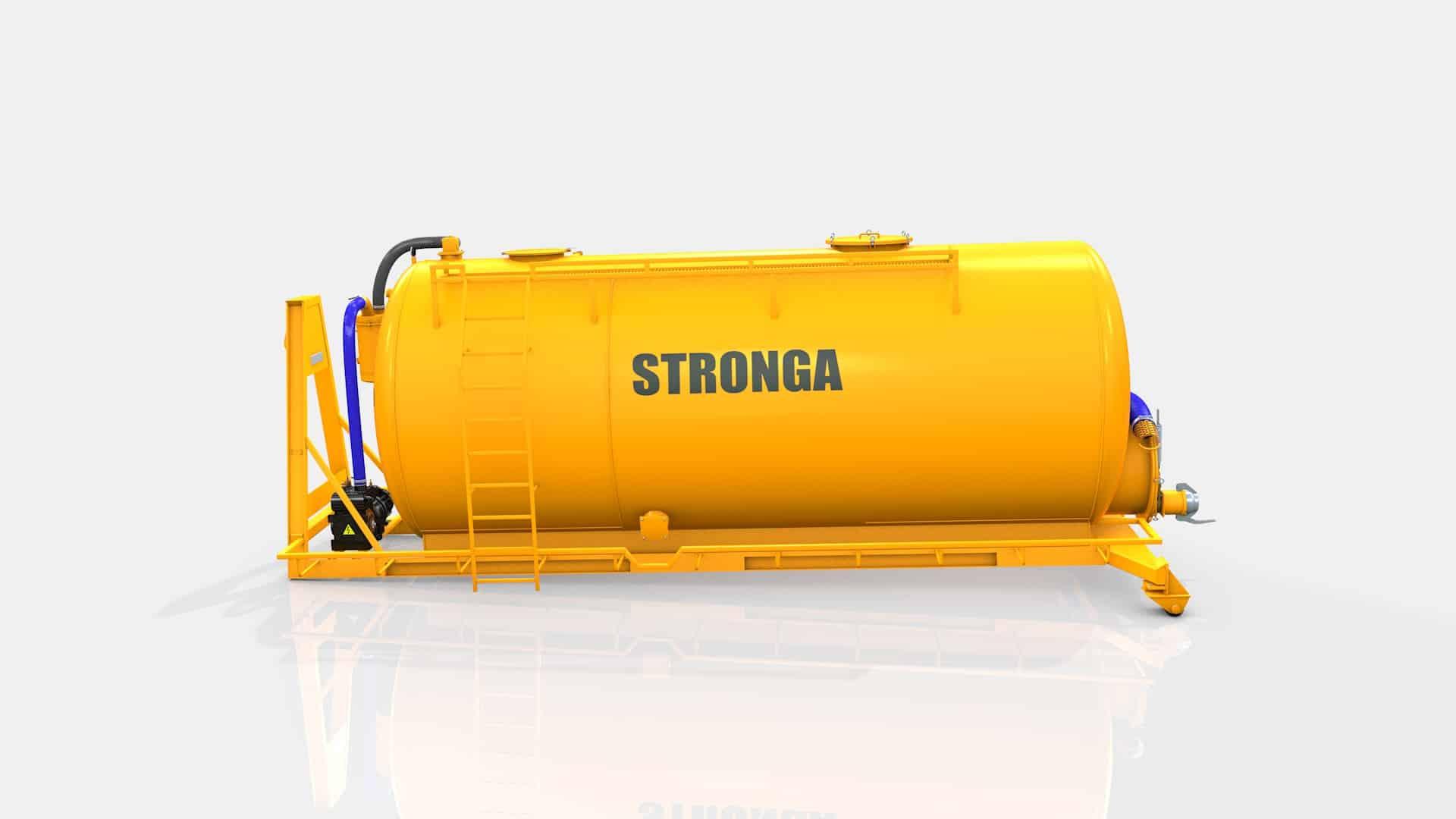 Modern thinking
The future is made of Stronga
Demountable hook lift vacuum units allow your business to maximise the flexibility of your hook lift vehicles. 100% removable in minutes, the ground-demountable SuperTanka supplies all of the safety, quality and productivity of fixed vacuum tanks with added flexibility and significantly increased potential. The decision to invest in hook lift equipment is always a no-brainer.
Standard Specifications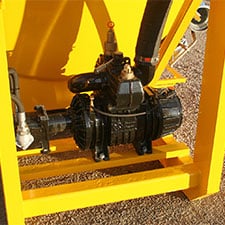 High capacity vacuum pump with changeover valve for vacuum and pressure setting.
Highest vacuum efficiency
High duty cycle
Reliable, long life air-cooled pump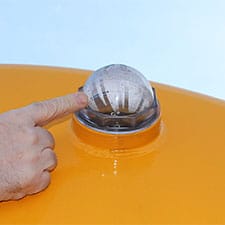 Multiple easy view liquid sight gauges. Instant level indicator to avoid overfilling.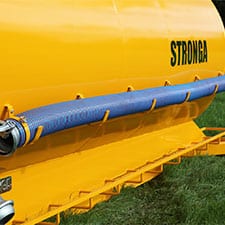 6000 mm long, 150 mm diameter flexible vacuum hose with quick release coupling and end filter included. High grade reinforced PVC hose. Easy to handle, connect and clean.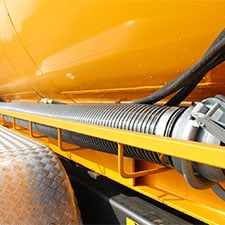 Easy access vacuum hose stowage area on both sides of the hook lift vacuum tank.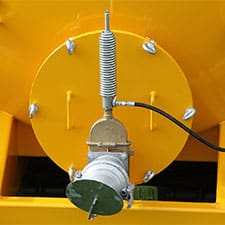 Rear service and cleaning hatch with hydraulically-operated gate valve. Secure and easy access via ring of tensioning clamps.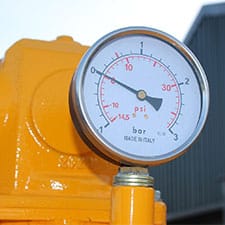 Manometer giving instant visual indication of tank pressure.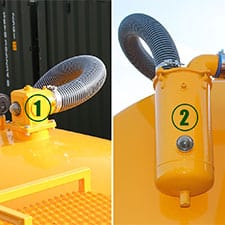 Automatic pump protection. 2 ball float valves with drain cock to prevent liquid injection into the vacuum pump.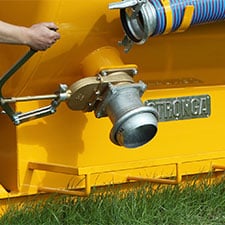 3 inlet / outlet ports with 1 manually-operated sluice gate valve, handle and blanking cap.
Convenient filling and emptying from either side of the tank or rear.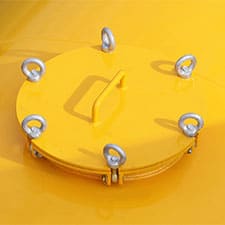 Top manhole with ring of securing clamps. Access, ventilation and inspection point.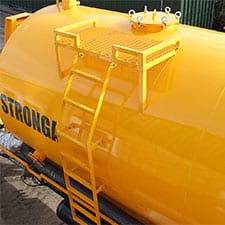 Ladder and non-slip grated platform to access top manhole cover.
Optional Equipment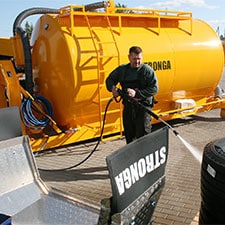 ST-101
JetWasha - High pressure jetting with fresh water bowser integrated into main tank. Complete with pump, pressure hose, lance and nozzle. Various capacities available.
Contact us for more information >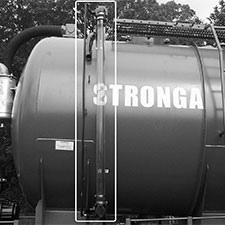 ST-102
Full height liquid sight gauge with manual valve. Precise visual level indication.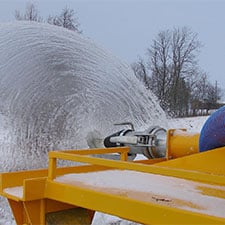 ST-103
Simple, gravity-fed rear liquid spreader plate. Ideal for spreading slurry and water for dust suppression on roadways.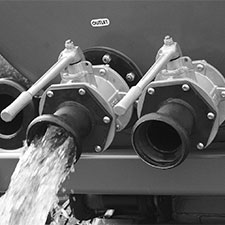 ST-104
Ball-type manual gate valve upgrade for precise flow control and excellent tank sealing properties.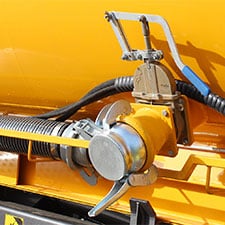 ST-105
Additional inlet filling points, location bespoke to customer requirements.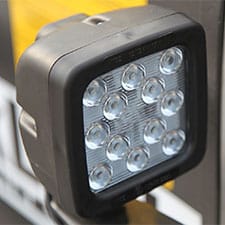 ST-106
Pair of super bright directional LED rear spot lights for excellent visibility in the dark. Adjustable angle and direction.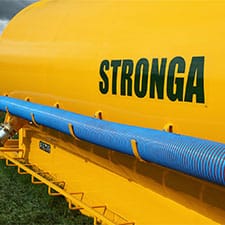 ST-107
Extra lengths of extension vacuum hose, complete with quick release couplings both ends. Extend your filling reach.
| Model | ST12 | ST14 | ST16 | ST18 | ST20 | ST22 |
| --- | --- | --- | --- | --- | --- | --- |
| Hooklift standard | C.D. | C.D. | C.D. | C.D. | C.D. | C.D. |
| Liquid capacity* | 12000 litres | 14000 litres | 16000 litres | 18000 litres | 20000 litres | 22000 litres |
| Dry weight** | 2760kg | 2960kg | 3160kg | 3360kg | 3560kg | 3760kg |
| Overall length | 5000mm | 5650mm | 6285mm | 6920mm | 7550mm | 8200mm |
| Tank length | 4050mm | 4690mm | 5430mm | 5970mm | 6610mm | 7250mm |
| Overall height | 2565mm | 2565mm | 2565mm | 2565mm | 2565mm | 2565mm |
| Tank diameter | 2000mm | 2000mm | 2000mm | 2000mm | 2000mm | 2000mm |
| Hydraulic pump max vacuum | 0.95 bar | 0.95 bar | 0.95 bar | 0.95 bar | 0.95 bar | 0.95 bar |
| Hydraulic pump max power | 25kW | 25kW | 25kW | 25kW | 25kW | 25kW |
| Hydraulic pump max rpm (revs/min) | 1200rpm | 1200rpm | 1200rpm | 1200rpm | 1200rpm | 1200rpm |
| Hydraulic pump weight | 250kg | 250kg | 250kg | 250kg | 250kg | 250kg |
| Internal anti-surge baffles | Standard | Standard | Standard | Standard | Standard | Standard |
| Inlet / outlet ports | 3 | 3 | 3 | 3 | 3 | 3 |
| Vacuum hose length | 6000mm | 6000mm | 6000mm | 6000mm | 6000mm | 6000mm |
| Vacuum hose diameter | 150mm | 150mm | 150mm | 150mm | 150mm | 150mm |
| Manhole with platform and ladder | Standard | Standard | Standard | Standard | Standard | Standard |
| Colour | Yellow | Yellow | Yellow | Yellow | Yellow | Yellow |
C.D. = Country Dependent
* Other capacities available on request.
** Depending on equipment fitted.All weights and measurements are subject to specification and regional laws. As we are continually improving our products, technical details, masses and measurements are given as reference values only. Datasheet below shows ST20 model; other datasheets available on request.