Presenting Another HookLoada Application - Hook-lift Tank & Flatbed
HookLoada trailer users with multiple hook-lift modules continue to benefit from total flexibility, leading to long term productivity with the ability to adapt to changing circumstances. Today, you can extend your hook-lift module collection and cut your transport expenses with the multi-purpose Stronga plastic tank and flatbed system.
Make a great business decision today with Stronga.
Discover the Details
The universal Stronga plastic tank and flatbed unit offers ultimate flexibility in hook-lift transport. The plastic tank is simply bolted down onto the flatbed so it can be easily dismounted to allow use of the flatbed as a simple platform for transporting bales, machinery and much more.
One Hook-Lift System. One Million Uses.
The universal, multi-purpose Stronga plastic tank and flatbed system offers greatly improved application potential when compared to single-purpose one-dimensional water tank units. The addition of the bolt-on flatbed opens a whole world of possibilities...
With the special ability to ground-demount the plastic tank and flatbed, the owner of this particular system currently uses the bowser as a nurse tank to spray water onto his fields while transporting bales with the ultra-long flatbed.
Picture the Possibilities
As well as being used as a nurse tank for spraying water, the owner of this Stronga plastic tank has the potential to use his equipment for a number of other applications in the future. Explore below just a few of the limitless plastic tank applications. Imagine how this special configuration could extend your income and efficiency:
(1) Plastic Bowser for Filling Cattle, Pig & Sheep Troughs: The Stronga plastic tank can act as a mobile water bowser unit, available at any time to efficiently fill cattle, pig and sheep troughs. The tank can act as a constant water source if left in the field, reducing journey frequency to re-fill each cattle, pig or sheep trough.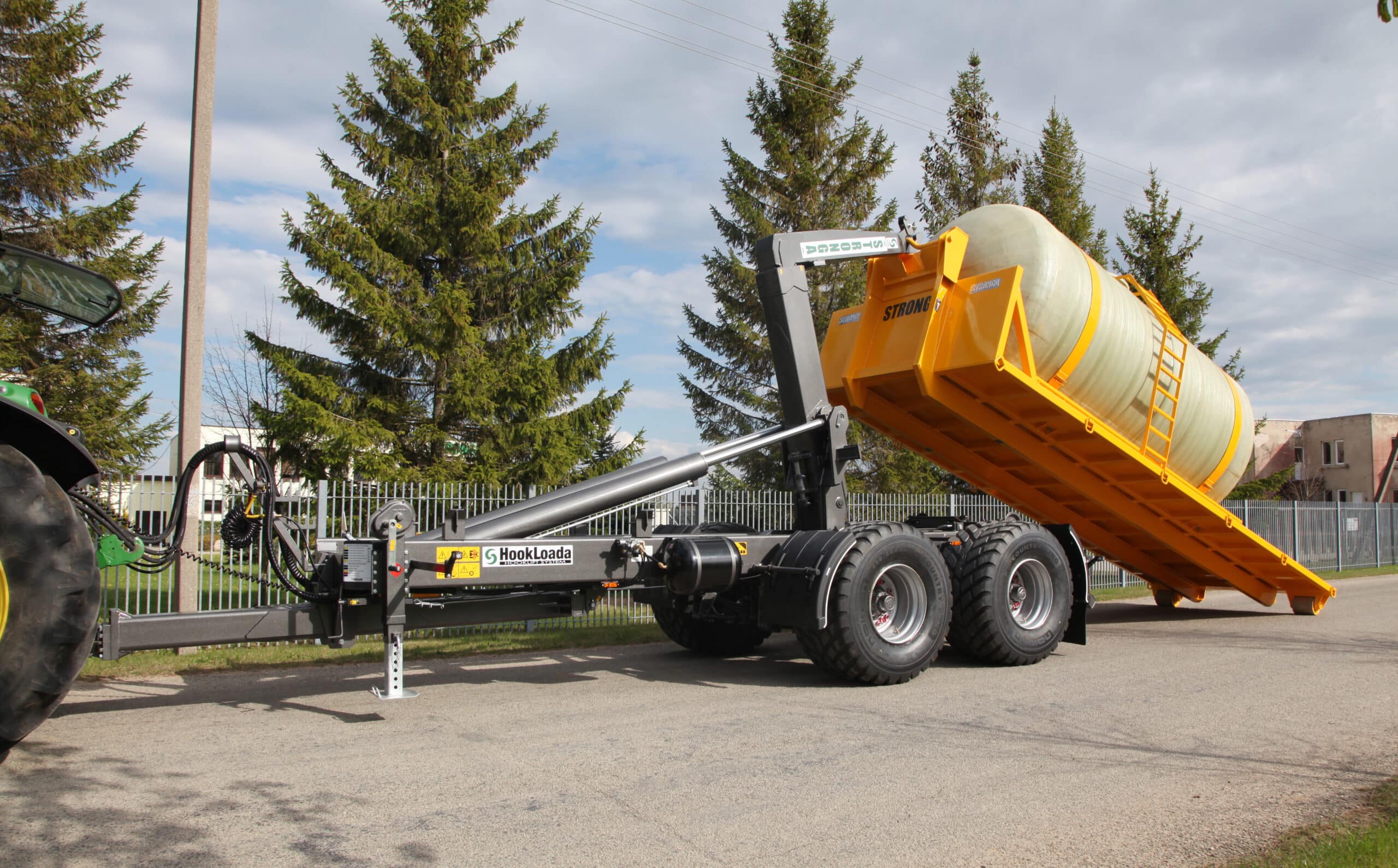 (2) Slurry Handling and Spreading: Stronga hook lift plastic bowsers can be used as slurry tanks in the field. Fitting different spreaders to the tank offers the versatility to spread slurry in numerous ways.
(3) Liquid Fertiliser Spreading: Stronga plastic tanks can be used as a means of handling, transporting and spreading liquid fertiliser. The anti-corrosion 16,000L plastic tank shown on this page is the optimum size for excellent liquid fertiliser handling performance. Larger tanks are available for higher capacity liquid fertiliser applications.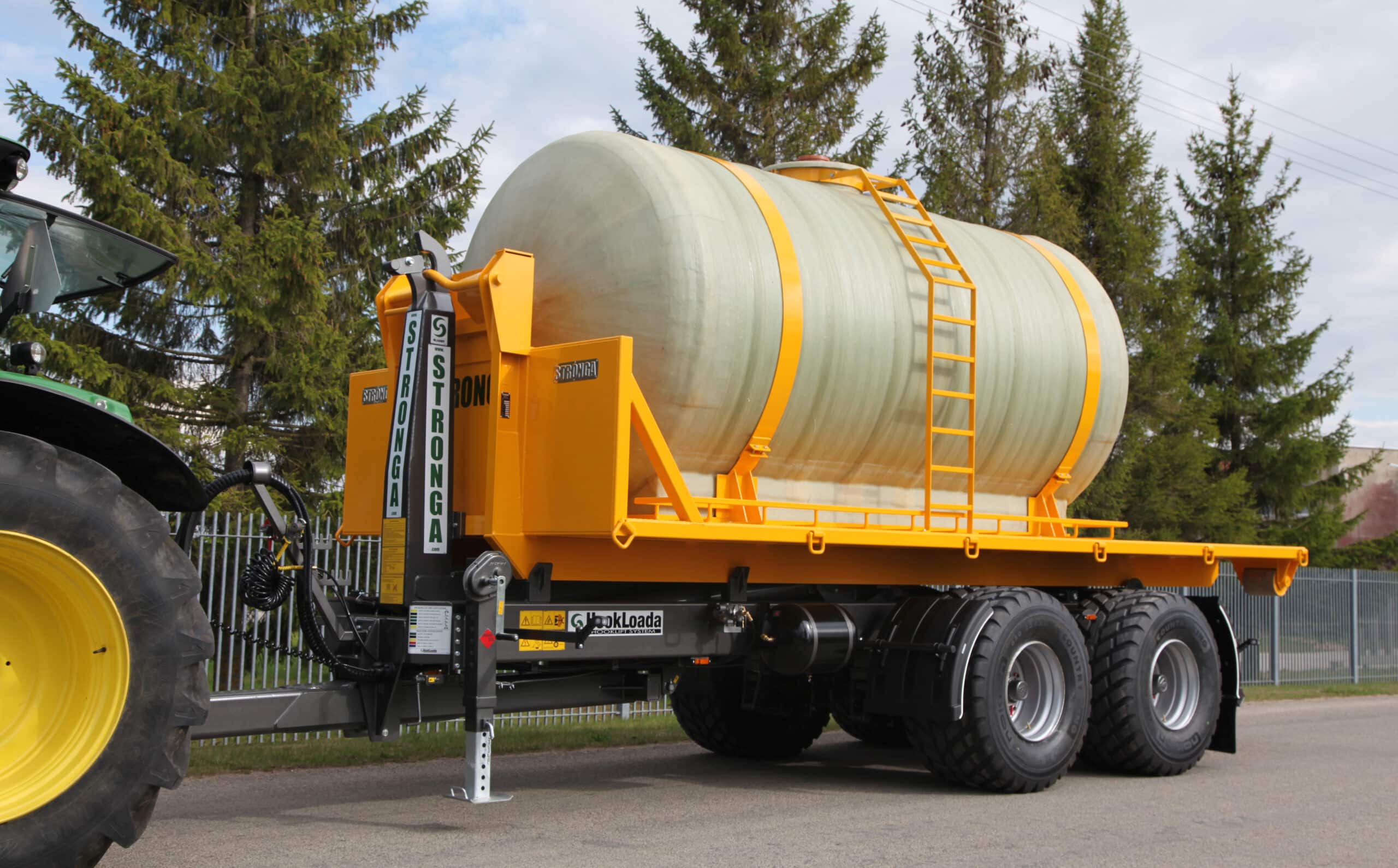 (4) Nurse Tank for Sprayer: Stronga plastic tanks are commonly used as high capacity nurse tanks for sprayers for excellent efficiency in the field. With optional suction and pressure pump control, Stronga plastic tanks are very fast and straightforward to operate.
(5) Dust Suppression Water Tank: Stronga hook lift plastic tanks can be used in the construction sector as professional dust suppression control units on industrial, mining and quarry roadways. The hook lift bolt-on plastic tank can efficiently irrigate dusty roads on construction sites for road washing and dust suppression.
(6) Fire Fighting Water Bowser: The Stronga plastic tank can be operated as a mobile or static water supply for disaster response and fire fighting. The plastic tank shown on this page can hold up to 16,000 litres of water at any one time to provide a large water volume supply for fire disaster control.
(7) Plus many more applications
Unlocking Potential
The ability to demount the plastic tank from the flatbed allows the user to utilise the flatbed as simple platform for use across a range of applications and sectors. Imagine the possibilities:
(1) Bale Flatbed: Stronga design a series of flatbeds that can be rightly specified for use as bale transportation devices. The flatbed shown on this page was made extra long to give the user extra bale loading capacity, improving efficiency and reducing journey frequency.
(2) Machinery Flatbed: Stronga flatbeds are made using only the strongest most reliable steels. When coupled with the powerful lifting capabilities of Stronga hook lift trailers, Stronga flatbeds can easily transport heavy machinery (diggers, excavators & telehandlers) and other equipment with long life performance guaranteed.
(3) Round Wood Flatbed: Stronga flatbeds can be specified with removable bolsters for use in the forestry sector to transport round wood. With HookLoada's unique on and off road ability, the efficient system allows round wood forwarding directly from timber source to end user. Stronga flatbeds used in forestry are commonly fitted with crane equipment so the user can easily load felled timber.
(4) Big Bag Flatbed: Another application for flatbeds fitted with optional crane equipment is big bag transport. Stronga flatbeds are commonly used to transport big bags filled with fertiliser, potatoes, sand, wood, grain and much more.
(5) Mobile Cabin Flatbed: Transporting small mobile cabins is a unique and extremely useful application for Stronga HookLoada and flatbed users. Multiple flatbed lashing points allow the user to firmly secure any load for peace of mind in transit.
(6) Shipping Container Flatbed: Stronga flatbeds with ISO twist lock equipment fitted can be used to handle and transport shipping containers.
Discover more
If you are interested in the Stronga plastic tank and flatbed unit, contact our knowledgeable advisers for professional support. Contact the Stronga technical team – info@stronga.co.uk.