Fast Growing Markets in Industrial Hemp
Hemp cultivation areas are growing fast around the world. Hemp is an extremely useful and versatile crop; parts of, or the whole crop, can be processed into a number of highly useful products.
Hemp Seed Oil & CBD Oil Extraction
There are two parts of the hemp plant used for oil extraction:
High value industrial hemp crops for CBD oil extraction from the leaf / flower / bud grown mainly as tree like hemp plants. Harvesting this form of industrial hemp in a whole crop method with forage choppers produces a type of wet woody biomass with leaf and flower in the mix.
The other main types of industrial hemp crop are tall single stem hemp plants close-planted for seed / dual purpose uses. This type can have CBD oil extraction from the leaves, buds and flowers, but also can have hemp seed oil extracted from the seeds. It is not a simple process to optimise both the CBD oil yield and hemp seed yield.
Other varieties and planting strategies are used to grow hemp for hemp seed oil. Then, within the hemp grain sector, seeds can be processed for flour, hemp food supplements, and then onwards to a thousand uses within the food sector. Then there is the hemp hurd and bast fibre which has a multitude of uses. A number of separate possible revenue streams from the same plant; however in this article we focus mainly hemp grown for CBD oil extraction.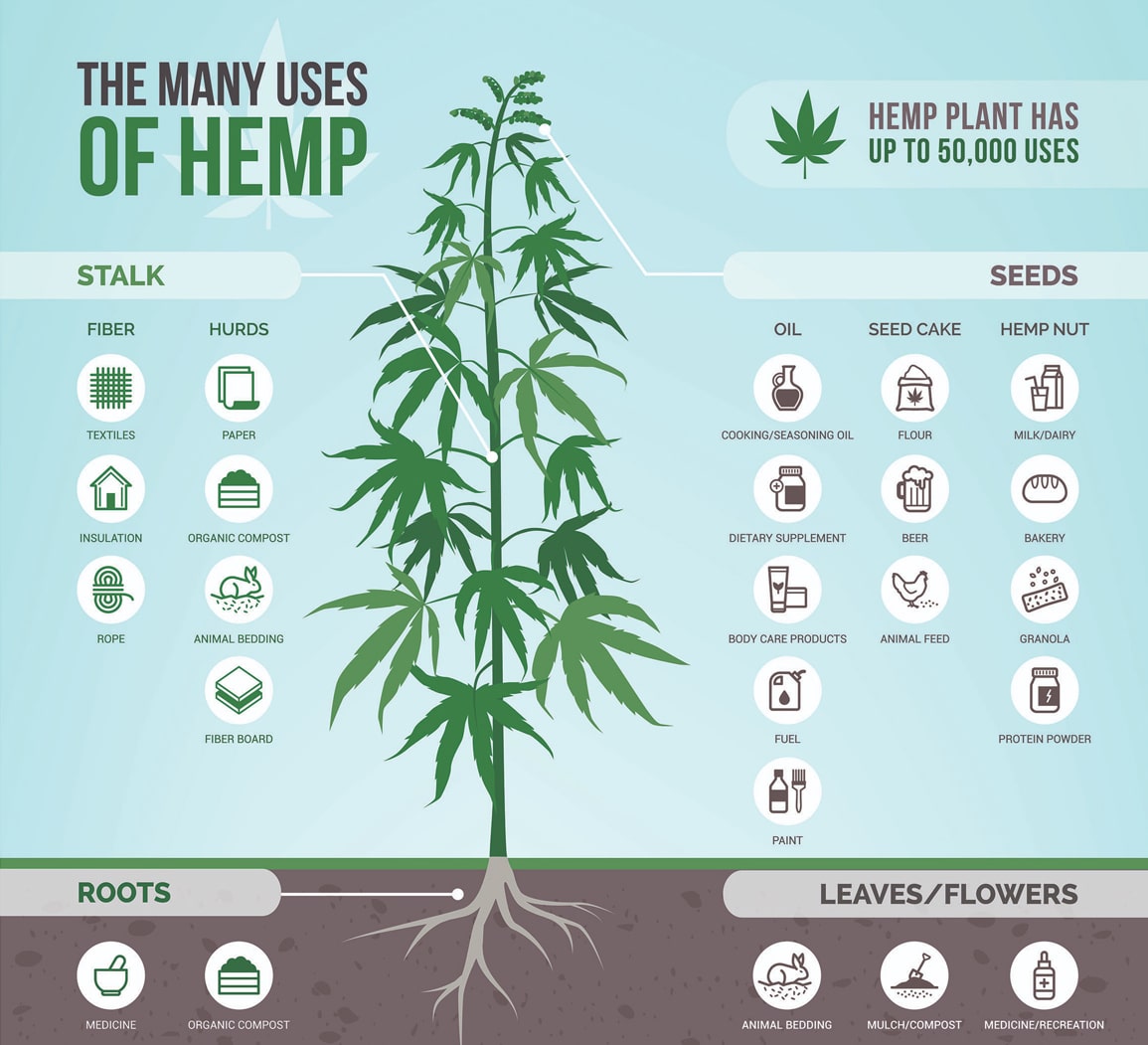 Hemp Harvest Timing
Earlier Varieties of Hemp for CBD Oil Production
Early varieties have a key benefit in the harvesting and drying process of field-scale industrial hemp for CBD oil operations. The early autumn weather is often more reliable and therefore the ambient day (and night) temperatures are higher with lower relative humidity, enabling large increases in dryer output while reducing dryer fuel requirements.
As day length reduces and the window for harvesting in optimal conditions closes, late autumn weather leads to increased risk of frost, mould and rot which can seriously reduce the quality and price of the dried product for CBD extraction.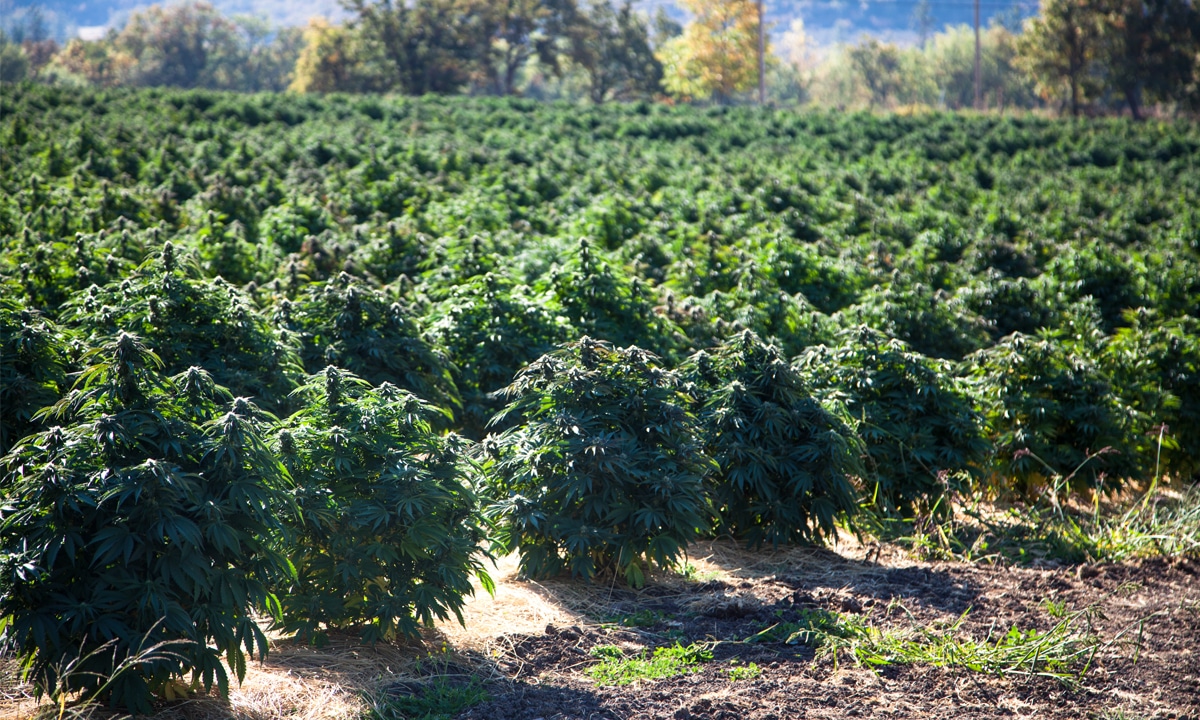 There is a lot of work being done to develop earlier varieties with all the benefits that early harvests bring. There is a compounding effect of earlier harvesting and drying:
- Likely lower moisture content harvest conditions;
- Longer harvesting window due to increased day length;
- Longer hemp harvesting and drying days due to higher night-time ambient temperatures;
- Improved dryer output due to the longer day length, higher ambient temperatures and lower relative humidity.
Of course there are many other factors to consider when selecting the correct varieties to grow; such as biomass-to-seed index and CBD oil levels depending on the purpose of the crop. It can be challenging to balance this all with the management of the regulatory processes relating to low % THC industrial hemp while optimising higher CBD oil contents. Post-harvest management of the wet biomass and correct equipment selection for hemp drying is key to avoiding significant losses of the crop for CBD oil extraction.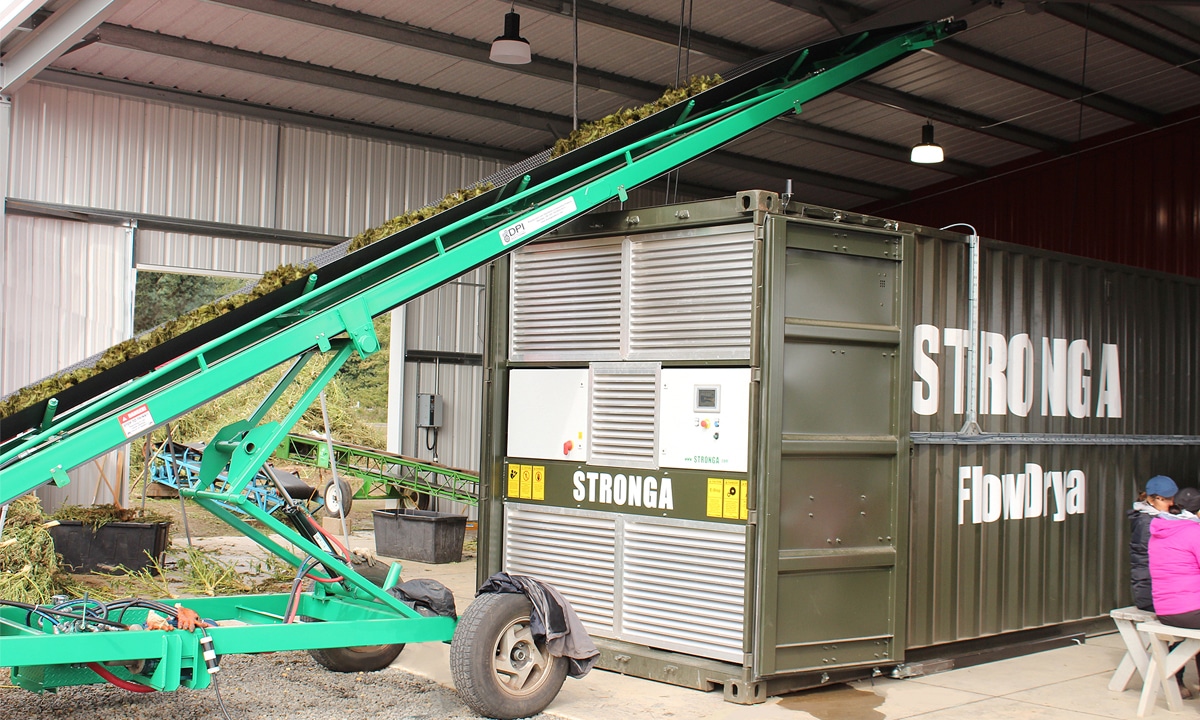 Industrial Hemp Planting for CBD Oil Strategies
Spacing
In addition to varietal development, there is a lot of work being done to develop optimal planting techniques and spacing. It can still be considered early days. New-era hemp is what experts believe could be the next super-crop with its incredible fast-growing biomass and medicinal properties making it a highly profitable crop.
Field scale production of high % CBD oil hemp plants using low THC strains is rapidly growing across the USA and Europe due to the new worldwide demand for CBD oil and the recent changes in regulation.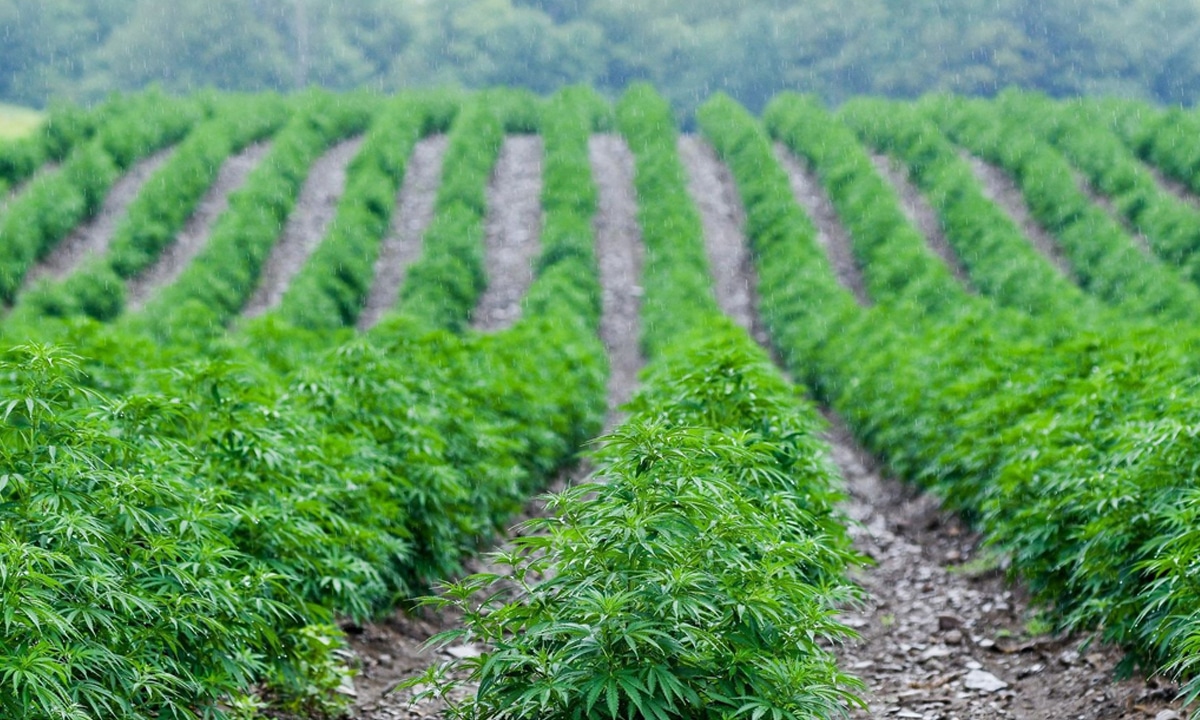 Multiple Varieties on the Same Farm
Many growers are trying multiple varieties on the same farm to reduce risk and spread the harvest, drying and processing season. They are discovering which industrial hemp varieties suit local climates and soil types, thus developing knowledge about each varieties field scale attributes, such as drought resistance, biomass volume, CBD oil percentage content and all the other growing factors.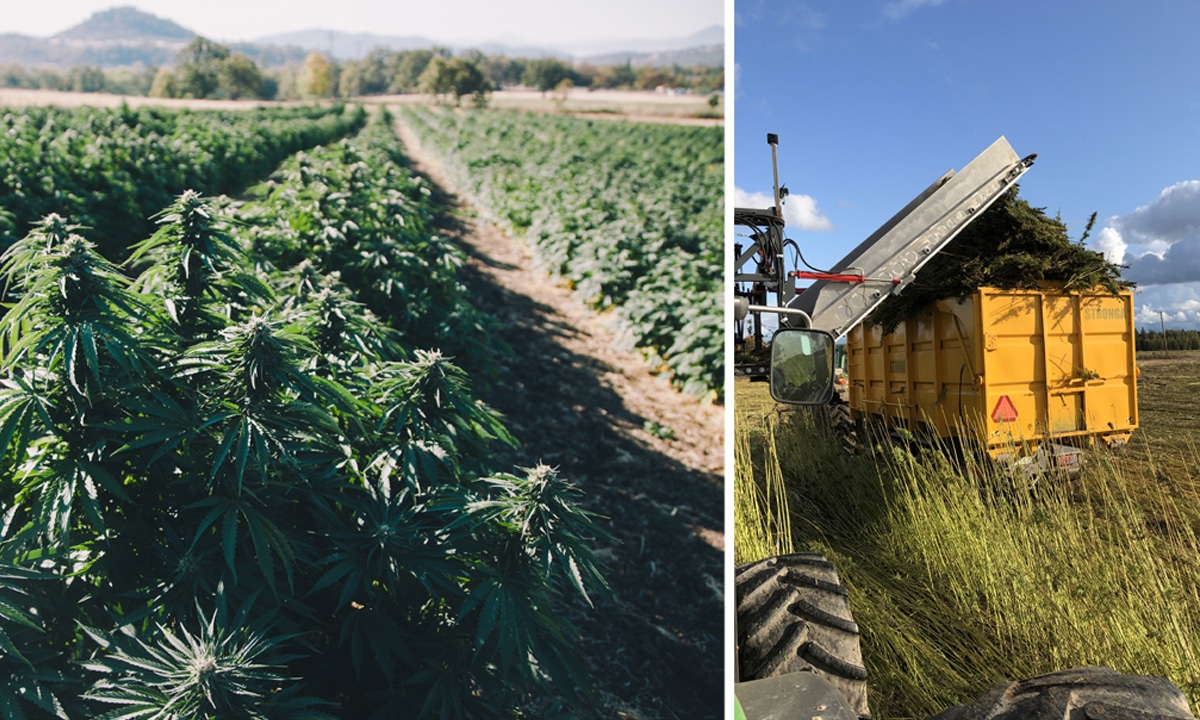 These are early days in the new-era of industrial hemp production. The skills and knowledge that have been lost over the last 70 years, during which hemp production was banned in many areas, needs to be relearned and hemp varieties and equipment infrastructure need to be developed to optimise their oil content and growing period.
Some varieties being developed have a significantly shorter growing period of only 105 growing days, for example, compared to other varieties that take 140 days to fully develop. This is clearly an amazing growing speed for this hemp biomass super-crop.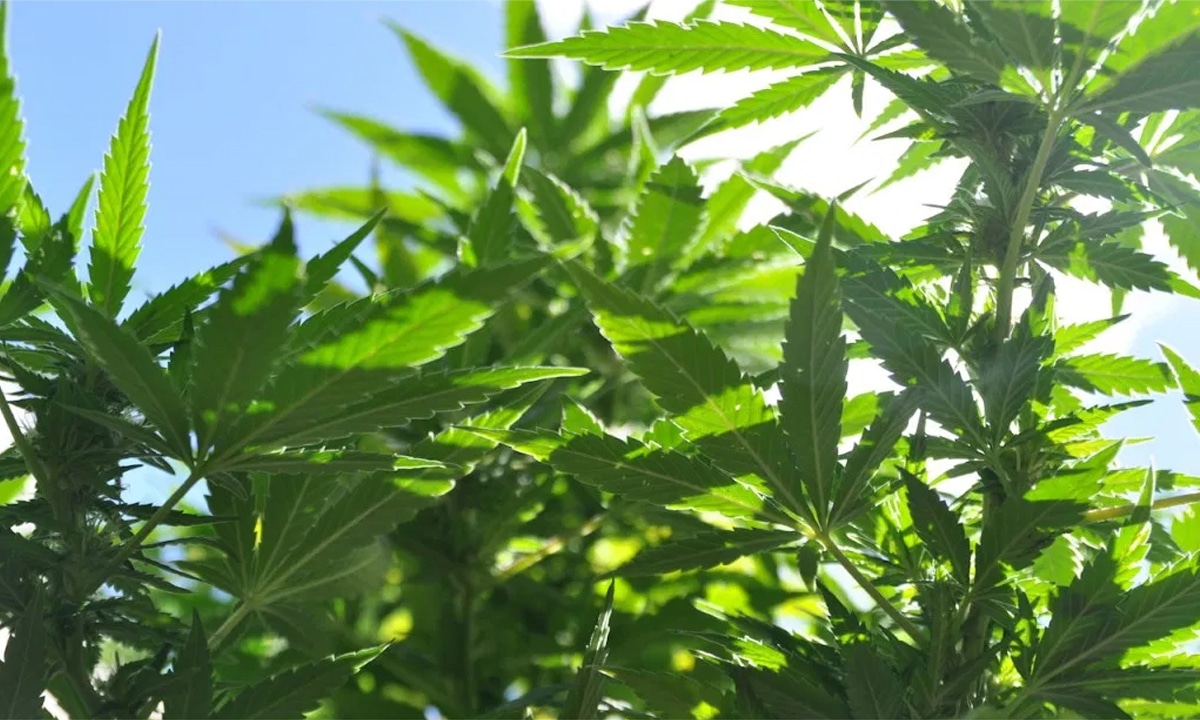 Relationship Between Harvest Method & Drying
Decisions on harvesting methods affect the speed and scale of the hemp drying process which is a key factor in growing industrial hemp for CBD oil extraction. Field losses are also an important factor in harvest method decision making.
Stronga have experience in drying various types of wet hemp biomass which result from clients harvest method decisions. Call Stronga today to discuss how your planned harvest method will affect the scale and speed of drying your industrial hemp crop.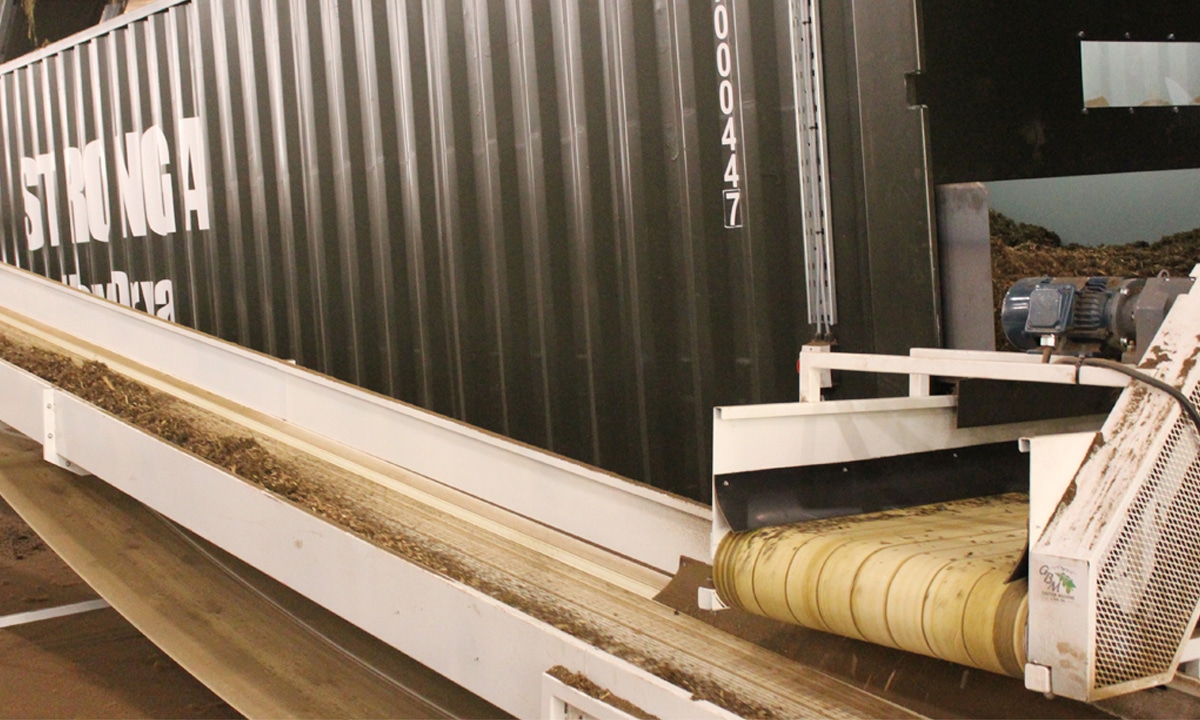 Manual Hemp Harvesting Method
When moving from small-scale to field-scale operations, manual harvesting methods are one option to consider. However as your acreage increases labour cost, reliability and availability can be a big problem during a time critical harvest period.
Industrial hemp bushes are tough so it is hard labour; you will need a strong workforce to be able to cope with tackling the challenges of handling and processing a hemp harvest manually. In any region it is likely that all hemp crops will mature to peak CBD oil percentage and be harvest ready together (as well as other late season harvest crops) so this can create pressure on the availability of local labour forces while increasing costs.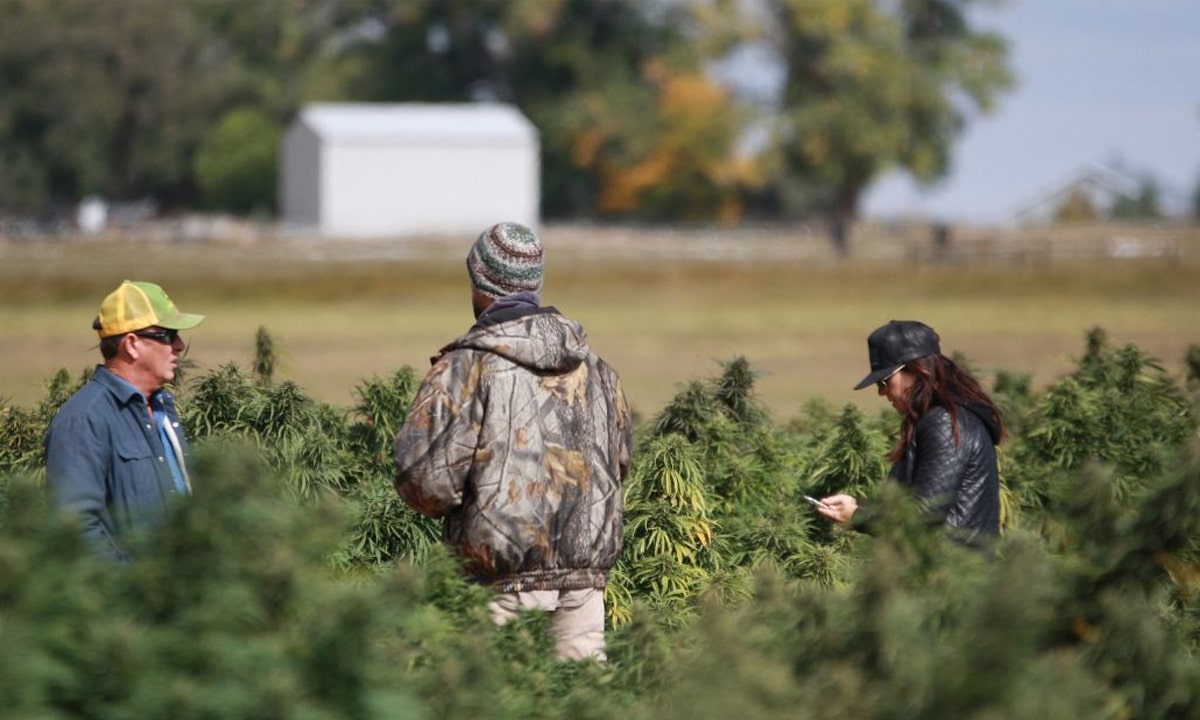 Increasing Your Output
Up-scaling from a small growing area to field-scale industrial hemp production is challenging and careful thought is required to avoid the pitfalls. Stronga can help you manage your risks.
New techniques are evolving such as surge harvest methods which are enabled by our hemp harvest HookLoada transport systems. When coupled with specialised ventilated containers and stations, HookLoada can help keep a cooling air flow through the material to extend periods that your industrial hemp harvest material remains fresh. No matter what harvest method, you should consider how to avoid spoilage immediately post-harvest and also losses to your high value crop.
Conditions at late harvest periods can create soil damage. HookLoada trailers equipped with large low pressure tyres can reduce this risk while multiple containers can be shuttled in-field to field-side, and then exchange to road transport back to the drying facility. Whole transport and drying solutions from Stronga can help to improve the efficiency of the whole harvest process.
Right Equipment for Harvesting & Drying Hemp
Matching harvesting speed and dryer output is critical to quality while lowering risks during your industrial hemp harvest. Hemp drying processes are nearly always the limiting the factor in harvest speed as a large percentage of moisture content needs to be removed from the wet industrial hemp to allow you to preserve the crop until hemp CBD oil extraction.
Stronga can help you avoid these potential bottlenecks by scaling the hemp ventilating and drying solution of suitable capacity for your growing area.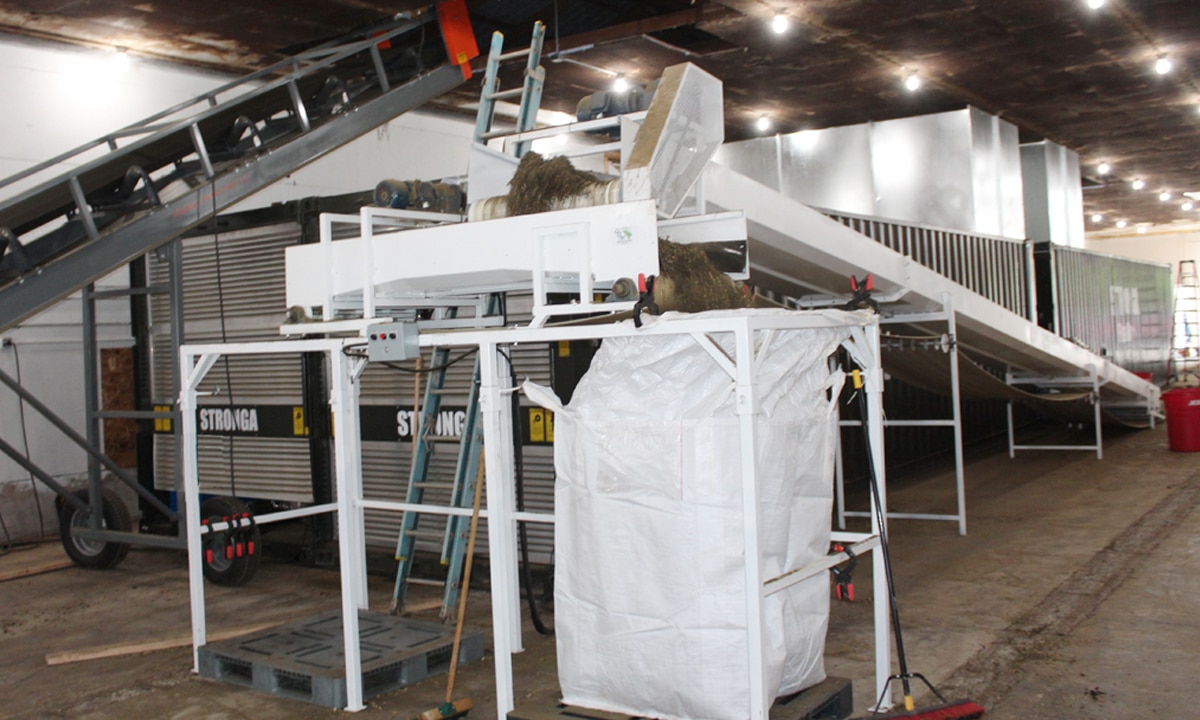 Comparing Methods of Field-Scale Mechanical Harvesting
Planting and growing strategy will determine your options for field-scale mechanical harvesting. Equipment manufacturers are developing specific forage header types, including whole plant top and stripper headers, to manage the variety of both tall, close-planted hemp and wider-spaced, bush type industrial hemp.
Consideration of equipment type must include factors such as field losses, speed of harvest while conditions are good, and minimising the whole volume of biomass to be dried.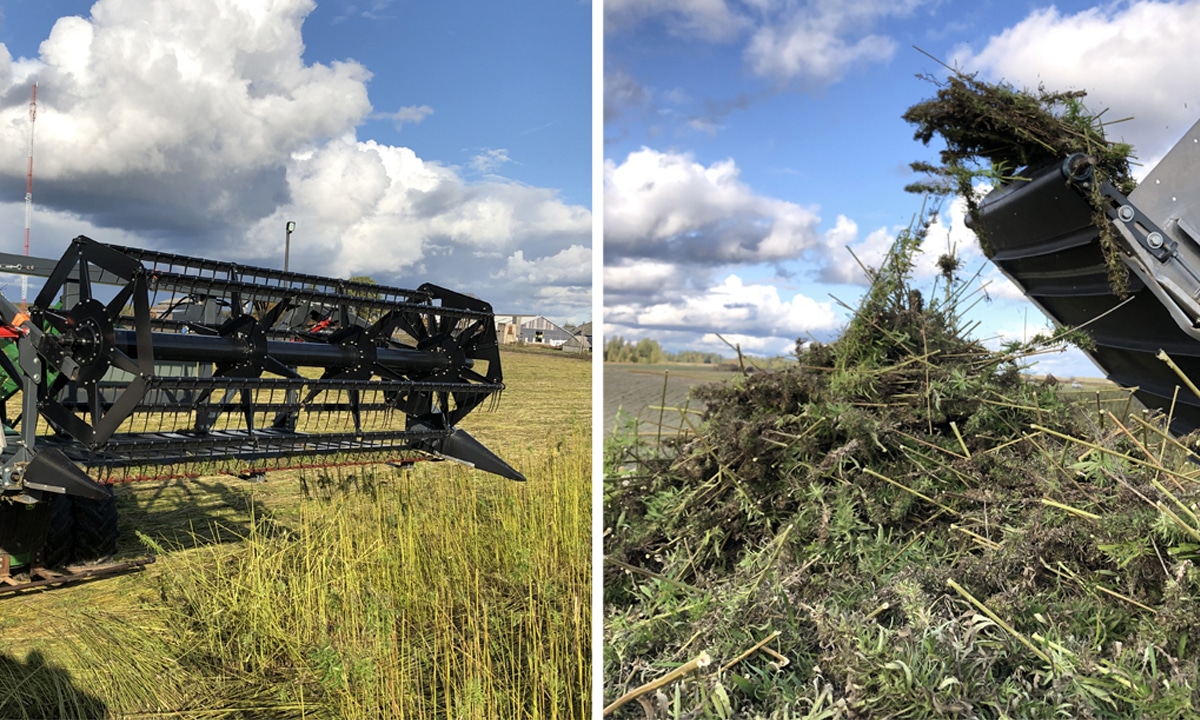 Hard stalk content in the biomass will increase the total amount of moisture to be evaporated, which therefore significantly slows down the drying process. Long stalk sections which occur, especially in tall fibre crops, can take significant time and energy to dry when resources are limited.
Stalks can be a lower value compared to leaves flowers and buds with their higher CBD oil content. Inclusion of significant stalk content in the final dry sample can dilute the quality of your final hemp product.
The above aspects need to be balanced against the speed and convenience of harvesting. For example, whole crop hemp forage methods while optimising chop sizes can be an effective and fast method of clearing a hemp field if you have the right equipment. Various chop sizes on modified hemp forage type headers are being tested for optimal drying and separating outcomes.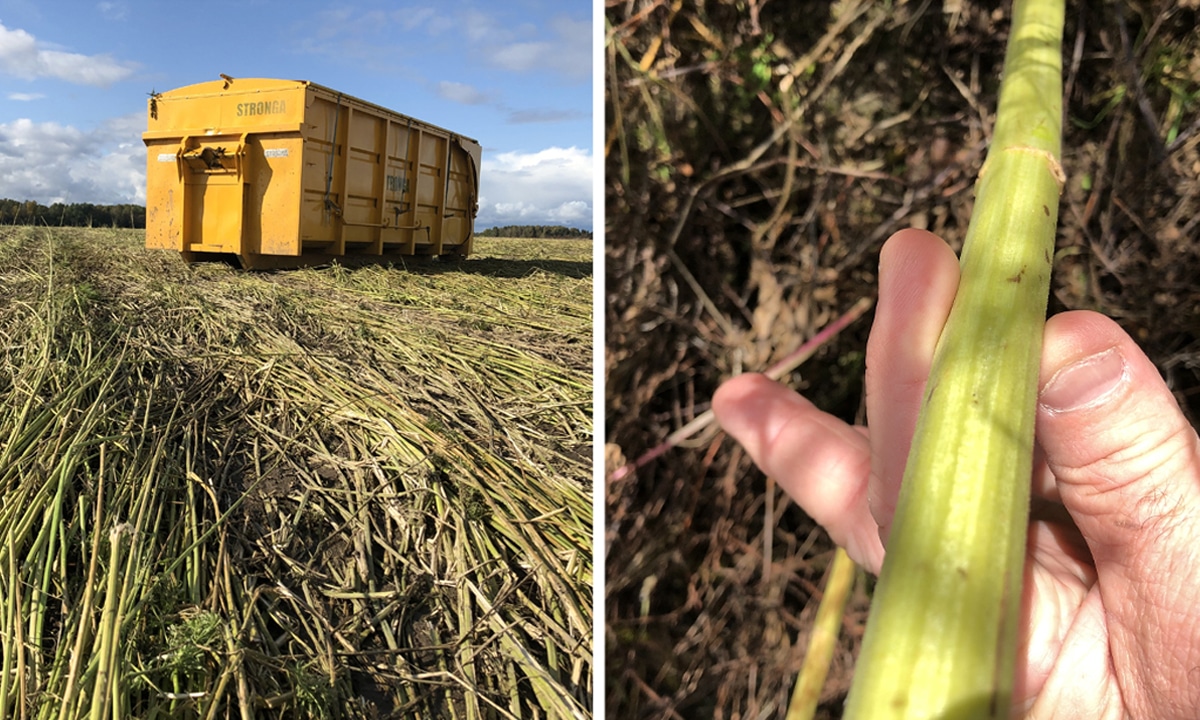 Selecting the Right Equipment
The decisions you make on harvest methods and your downstream process need to be balanced to avoid bottlenecks. This is challenging work, selecting the right equipment for each process is not easy, therefore you need to create a harvest plan as early as possible to allow for the acquisition and set up of the correct equipment and infrastructure.
Hemp is tough crop, it wants to wrap on shafts and bearings so therefore the equipment you select needs to be specialised to cope with the nature of this demanding material. Poor preparation and lack of foresight can lead to high losses of crop in the field and in the process, leading to considerable loss of profit from your hemp harvest. In the worst case, an inability to harvest and process the wet biomass into dry biomass before poor weather sets in can lead to high levels of mould, frost and rotting loses of hemp crop.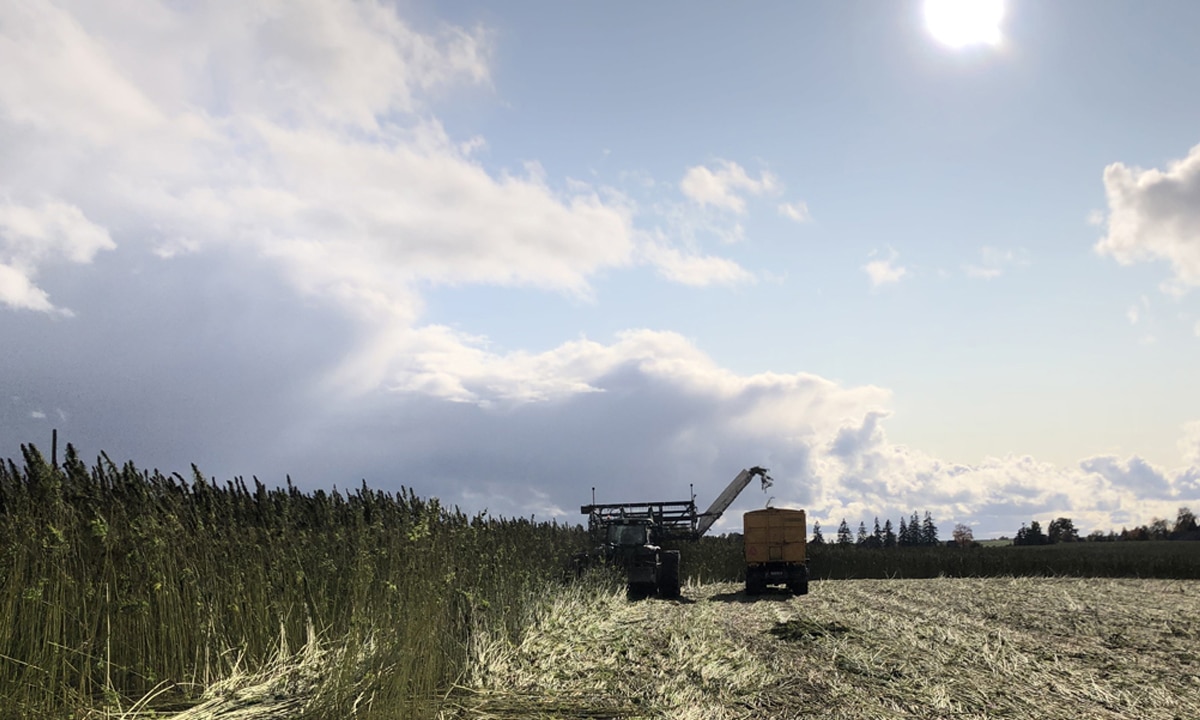 After-Harvest Hemp Biomass Management
Your harvest method decisions and timing will affect downstream processes and the most important of these is drying. There are variables to consider such as the amount of wet biomass the harvest method produces with large variations in biomass volume, depending on;
1. Amount of stalk harvested;
2. Size of the crop (depends on planting method);
3. Soil type;
4. Fertilising strategy;
5. And of course, the weather.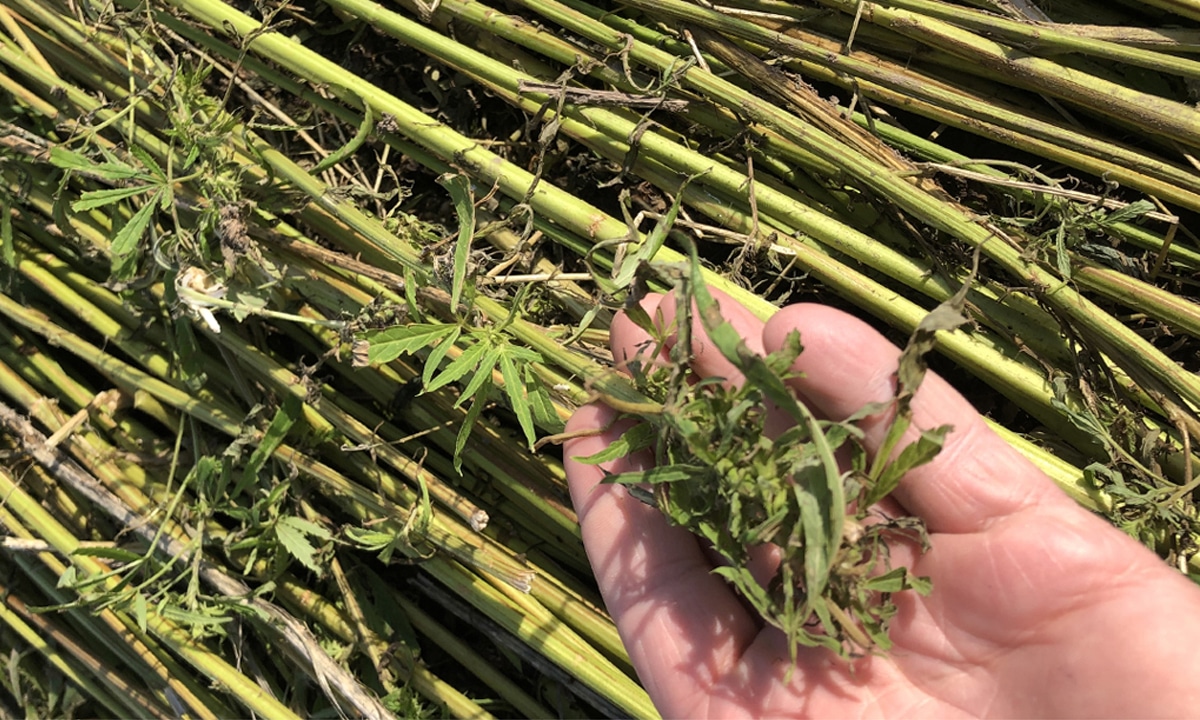 Stronga have solutions via the HookLoada system for industrial hemp ventilating stations to allow surge harvesting in good conditions while keeping valuable hemp dry and cool. This is vital while waiting for the dryer which is often the slowest process due to the large volume of water needing to be removed from the wet biomass.
Drying is nonetheless vital in reducing the industrial hemp quickly down to the low moisture content percentage required to allow it to be preserved and stable from deterioration. Wet hemp biomass starts to deteriorate within hours of harvest, so it is critical to purchase the right infrastructure around the drying process.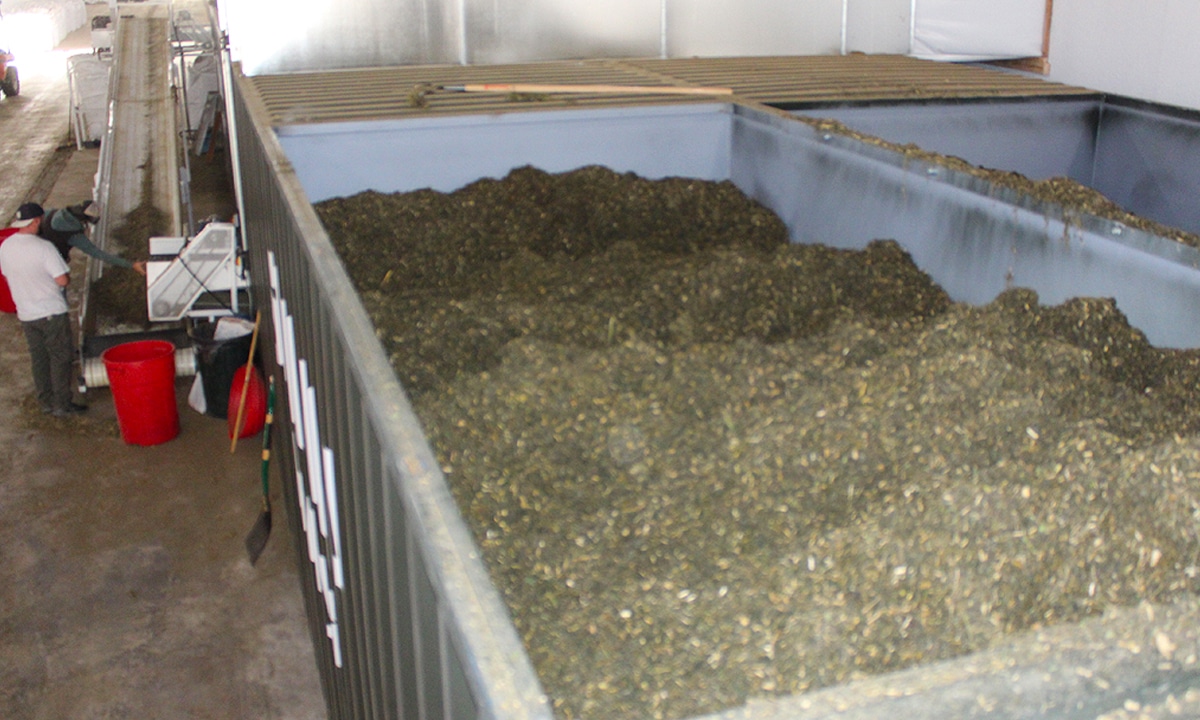 Success in Ventilating, Cooling & Drying Hemp
Stronga have a good understanding of the factors involved in successful ventilating, cooling and drying of hemp, and this is central to the success of your hemp growing business.
Hemp is a wet and woody biomass being harvested in catchy weather periods into the autumn/fall. Large amounts of moisture need to be removed which is a challenge for all hemp growers. The Stronga FlowDrya offers efficient hemp drying solutions with various scale models available. FlowDrya is well-proven in many other sectors and biomass materials, as well as various types and sizes of hemp biomass.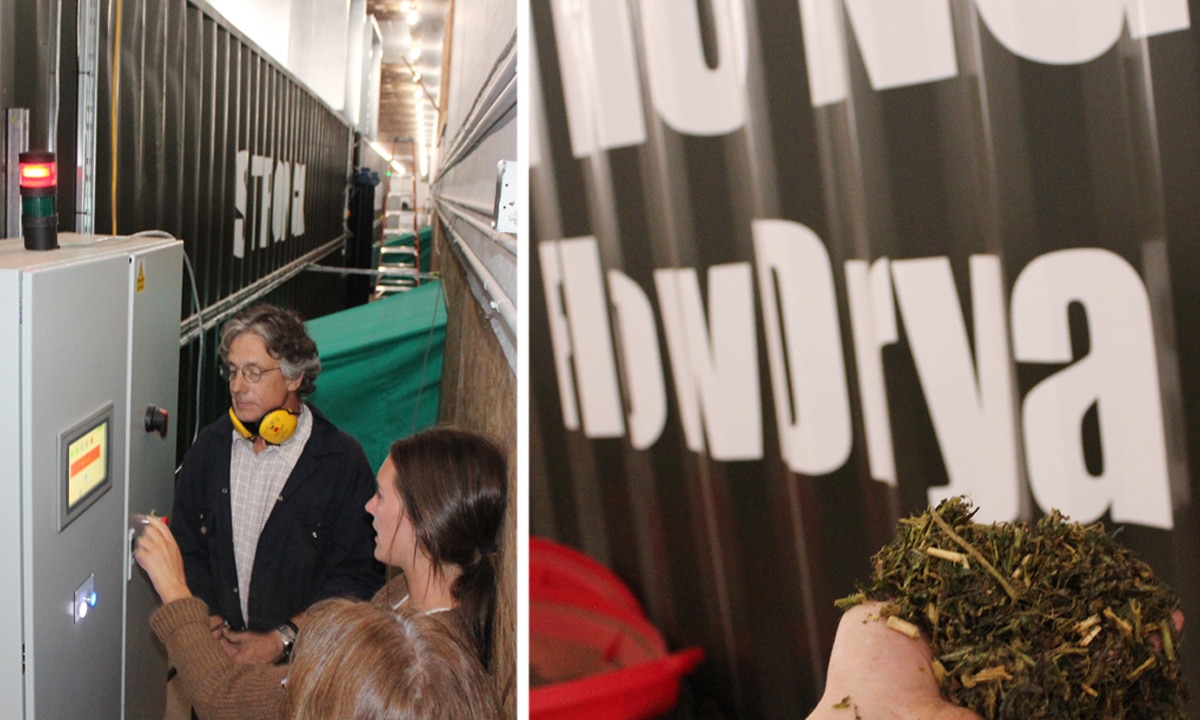 Contact Stronga
To Order your Hemp Dryer
We salute the farmers and growers as pioneers who are leading the way forward into the new age of industrial hemp production of this amazing, rapidly-growing, highly useful plant. Planning your equipment in good time is vital for the success of your hemp harvest. Contact Stronga early to ensure time for planning the right equipment and scale for your hemp growing business.
Email – sales@stronga.co.uk.