Grasp the Opportunity & Thrive
Stronga have revolutionised forestry operations with hook lift trailers operating at the centre of the biomass handling system from timber forwarding to wood chip drying and delivery. When matched with appropriate containers, the HookLoada system can handle woody biomass in all its forms from round wood and wood chips to sawdust and timber residues.
Clients working directly and collaboratively with Stronga ensure correctly-specified hook lift machinery for their forestry business, enabling the opportunity to utilise expanding timber markets such as renewable wood energy.
Grasp that opportunity and thrive with the Stronga HookLoada trailer.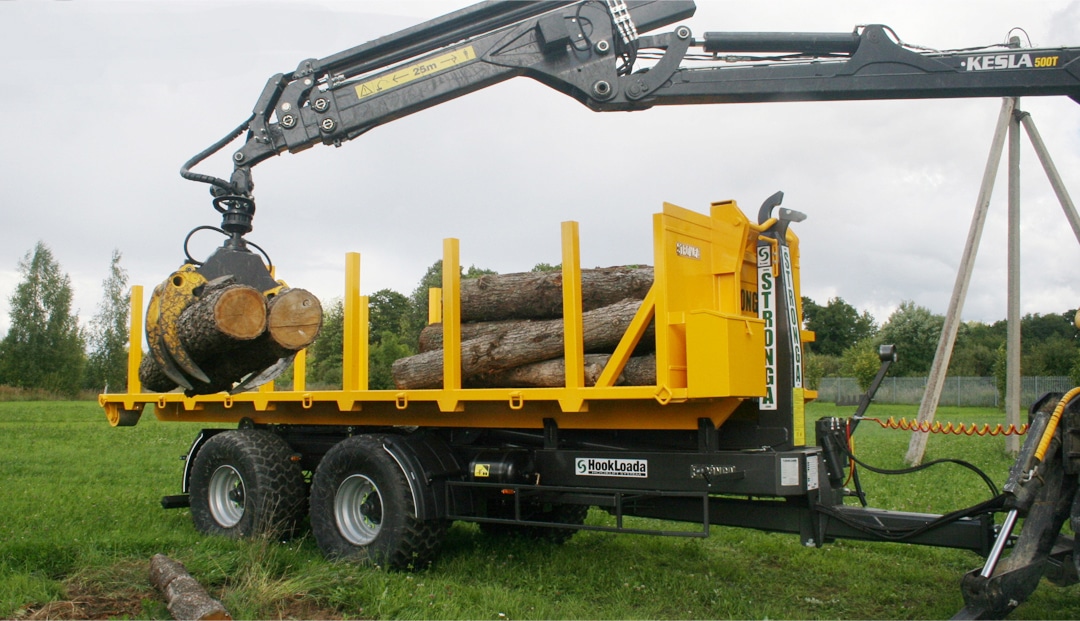 Machines in Synchronised Productivity
Stronga HookLoada trailers a flexible to the customers' requirements. If you are transporting timber, drying wood chip, delivering wood fuel, storing wood or operating the whole sequence, Stronga offer the complete solution using hook lift trailers and multiple correctly-specified containers.
HookLoada makes the impossible, possible.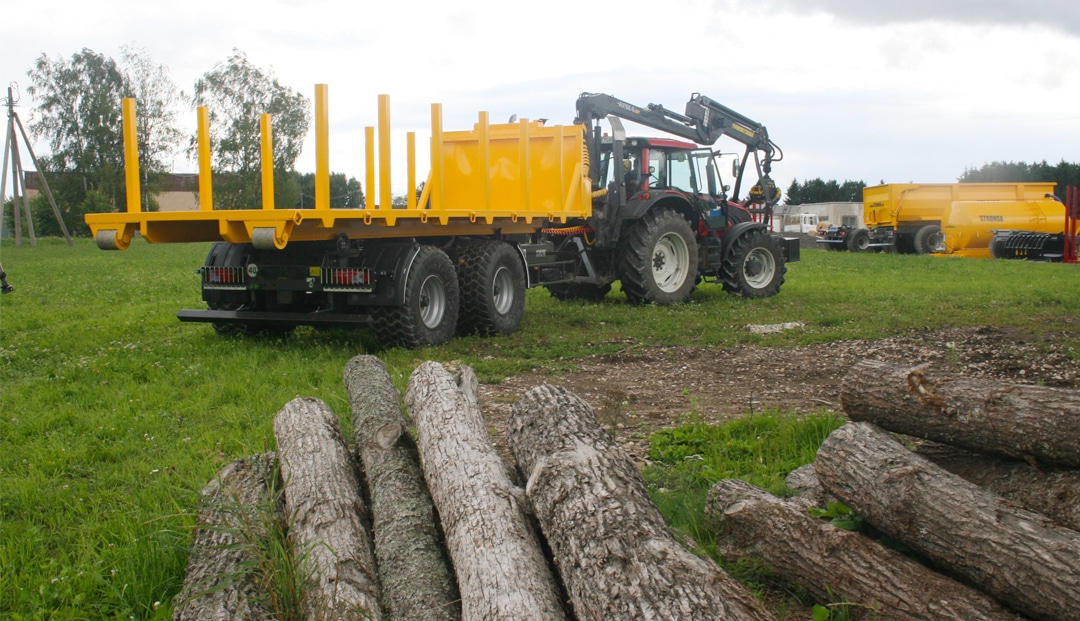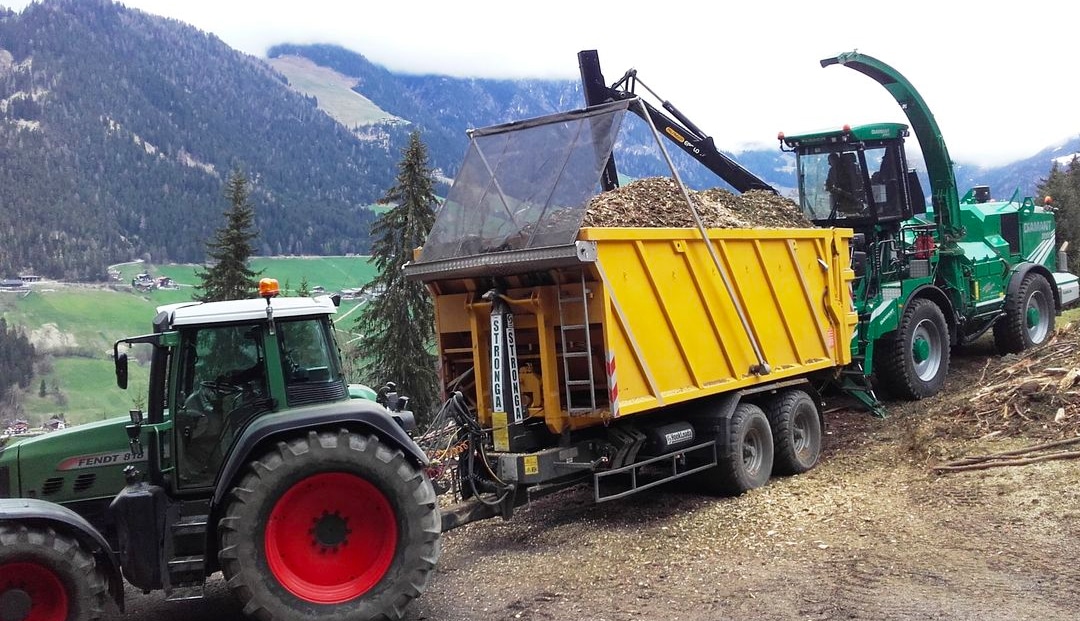 Improve Fuel Economy.
Reduce Emissions. Optimise Performance.
Transportation efficiency for woody biomass operations is critical and varies depending on tree species, distance to the wood storage facility, terrain, road condition and much more. Variations in these factors mean timber transport solutions must be specially designed to optimise handling efficiency.
At Stronga, the hook lift design team precisely specifies hook lift trailers to optimise the individual performance for the customer, including driven axles, forest tyres and more. Because of this, we can be confident that the HookLoada trailer and container transport solutions offer optimum fuel economy, efficiency and productivity in round wood transport and timber forwarding.
Hugely Powerful. Enormously Efficient.
The HookLoada trailer boasts a tough, compact design that offers excellent manoeuvrability in confined forest environments, yet it has the strength, power and capacity required for high production timber transport. The powerful design of each Stronga hook lift trailer gives the customer the added value needed for demanding timber forwarding operations.
Dynamics. Elegance. Passion.
Forest Tyres, Steering & Driven Axles Available
The denser forestry becomes, the more the dynamic Stronga hook lift trailer thrives with desirable manoeuvrability, elegance, poise and passion. Stronga hook lift trailers also guarantee easier driving through difficult forest conditions with forest tyre, steering and driven axle options that track in the same path as the prime mover to ensure that this is a very fast and productive timber forwarder. Reduced rolling resistance Nokian radial tyres that are almost magnetic to the surface thrive on any terrain.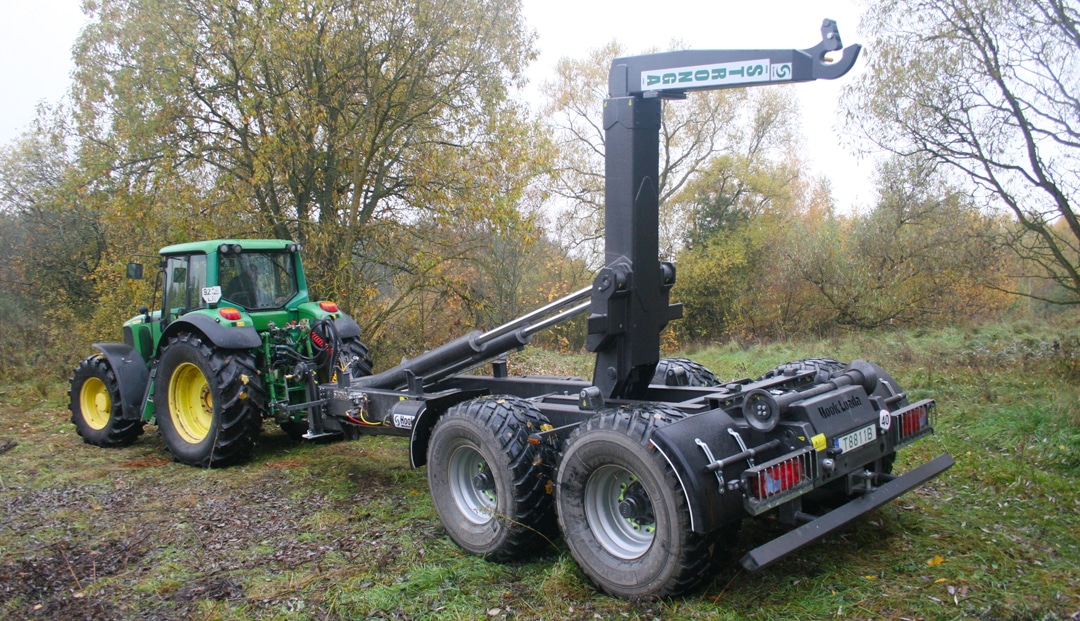 Combining Services, Equipment & Technology
To Build your Success
Hook lift trailers are truly universal. With individual containerised modules; customers can now transport, dry, store and blow woody biomass in its different forms (round wood, wood chip fuel etc.). With HookLoada, Stronga are offering you the opportunity to operate the entire timber system, from the forest to the boiler. No single-purpose trailer can offer the same level of comprehensive operation.
Utilise the expanding renewable wood energy market and maximise your profits, all with one machine. One Stronga HookLoada. See below Stronga horizontal drying containers in action for our client in the UK.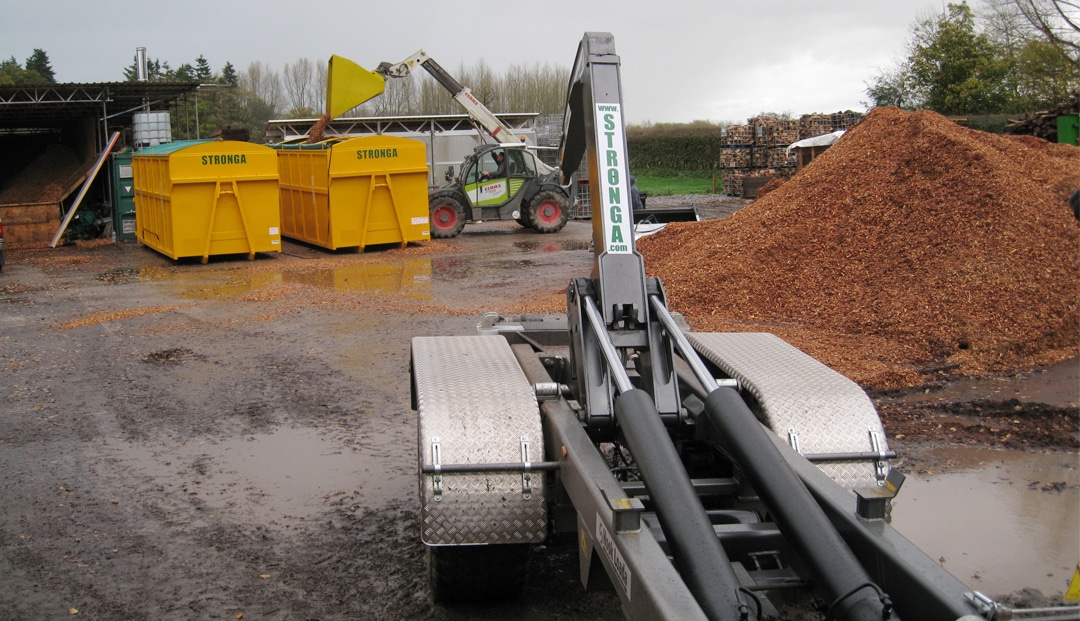 HookLoada…
At the Centre of Woody Biomass Handling
• Round wood timber forwarding from forest to road side.
• Forest residue wood fuel for district heating.
• Round wood delivery to sawmills and other timber production compounds.
• Whole tree wood chipping.
• Wood chip batch and continuous drying systems for wood fuel.
• Container blown wood fuel deliveries.
Discover More
Stronga are your trusted transport advisers. Contact our friendly team for professional support today – sales@stronga.co.uk.