Make a powerful investment
Choose Stronga Drying Stations
Stronga Drying Stations are available at a small initial investment with low ownership costs; this makes them well-suited to small-scale drying operations.
Low Capex - Great value for money at point of purchase from affordable, cost-effective container Drying Stations.
Low Ownership costs - High component quality ensures max uptime and productivity; quality-built Drying Stations deliver strong residual values.
Low Opex - Low labour cost from all-in-one batch Drying Stations. In total synergy, HAF Containers, HookLoada & Heatex efficiently deliver material from source to end user.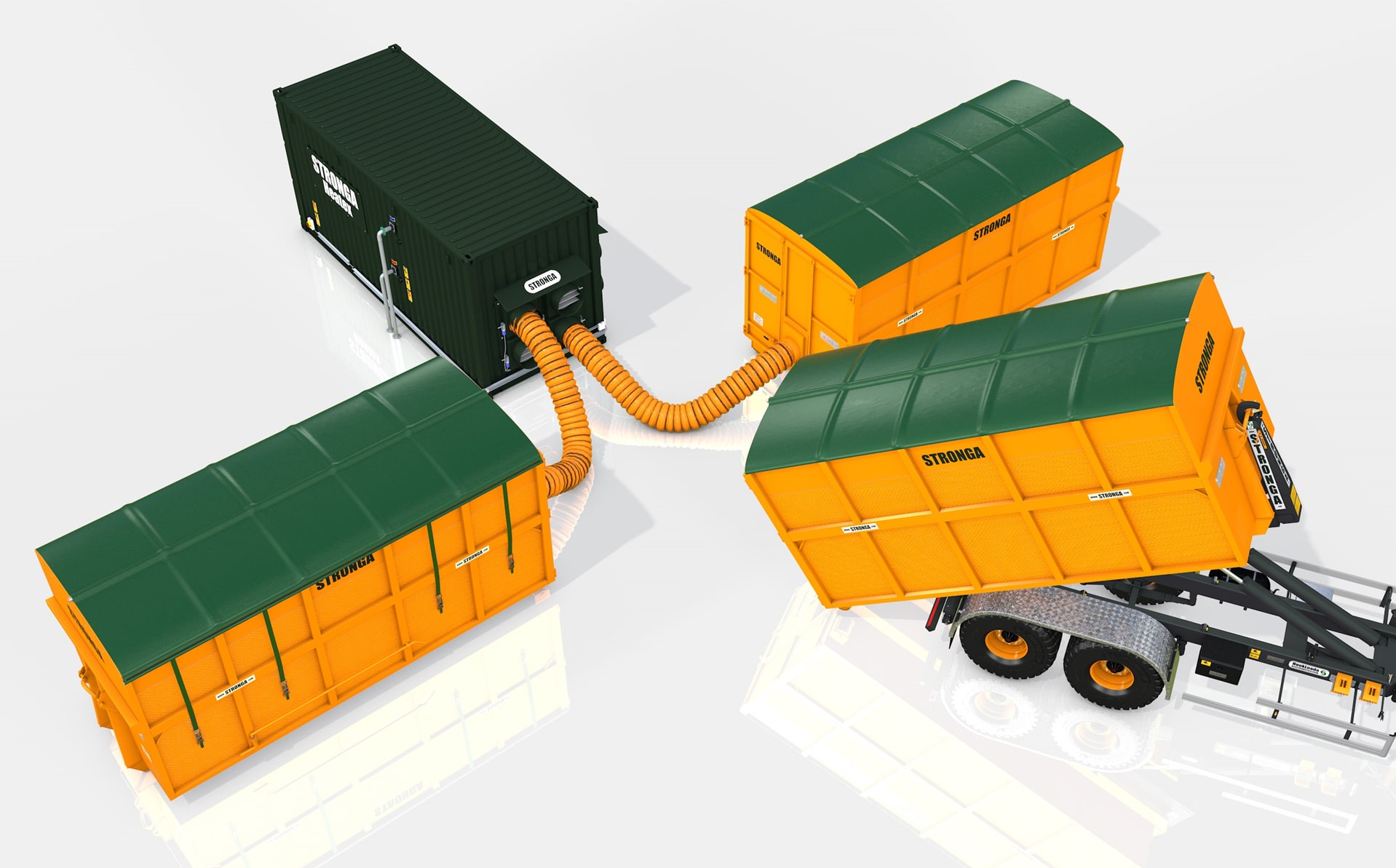 Stronga Drying Stations
More than just a dryer
Stronga horizontal Airflow (HAF) woodchip drying containers work alongside our Heatex and HookLoada trailers to collect, dry and deliver low bulk density, light, biomass materials. These well-proven woodchip drying containers are able to efficiently transform waste residues into added value, saleable products.
Maximise your efficiency
Discover the issues with "bottom-up drying"
(1) Large heat loss occurs at the bottom, sides and ends of the drying container, reducing air temperature.
(2) Material dries unevenly; over drying at the bottom and under drying at the top. It is impossible to control drying.
(3) Material dries in 300mm fronts which cause re-condensation. Water needs to be re-evaporated which is highly inefficient.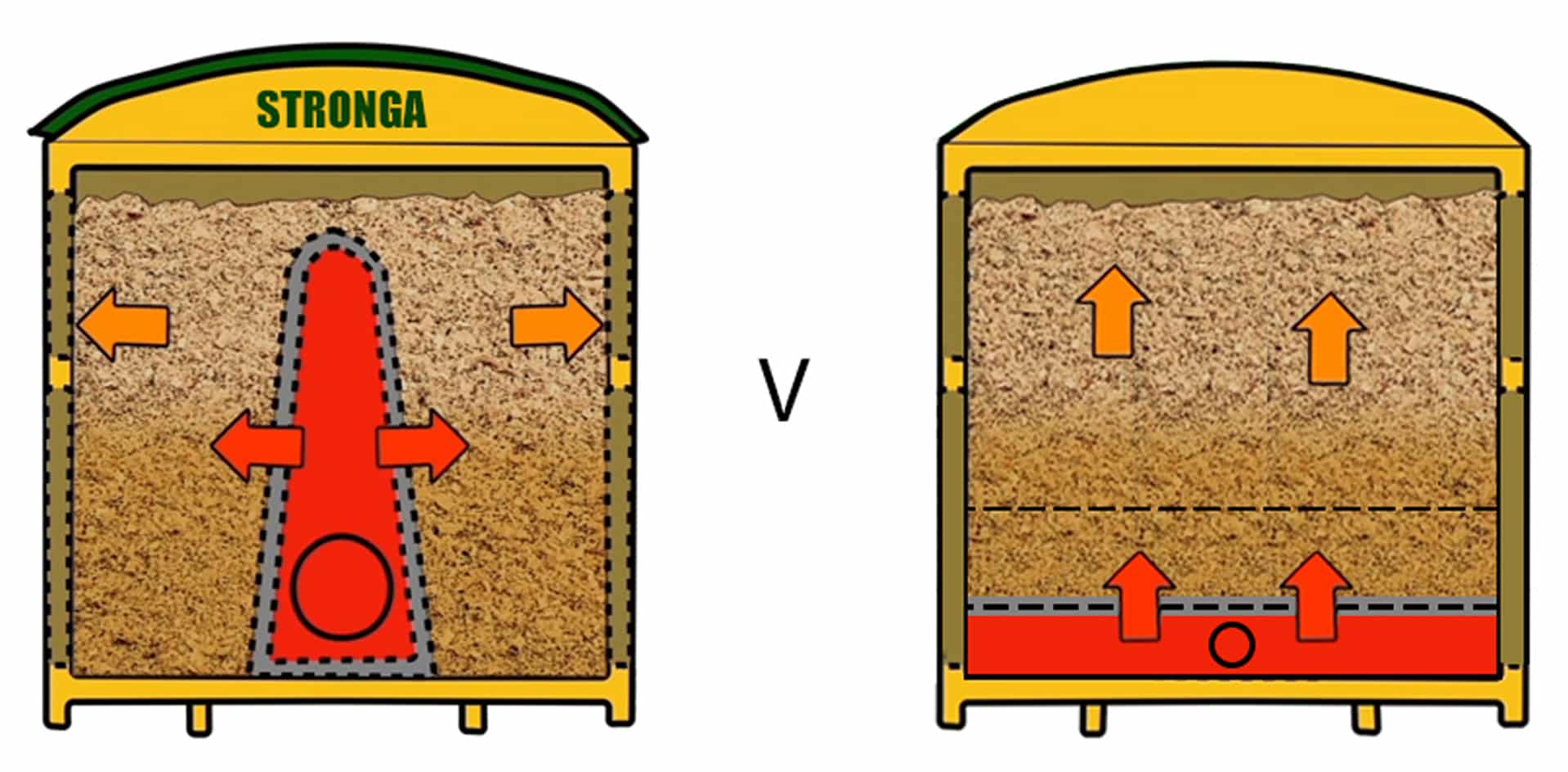 Facts, based on real data…
Horizontal airflow drying vs. Bottom-up drying
(1) For the same thermal input, Stronga Drying Stations deliver vastly improved evaporation compared to vertical container drying.
(2) Improved evaporation rate adds up over time, potentially more than 1500 litres of extra water per day, per unit.
(3) Stronga Drying Stations offer lower back pressure and higher air volume, lowering costs from better electrical energy efficiency.
(4) Drying Stations roughly deliver 35% increased drying capacity and more consistently uniform final moisture content.
To achieve these results – you need Stronga to advise on the whole Drying Station set-up.
Horizontal airflow drying
Delivering uniform final moisture content
Picture the possibilities
Flexibility & efficiency, combined
(1) Simultaneous batch drying. Stronga Drying Stations can be easily scaled-up to increase drying capacity. Multiple woodchip drying containers can be delivered direct from fuel source to Heatex.
(2) Collect, Dry & Deliver (CDD). Using HookLoada, users can collect wet material from source; deliver to the Drying Station; connect to Heatex; and deliver the final dry output to the end user.
(3) Future-proof Drying Stations. Volatile markets require flexible equipment that can quickly alternate between light biomass materials. Adapt to changing trends by drying wood chips and other low density products.
(4) Air-induced drying. Drying Stations transform smaller residual heat sources and waste materials into value while contributing to sustainability. Drying times vary depending on various factors.
(5) Space-saving solution. Compact, mobile, containerised solution with flexible layout. External design with roll sheet cover saves valuable space compared to on-floor drying systems which have to be inside.
The 'Whole' Drying Station
To achieve optimum drying performance, you need expert advice on the whole Drying Station from the world's leading manufacturer in biomass drying equipment.
(1) Contact Stronga to find out which materials are compatible with Drying Stations.
(2) Contact Stronga to understand the factors affecting estimated drying time.
(3) Contact Stronga to discuss drying air quality & distribution; this must be efficiently delivered for top results.
(4) Contact Stronga to discuss your whole set-up. The Heatex, HookLoada & HAF container arrangement is key to optimising drying efficiency.
Quality. Reliability. Robustness.
What sets Stronga apart?
Stronga hold a reputation for supplying quality, reliable, robust and effective batch drying containers.
Our friendly, communicable team deliver personalised solutions for each customer. We have clear product values of only building long life Drying Stations. We base our vision on long-term values, committing ourselves to continuous improvement while striving for high performance and innovation. Our goal is to build mutual trust throughout the whole process.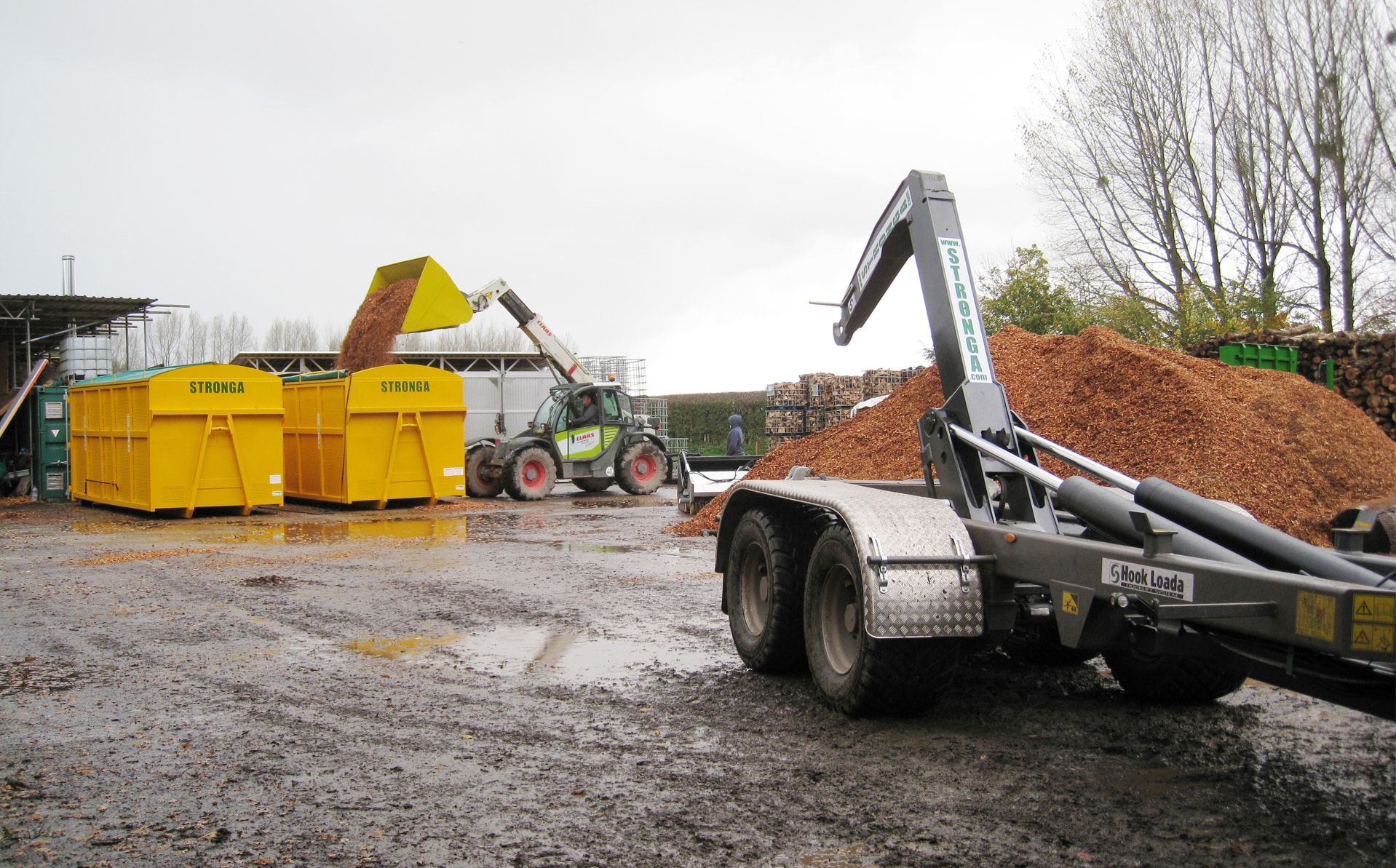 Стандартні специфікації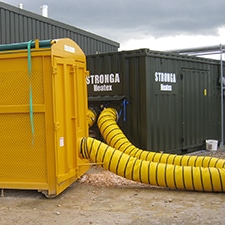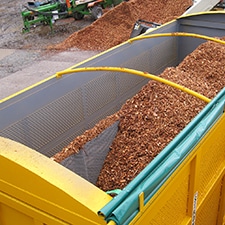 High capacity, horizontal airflow batch drying container*; designed for use alongside HookLoada and Heatex.
*Various capacities and standards available upon request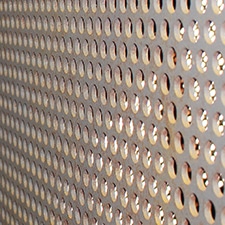 Central drying plenum* with air-balancing dampers. Drying air delivered into the centre of the material for minimal losses. Even distribution of drying air for uniformed dryness.
*Various plenum designs available depending on the material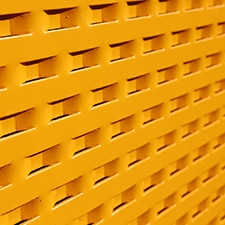 High grade, special slotted steel sides. High free air capacity; limits dust, holding even fine materials well.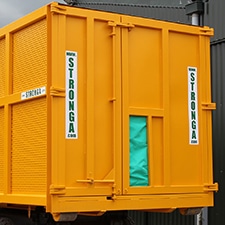 Central air duct for connection of air hoses. Insulated, high flow, flexible ducting with fast and secure connection.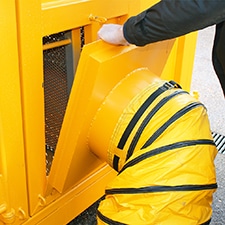 Off-set barn doors with handle (manual locking type). Easy cleaning access with simple, secure locking.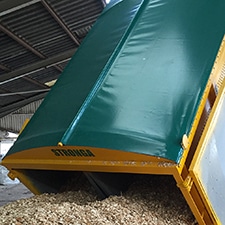 High grade polyurethane reinforced curved roof with metal frame to operate roll sheet from ground level. Fully modular batch drying container.
Додаткове обладнання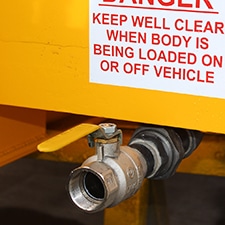 HAF-101
Drip tray with liquid release valve for drying packaging waste and other materials where collection of the leachate is required.
Each CDD Stronga Drying Station is custom-built to the customer's unique requirements. The datasheet below shows a typical Stronga HAF Drying Container.