Moving ahead
Towards net zero carbon
Heatex air handling units are currently helping businesses around the world make credible progress towards a zero carbon future. Our approach of thoughtfully considering win–win projects delivers optimum solutions for drying primary wastes and by-products into useful energy and high calorific fuel alternatives. Our green energy team seek exciting projects with the following positive outcomes:
Win for the environment ✔; Win for profit ✔; Win for your community ✔; Win for business ✔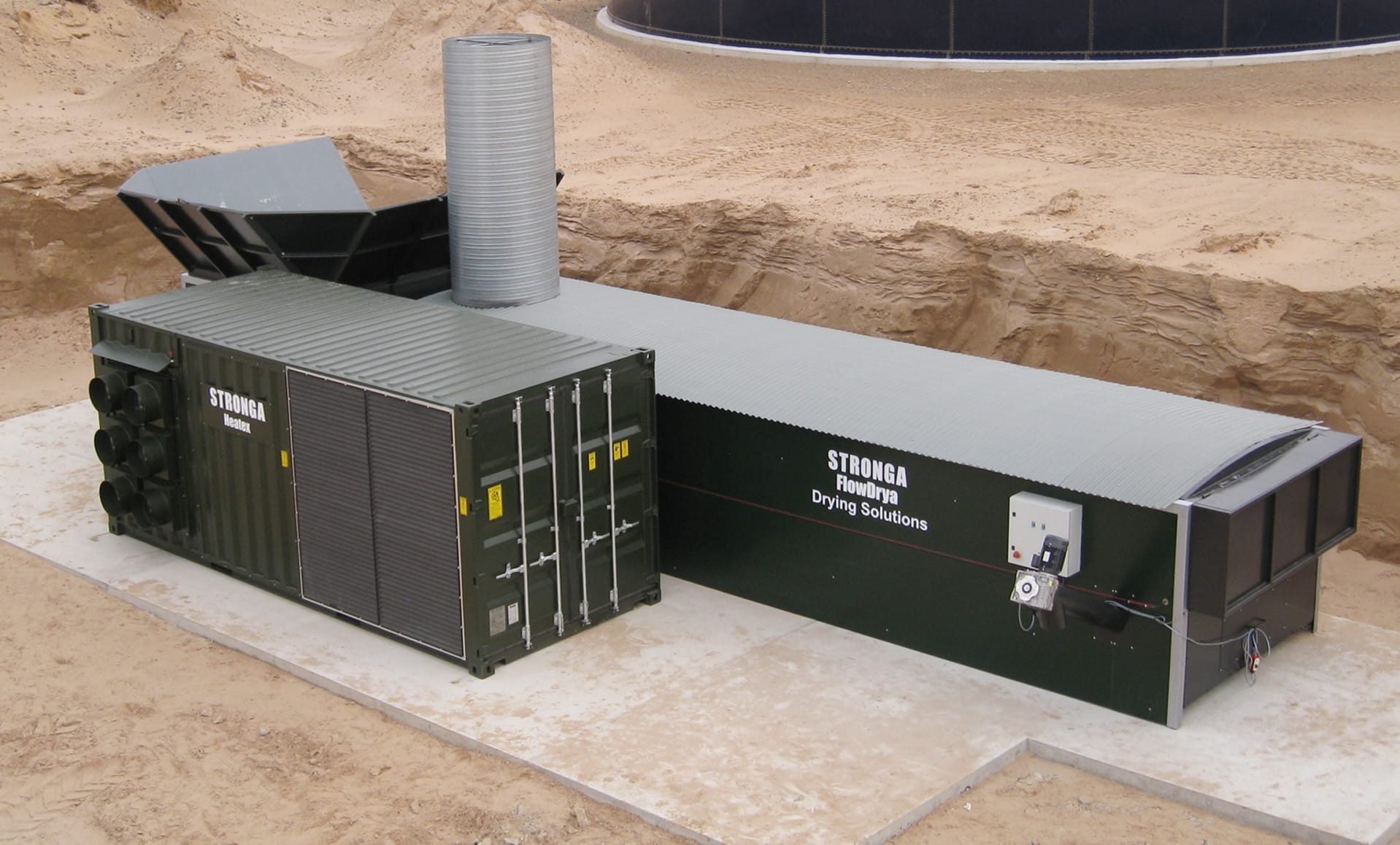 Thermally efficient heat exchange
Utilising residual & process heat
To begin with, Stronga analyse the key parameters of your preferred local heat source which can include residual and process heat availability. We design our thermally efficient heat exchange solutions with consideration to location and ambient conditions; this helps to deliver the correct-scale drying quality output air. High quality warm airflow can then be used to dry wet materials, bulk solids and by-products into added value products.
Invest in turnkey system for drying bulk solids and other wet materials; start your transition to resource efficiency and sustainable energy output.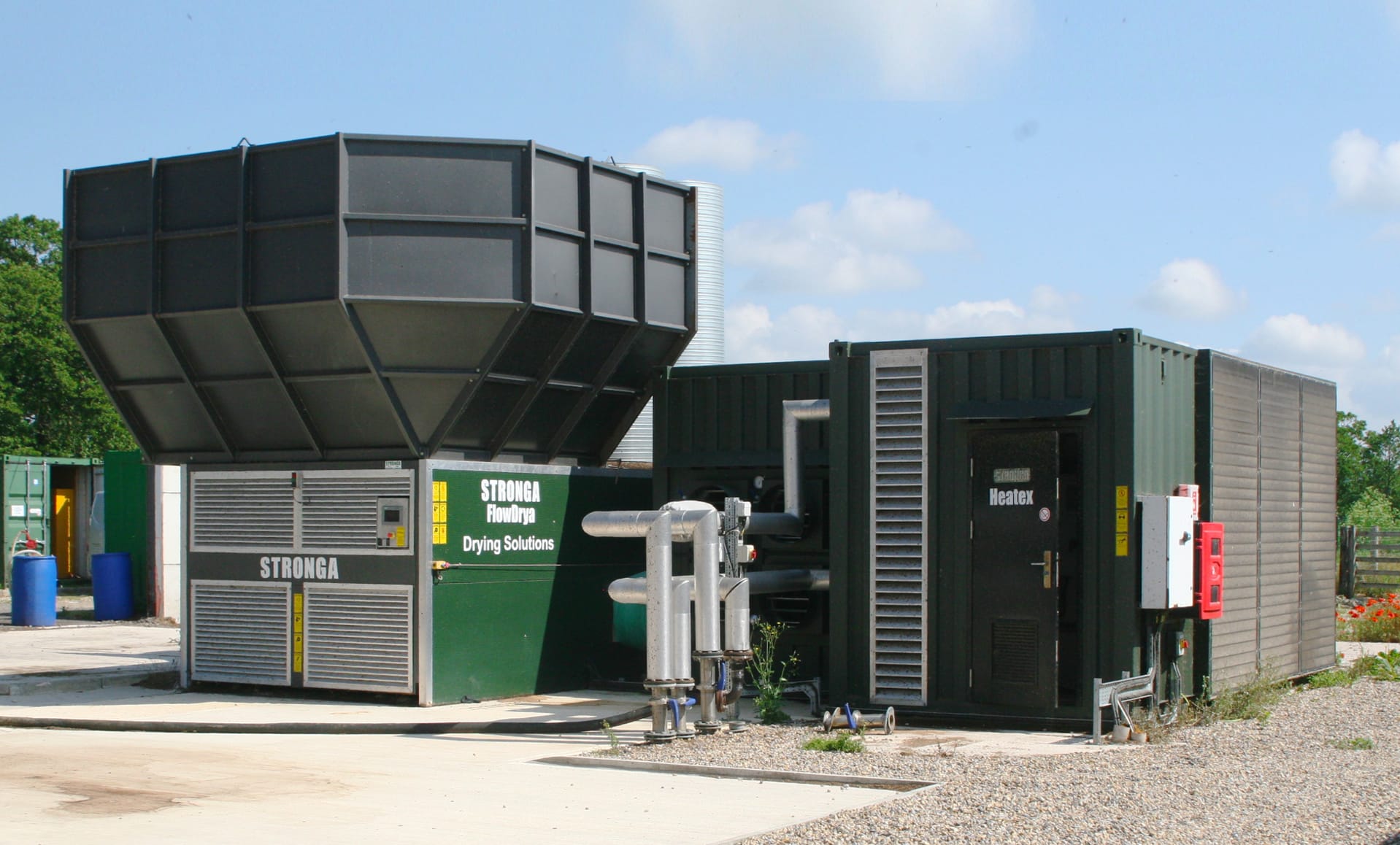 Intelligent. Modular. Scalable.
Stronga's intelligent, modular and scalable Heatex air handling units are individually configured on a project-by-project basis to optimise drying performance via optimal air temperature, airflow and pressure from residual or primary heat sources. Energy efficiency is considered from the start of the project to significant reduce ownership costs throughout the operational years.
Our high duty cycle Heatex air handling units are robust, reliable and well-proven across a wide range of intensive wet material drying applications.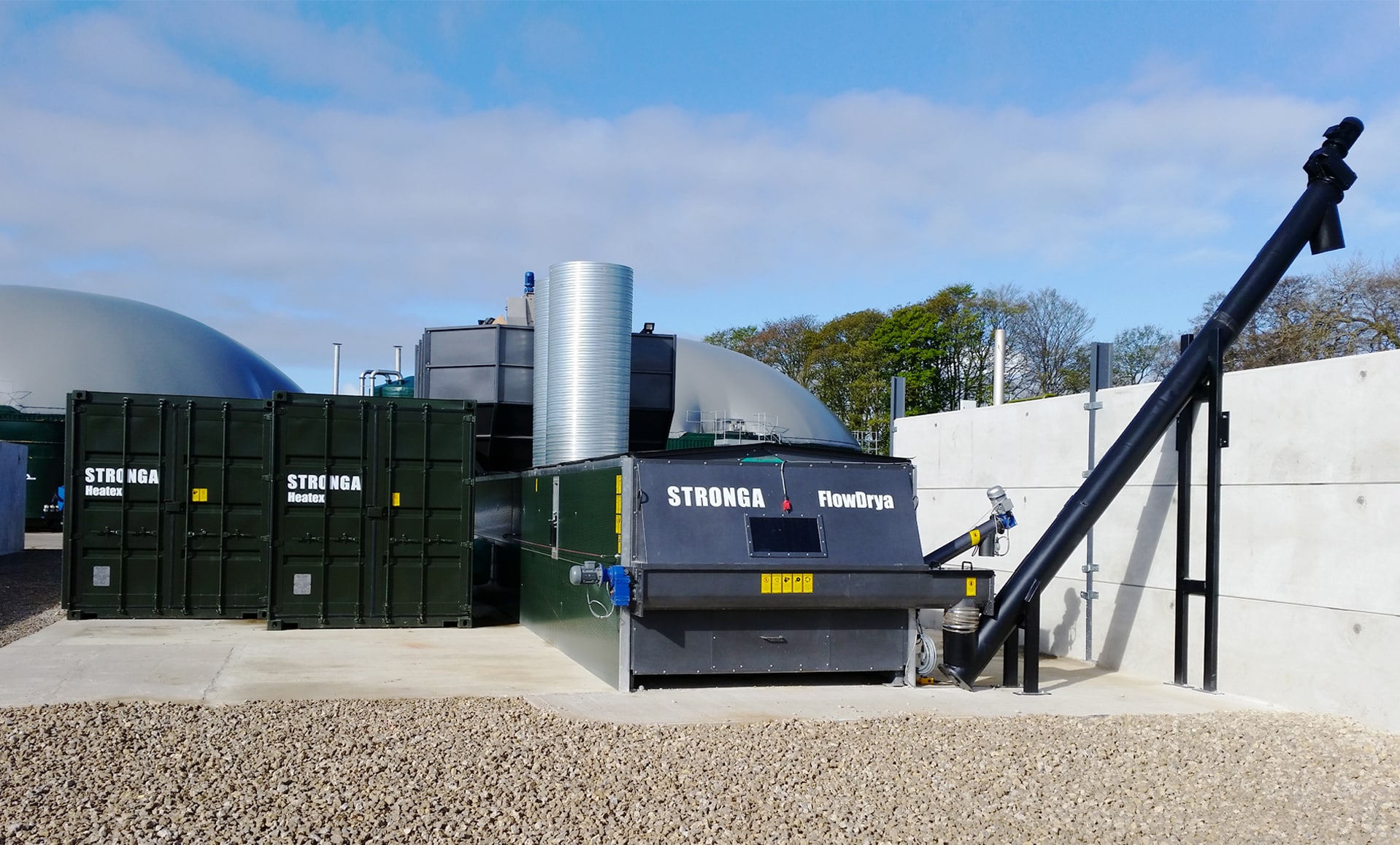 Affordable. Bespoke. Reliable.
Highly efficient. Extremely low electrical energy is required from Heatex's soft-start, direct-drive plug fans, offering the lowest kW-e (Kilowatt-electric) cost per kW of energy delivered. These savings really add up, often to hundreds of thousands of £/$/€, over a 10 year period.
Defining parameters. Stronga consider all the variable factors such as location, dryer scale, ambient conditions and available heat source, before designing a bespoke air handling unit. The tailor-made heat exchanger box optimises drying performance in the adjacent FlowDrya.
High duty cycle. Heatex is designed to run for high duty hours, every single year. Heatex air handling units have a proven track record with a large number of units currently working reliably in the market.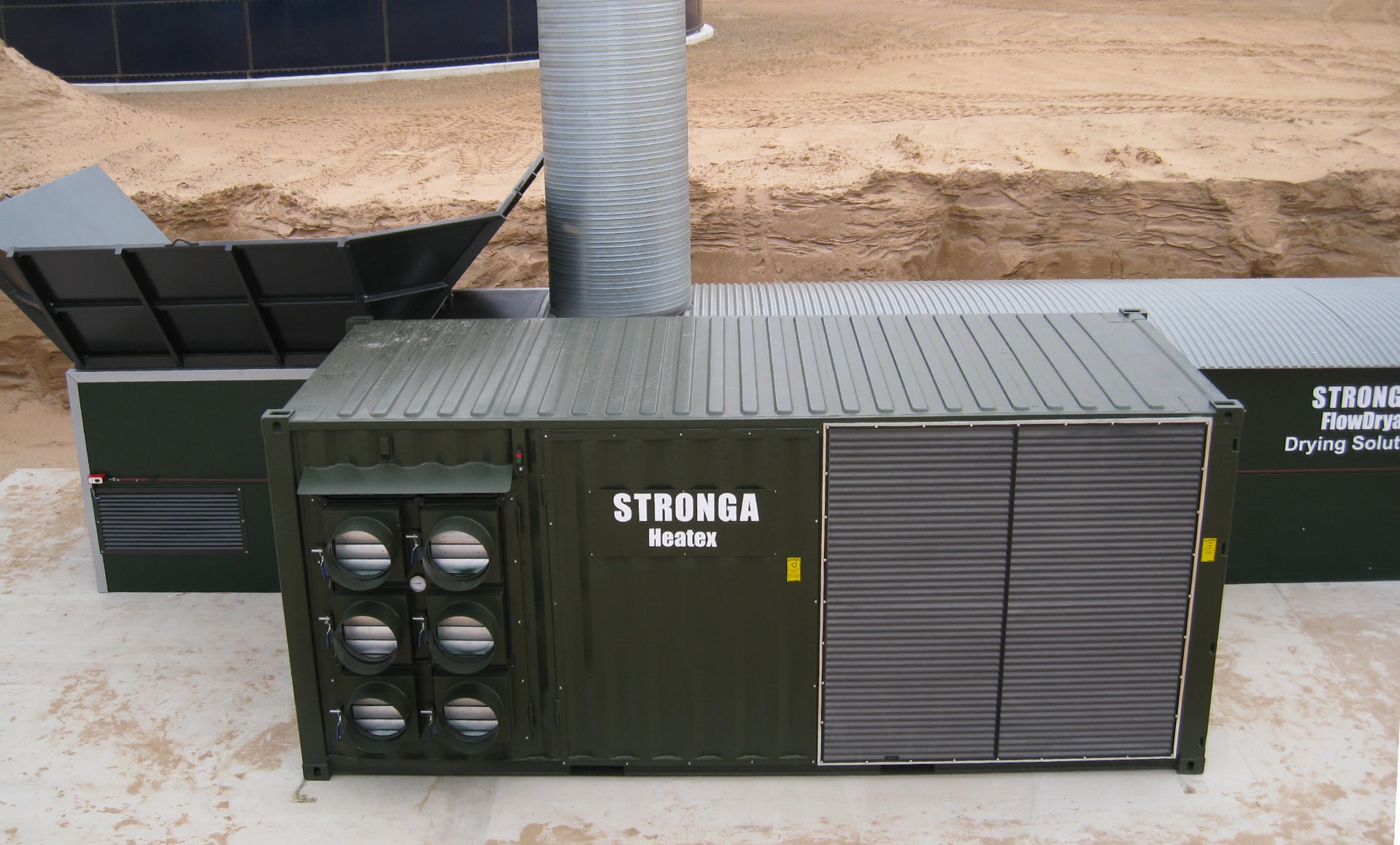 Primary & waste heat utilisation
Heatex is extremely flexible in its ability to accept various primary and waste heat sources, converting input heat into the best quality, thermal drying air. Heatex is specified to match your heat source and local climate, delivering integrated energy management from the following operations:
Pyrolysis ✔; Solar thermal ✔; Biomass boilers ✔; Biomass CHP stations ✔; Wood gasification units ✔; Biogas (Anaerobic Digestion plants) ✔; Organic Rankine Cycle (ORC) systems ✔; Waste to energy plants ✔; Cogeneration units of heat and power (CHP) ✔; Other forms of water-based thermal heat sources ✔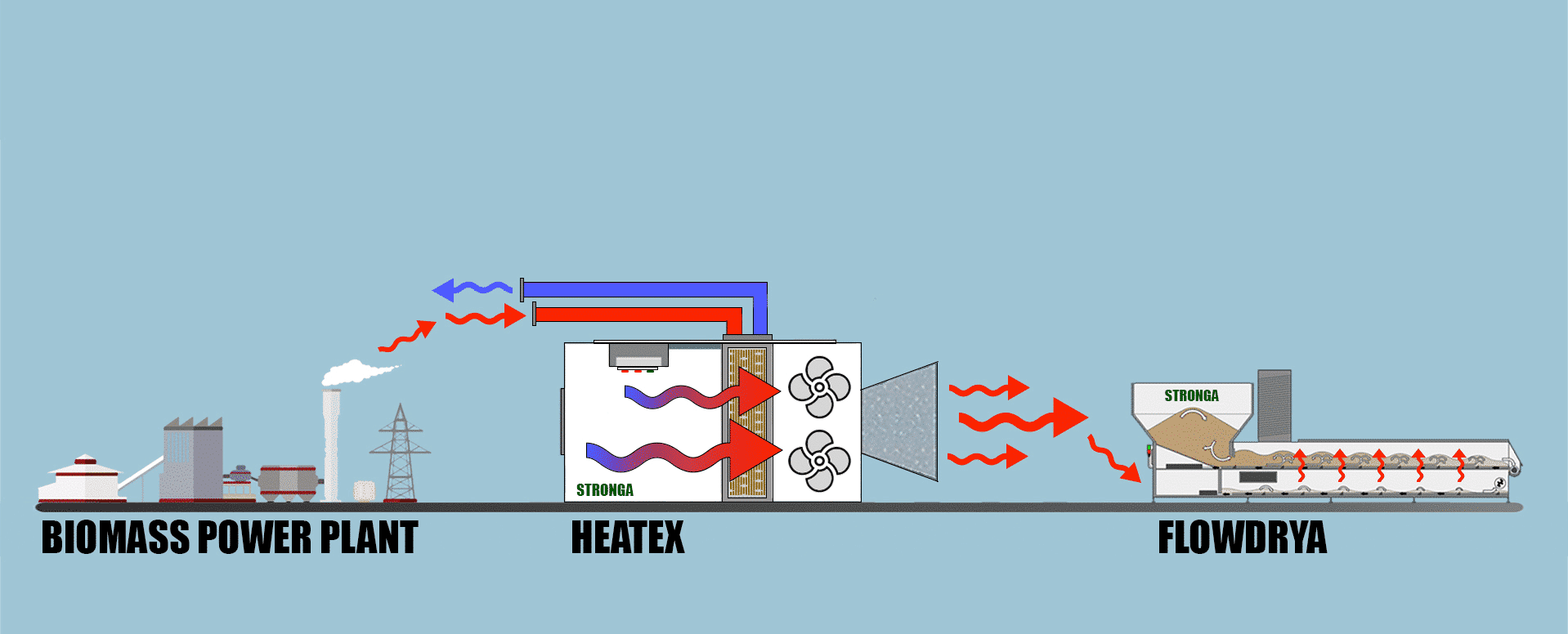 Tailor-made heat exchangers
Stronga specialise in the selection and manufacture of a wide range of highly reliable, tailor-made heat exchangers for wet material drying applications. Our experience to date includes drying grain, wood chips, digestate fibre, SRF, paper pulp, industrial hemp, bulk solids and more.
Stronga are able to confidently supply different type, indirect air heat exchangers depending on the client's requirements, including; Air to air heat exchangers ✔; Finned tube coil heat exchangers ✔; Gas to air heat exchangers ✔; Steam & water heating coils ✔; Wide finned coils for dusty environments ✔; & more ✔
Heatex can be configured to work alongside the continuous FlowDrya or our horizontal airflow drying containers.
Monetising by-products
From residues to revenues
There are numerous wet materials, by-products and bulk solids that can be dried for further processing, stabilisation and utilisation. In some situations, these can be super added-value processes:
Drying and stabilising industrial hemp for CBD oil extraction ✔; Drying wet waste wood into high calorific, dry fuel ✔; Drying and stabilising high value crops and feed-stuffs ✔; Drying paper pulp for use as valuable animal bedding ✔; Drying SRF into high calorific fuel, rather than sending it to landfill ✔; & more ✔
Control of drying quality air
Optimised temperature & airflow
Stronga pay close attention to the delivery of high quality drying air at the optimum air volume, pressure and temperature, considering the product and quality of dry output. Gentle drying means working with temperatures and airflow optimised for the product to be dried. Some materials require tight regulation of drying air temperature in order to protect delicate crops and oils while optimising drying efficiency. Stronga Heatex can be configured to cope with the varying properties of different wet materials.
Our aim at Stronga is to be able to ensure a high quality dry output of various wet materials and by-products.
Drying air available for:
FlowDrya & Drying Stations
Modern. Modular. Flexible.
Heatex is configured within modular, transportable, highly secure weatherproof housing. The integrated hot air plenum allows the owner to arrange the drying system in various layouts. Modular Heatex equipment offers the following benefits:
• Reduced requirement for housing & structural foundation ✔
• Reduced footprint required for installation with the ability to stack ✔
• External-mounting in weather-proof housing for convenient site positioning ✔
Effortless control
Heatex offers full control over drying air via the intelligent command and control panel. Automatic control of set points allows the operator to optimise air volume, air temperature and air pressure, all of which are vital to enhancing drying efficiency.
Integrated sensors constantly gather critical data; these set points can be adjusted to optimise air volume and energy efficiency. In a water-based situation, Heatex recognises the input water pressure and temperature to enable shutdown when energy isn't available.
Modular, compact & secure equipment
Integration with other process machinery
Volt-free contacts are available from the Heatex air handling unit for intelligent integration with other upstream process equipment such as; biomass boilers; biogas combined heat and power (CHP); or Organic Rankine Cycle (ORC) systems.
Optimum drying efficiency is only achieved when the operator is fully informed about air handling parameters. That's why data logging and real-time information is easily visible in the control room, allowing best decisions to be made to optimise drying performance.
Efficient air control
Heatex controls are well designed and robust, giving you outstanding drying efficiency by regulating according to desired requirements:
• Air-off temperature control as the optimising controlling parameter, setting up the best temperature profile for efficient drying of the material, including temperature-sensitive bulk solids.
• Return temperature control can be important for certain heat sources such as biogas engines and other CHP heat sources. Our hot water heating coils can be configured to accommodate set-point return temperatures where this is a required control parameter.
Bespoke air handling systems
Intelligent drying air
Semi-autonomous air control
Pressure differential control is another possible control parameter, avoiding unnecessary high fan revolution rates and thus saving electricity costs over time.
Intelligent air control allows variable ambient incoming air to be managed in ranging set point settings for fan output. Optional remote server access and data logging facilities can be included to your control set-up. Learn more about our hot water heating coil in the animation below.
Robust & reliable equipment
Designed for demanding markets
Highly reliable Heatex equipment is designed for the demanding energy market, offering a high duty cycle and reliable operation for over 8000 hours/year. Stronga heat exchangers are the outcome of years of experience and engineering. Bespoke designs optimise thermal efficiency and performance, offering great value in the form of lowest cost per tonne dried.
Market-leading plug fans
Modern & super-quiet
Integrated direct-drive plug fans deliver energy-efficient air handling with reduced energy consumption and low electricity load. Super-quiet plug fans have a leading blade design, offering easy maintenance and long life reliability with no belts. A soft-start inverter reduces component stress and electricity usage.
Benefits of plug fans over traditional centrifugal fans:
• Directly coupled, low-noise radial fans deliver continuous full face air distribution with minimal pressure loss;
• Low energy consumption and costs, resulting in shorter payback periods and increased efficiency;
• Energy savings of up to 30% per annum when compared to centrifugal fans;
• Low maintenance requirement and easy to service, when necessary.
Long operation life
High duty cycle heat exchangers
Highly efficient heating coil
Water-based energy sources
The highly energy-efficient deep core heat exchanger with full face airflow uniformly warms ambient air as it passes from fin-to-fin to meet the specified, programmable drying temperature.
Stronga heating coils can be easily accessed for service and maintenance via the fully rubber-sealed fan chamber door. Access doors are fitted with automatic shutdown sensors, guaranteeing full safety from moving parts at all times. Operation status is transmitted via the easily visible Andon visual indicator.
Our design philosophy
Stronga technical team interrogate the requirements of each project carefully. We help clients to define clear energy parameters including delta T and return water temperatures which are often critical to ancillary equipment (e.g. CHP engine).
Our experts at integration are mindful of the whole scheme, considering the drying air quality, airflow through the material, air pressure and air speed, all designed to optimise drying from the energy available. Feel free to contact our technical team today to discuss your drying project.
Heatex is a modular, individualised air handling unit, tailor-made on a project-by-project basis depending on a wide range of client-defined variables. Please enquire using the form below to discuss a suitably-scaled heat exchanger for your net zero carbon project.