FlowFeeda equipment
Feeding boilers, pyrolysis, gasifiers & biogas plants
FlowFeeda is a modular, versatile, highly reliable feed system designed for delivering a constant supply of fuel for onward processing in gasifiers, pyrolysis plants, biomass boilers, and dosing in AD biogas plants. Factory-built and tested FlowFeeda equipment is always delivered on-time and budget, offering excellent economic results for energy producers.
Get in touch with Stronga today to discuss your fuel feeding or dosing project.
Affordable feed systems
Low purchase cost. FlowFeeda offers a significantly lower capital investment when compared to fixed, shed-based feed systems.
Low labour costs. The powerful combination of high capacity storage with on-demand feeding minimises expensive labour costs.
Low maintenance & ownership costs. Customers enjoy extremely low ownership costs from robust, reliable, wear-resistant feed equipment.
Low energy usage. Energy reduction with low power consumption. Low electrical energy requirement from soft-start system. Lowest kilowatt-electric cost per ton handled.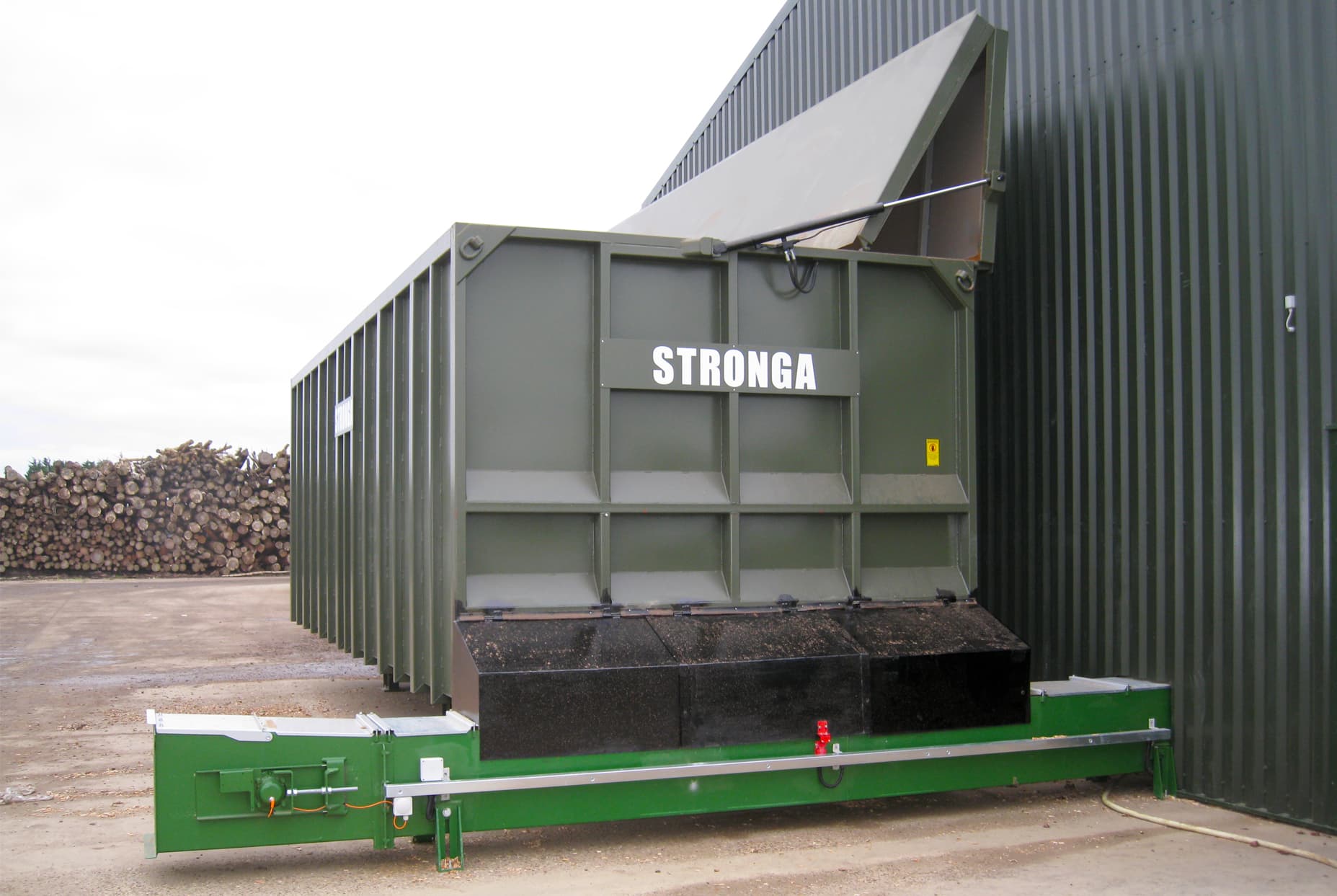 Designed simplicity
Designed simplicity. Robust, well-proven, dual moving floors with no belts, chains, sprockets and very few moving parts. With simplicity comes reliability and with reliability comes low service and low ownership costs.
Proven to work. FlowFeeda has logged thousands of hours and demonstrated safe and effective operation at all times of year and all temperatures. Stronga feed equipment is proven to deal with the inherent non-uniform characteristics of your material.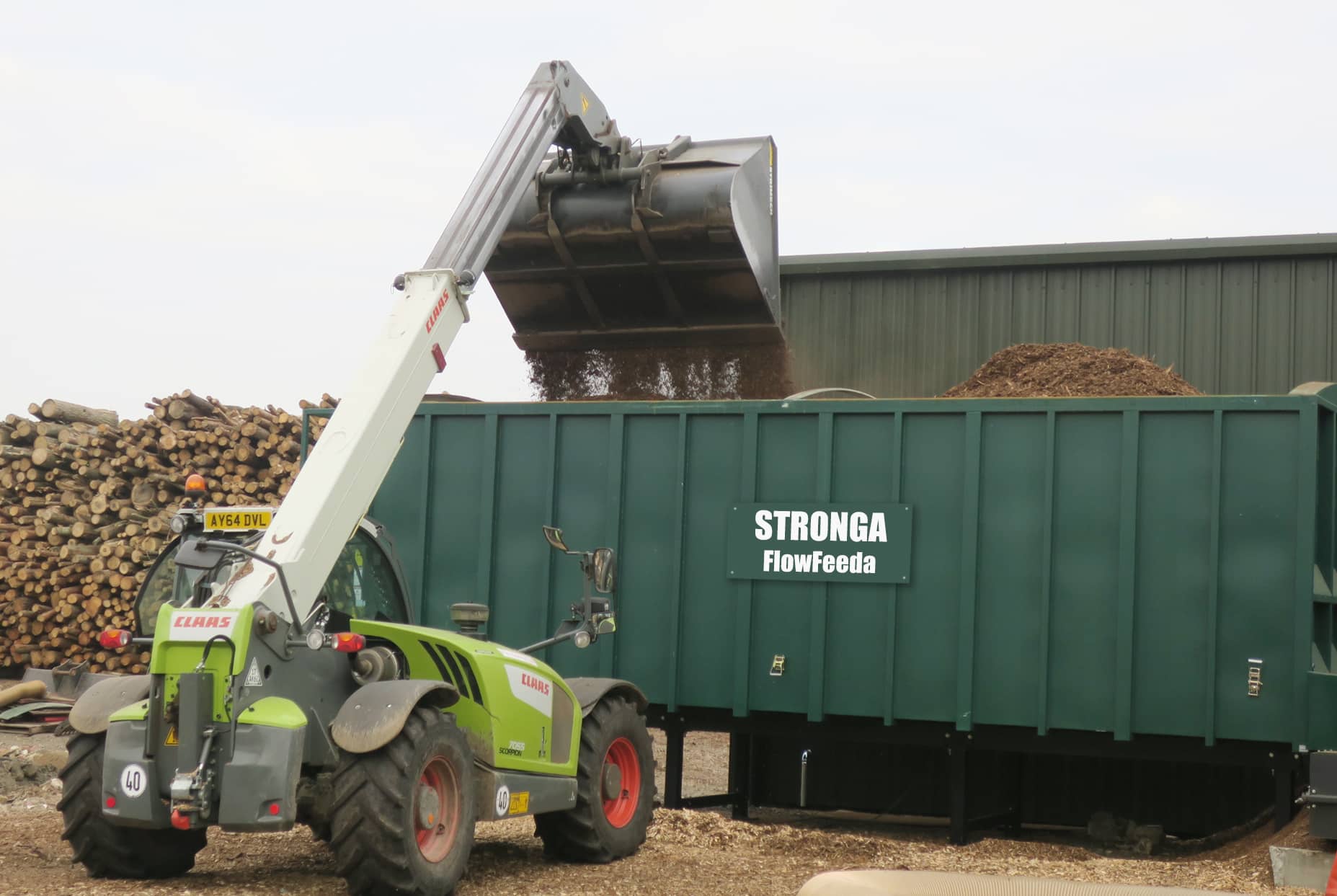 Versatile & adaptable
Versatile & adaptable. Multi-purpose dosing and feeding equipment from Stronga is designed for the slow-moving delivery of wet or dry feed-stocks for onward processing. These feed-stocks include, but are not limited to, biomass, energy crops, alternative fuels and much more.
Modular & scalable. The modular and compact design of FlowFeeda is available with a range of configuration options. Bespoke feed systems from Stronga accommodate different layouts and storage capacities with varied throughput.
Controllable capacity
High capacity, plug-and-play fuel drawing systems from Stronga are arranged to maximise timing intervals between refilling. Stronga specialise in building bespoke, optimised dosing systems designed for your required capacity. Modular walking floor systems can be scaled-up to increase capacities further with easy loading via various roof arrangements.
Success by controlling
The level of controls on the FlowFeeda range from fully automatic, self-feeding to a stand-alone system, controlled externally. FlowFeeda is designed for highly varied throughput from very low hourly output to significant, extra high fuel delivery. Integrated self-protection features include thermal protection for the oil and time out protection. Watch the tutorial video below to learn more.
Fuel, on-demand
Overall benefits of FlowFeeda
• External weather-proof design, saving valuable internal space.
• Scalable, custom-built capacity to suit your feeding requirements.
• Energy-efficient - low operating hours, even in high duty situations.
• No planning permission / building regulations required (most cases).
• Deals with inherent non-uniform, non-free flowing, fuel characteristics.
• Low capital investment with minimal ownership and maintenance costs.
• Factory-tested, quality-built fuel reception system with Stronga warranty.
• Fully integrated, plug and play system; connect the electrics and go to work.
• Compact, mobile containerised solution located close to point of fuel delivery.
• Deals with many wet or dry feedstocks – alternative fuels, biomass, energy crops.
• Fast on-site procurement; avoid the cost, hassle & uncertainty of in-shed feed systems.
Стандартні специфікації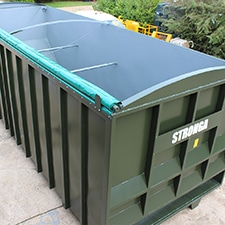 60-80m³* fuel storage, reception and feeding system. ISO standard versions available for international shipping.
* Other capacities and layouts available on request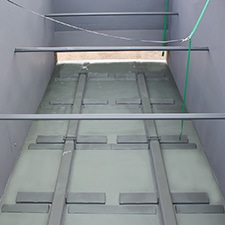 Full length independent moving floors (hydraulically operated); handling even non-free flowing bulk solids. Designed in redundancy with twin bed duality.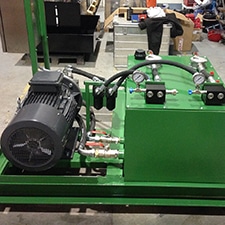 Integrated 3-phase electro-hydraulic power pump with oil reservoir; complete with oil tank, cooling system, electric solenoid valves and proximity sensors.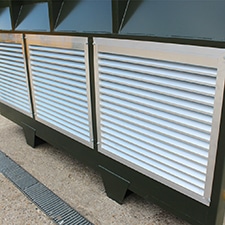 Aluminium air intake cooling louvres. High airflow for natural cooling of the controls and hydraulic equipment.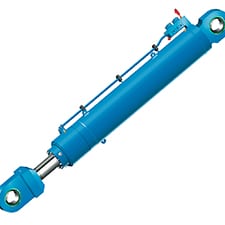 Powerful, double-acting, floor-operating hydraulic cylinders.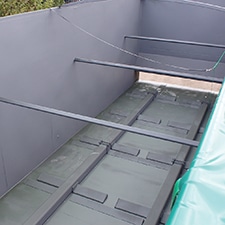 Cross-bracing structural support bars; well-braced, compact, monocoque structure. Easily moveable between sites.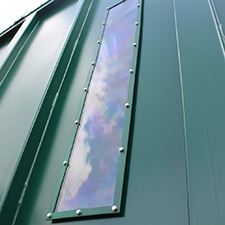 Full height material sight gauges.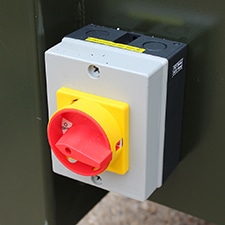 Electrical intake isolation point. Easy external connection of electrical supply and safe power isolation.
Додаткове обладнання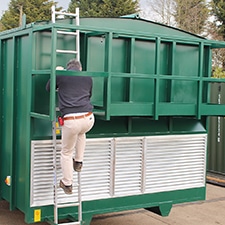 FFL-101
Step ladder and access platform with self-closing gate and padlock.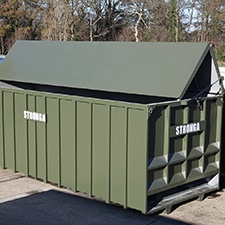 FFL-102
Hydraulic folding roof with hand or hydraulic* pump operation; complete independent hydraulic circuit.
*Optional 240V electro-hydraulic pump, complete with open / close control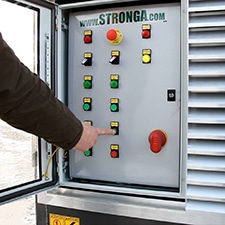 FFL-103
Smart controls* with manual & automatic modes. Volt-free signals for on-demand feed. Complete with thermal self-protection.
*Available to the client's specification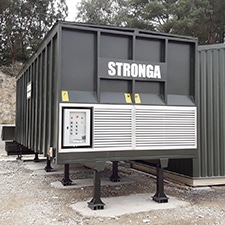 FFL-104
Legs of various heights available, bolted on to the underside of the chassis. Optimised discharge height for augers and conveyors.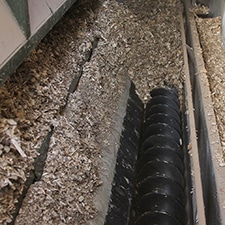 FFL-105
High capacity cross feed trough auger with shaped in-feed housing to prevent material flooding.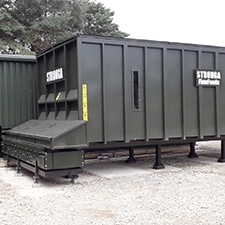 FFL-106
Client-supplied cross conveyor; integrated weatherproof enclosure.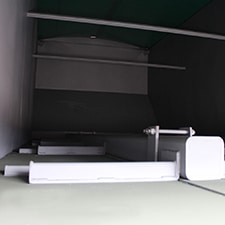 FFL-107
Anti-corrosion stainless steel lining, inside FlowFeeda.
*Other polymer coatings available on request
| MODEL | FF60 | FF80 | FF ISO*** |
| --- | --- | --- | --- |
| Gross weight* | 5500kg | 8500kg | 9500kg |
| Overall length | 8500mm | 10865mm | 12200mm |
| Overall width | 3120mm | 3120mm | 2440mm |
| Overall height (excluding legs) | 2800mm | 2800mm | 2900mm |
| Loading capacity** | 60m³ | 80m³ | 76m³ |
| Floor rear feed aperture height | To suit clients requirements | To suit clients requirements | To suit clients requirements |
| 3 phase electro-hydraulic power unit | Standard | Standard | Standard |
| Proximity switches for floor control | 24V or 240V | 24V or 240V | 24V or 240V |
| Floor speed flow valve | Standard | Standard | Standard |
| Sight gauges | Standard | Standard | Standard |
| E-stop safety shutdown | Standard | Standard | Standard |
| Electrical intake isolation point | Standard | Standard | Standard |
*Depending on equipment fitted.
**Loading capacity depends on the bulk density of the material.
***Other FF ISO capacities available. Contact us for more information.
All weights and measurements are subject to specification and regional laws. As we are continually improving our products, technical details, masses and measurements are given as reference values only.
Please note – Datasheet below showing FF60 model is for illustrative purposes only. Each FlowFeeda is custom-built to the unique requirements of the client.