Maximise your efficiency and profits
Enjoy new levels of productivity
Stronga hook lift truck equipment delivers new levels of efficiency and productivity for your fleet of single-purpose trucks. Ease of operation, strength and speed all translate into an invaluable asset for your logistics business. The versatility and reliability of TruckLoada equipment will revolutionise your transport operation. Contact Stronga today to get yours on order.
Dedicated to the finest hook lift hoists
Unparalleled experience in hook lift equipment
Stronga remain dedicated to manufacturing the finest hoists available in the hook lift truck market. We focus on manufacturing low maintenance hook lift equipment by using state-of-the-art technology to deliver optimum efficiency and performance. Our unparalleled experience in hook lift equipment gives us the competitive advantage to provide solutions which last a lifetime, and more.
Back up. Pick up. Go.
Hook lift truck equipment is designed to pick up, tip, transport and unload hook containers; enabling better productivity for your transport business. Durability and long service life are achieved using Hardox wear plate in high stress area of the design; this allows you to be confident that you have made a sound, long life investment.
Gain more
Extend the use of your single-purpose truck
Invest in Stronga
Class-leading truck hook lift equipment
Real-life experience. Proven to work.
"Elme Transportas" - Lithuania
"Elme Transportas" in Lithuania use Mercedes Benz trucks with Stronga hook lift truck equipment to load and unload containers, every single day. The Managing Director of Elme Transportas, Tomas Lileikis, told us...
"Stronga's hook lift truck equipment is simple, easy to use and requires very little service. When loading containers we have noticed that Stronga's hook lift equipment can lift more than the 21 tonnes stated. We have sometimes lifted more than 28 tonnes at once."
Drivers for Elme Transportas are extremely happy with the remote control system because they are handling multiple containers throughout the day. The driver gets out of the truck cab to check how the hook lift container is unloading or tipping, enabling better safety, precision and cycle-time efficiency.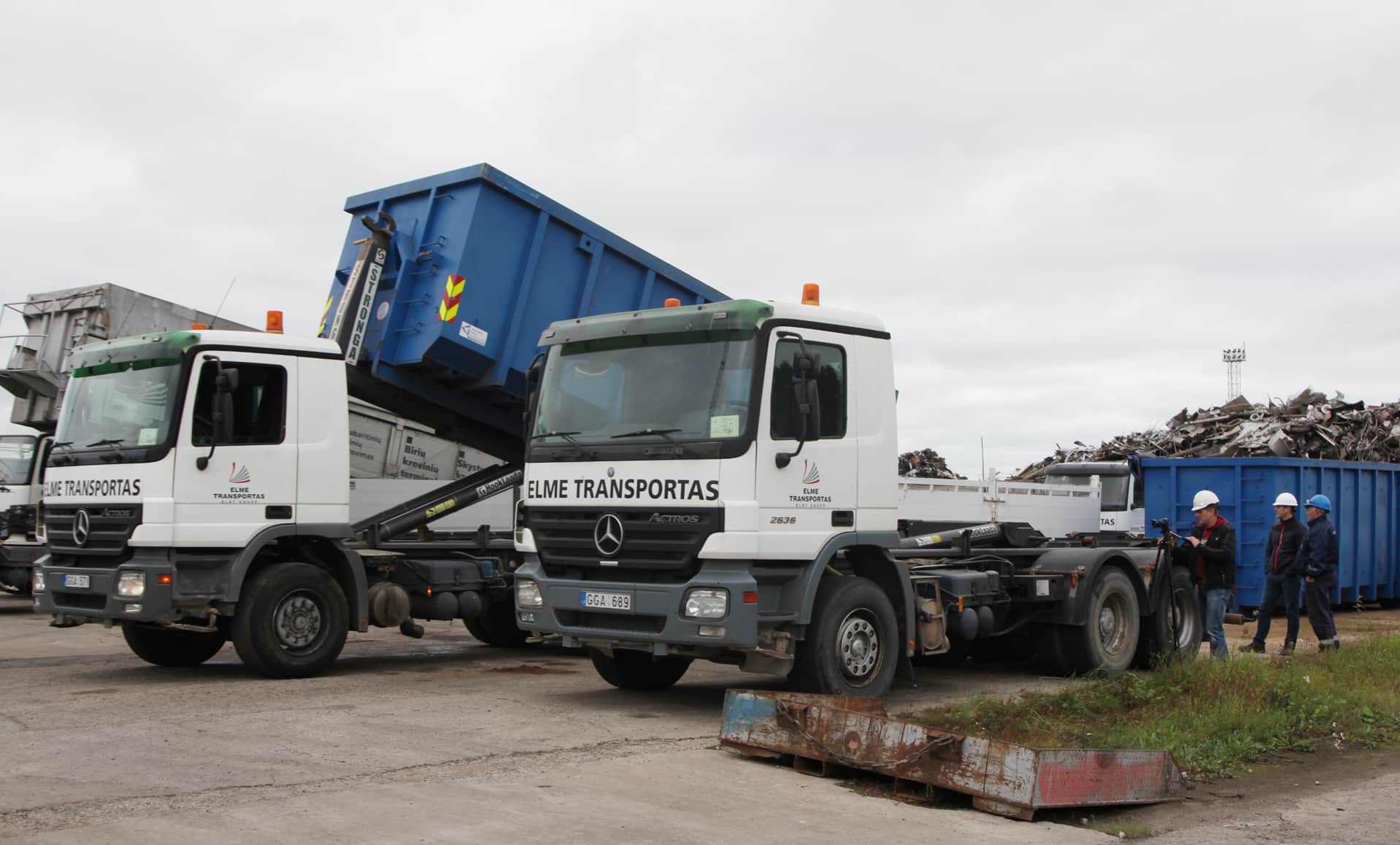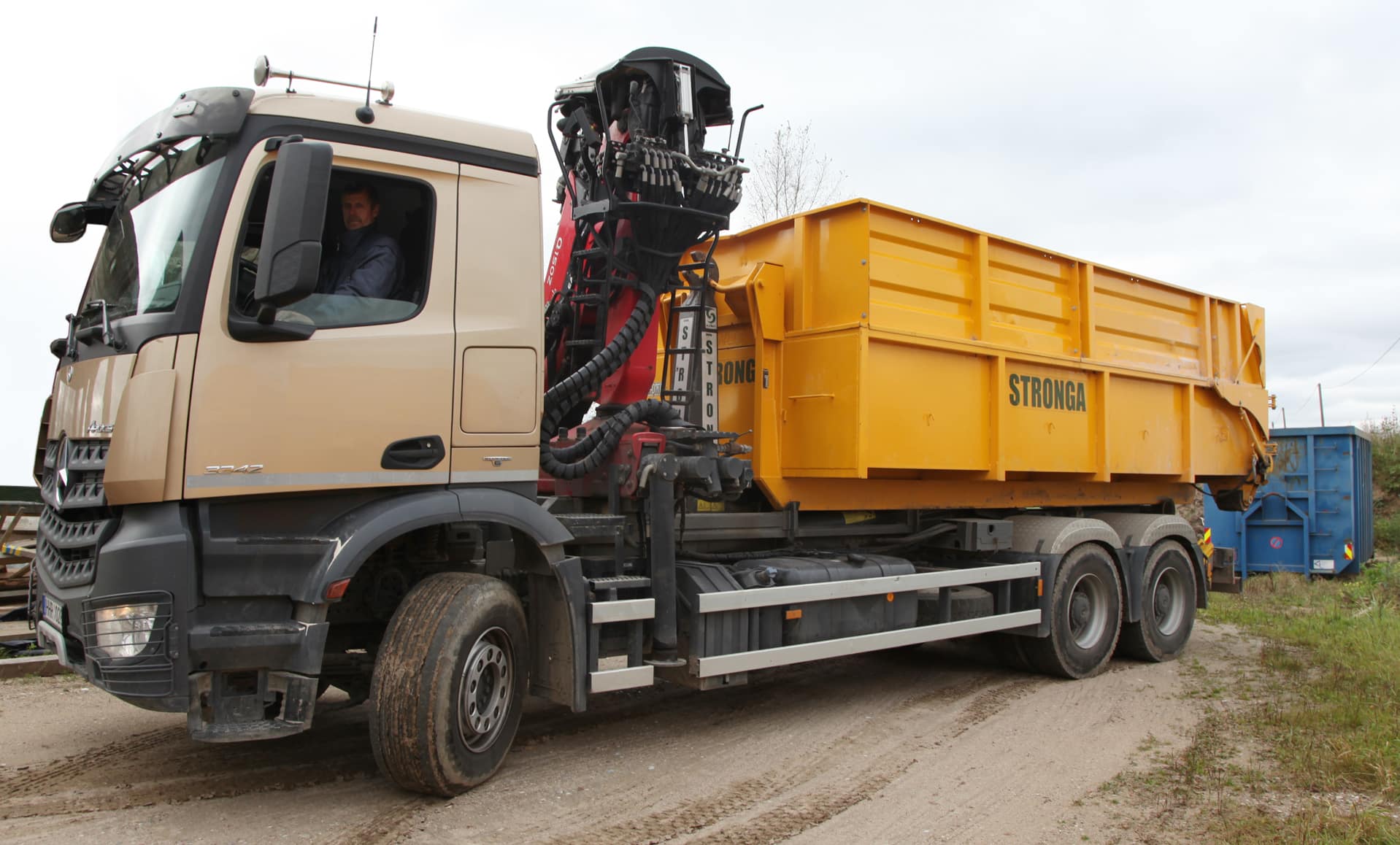 Hook lift truck quality as standard
One of the reasons UAB Elme Transportas decided to choose Stronga for their truck hook lift needs was because hydraulic container locking was in the standard specification. Elme Transportas use numerous container types so a mechanical lock system wasn't sufficient for their needs. Hydraulic lock equipment guarantees that any type of hook lift container is properly secured at all times.
Hook lift truck equipment series
Technical details
| Model | TL210 |
| --- | --- |
| Вага власної тари | ca. 2500kg |
| Максимальне навантаження на гачок | 21000kg |
| Максимальне навантаження на перекидання | 21000kg |
| Гакова вежа | Telescopic |
| Хід гака | 1200mm |
| Колір | Stronga metallic grey |
| Tipping Angle | 52° |
| Container Length | 4600-6900mm (optimum length is 6650mm) |
| Стандарт | C.D. |
C.D. = Country Dependent
All weights and measurements are subject to hook lift truck equipment specification and regional laws. Specification, weights and payload may vary on fast tow models. As we are continually improving our products, technical details, masses and measurements are given as reference values only.