The BL24-18 root crop trailer is built using the same monocoque design as BL20-16, but with a 1m+ longer body and slightly higher sides, it gives you 20% more transport capacity. The extra 4m³ of root crop storage really adds up throughout harvest, saving you money on labour and fuel. Despite the extra capacity, BL24-18 comes with a similarly great low loading height as BL20-16, avoiding any undue damage to your valuable crop.
Leek, potato, celery & more…
The BL24-18 trailer is a simple but strong machine for vegetable transport up to 24m³. The universal design is suitable for transporting various vegetables such as leek, potatoes, celery, carrots, red beet and much more. Your high value crop is gently collected inside the specially-curved, low-sided body.
6 key features of BL24-18:
(1) SmoothSida™ one piece sides – no weld seams ensure your crop is fully protected from bruising or scuffing.
(2) Michelin Cargo XBIB 600/55 R22,5 floatation tyres – low rolling resistance with minimal ground pressure.
(3) High visibility loading window with reinforced bars – optimising capacity while minimising losses.
(4) Big block rubber damper - super shock absorption of the potato trailer for a smooth ride.
(5) Hydraulically lifting and folding leg - optimum clearance under the drawbar.
(6) High strength square beam axle with high capacity 32t suspension.
Unequalled build quality
Renowned for build quality surpassing similar machines in the market, the robust and reliable BL24-18 model delivers lowest maintenance costs over its impressive lifetime. Discover the features of this modern root crop trailer in the video below.
Standard Specifications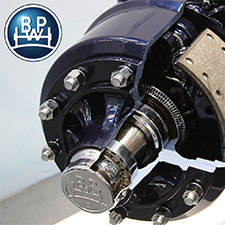 BPW auto-centring free steering rear axle, 420x180 brake axles, 150x150 - 16mm square beam, 10 stud, 2150mm track. Free steering forwards and positive steering in reverse.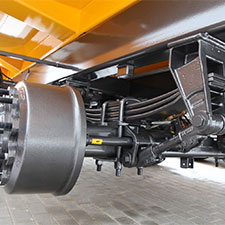 32t parabolic sprung suspension.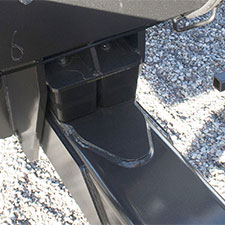 Shockproof rubber-mount drawbar.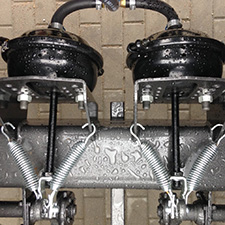 WABCO air brakes on all wheels (excl. Load Sensing Valve).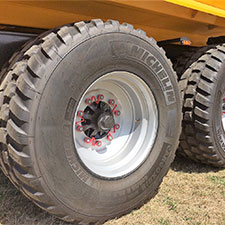 600/55 R22,5 Michelin Cargo XBIB radial tyres. 10 stud heavy-duty wheels.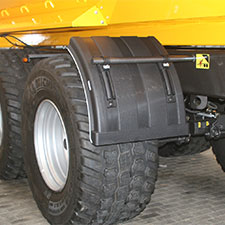 Hard plastic quarter mudguards, front and rear.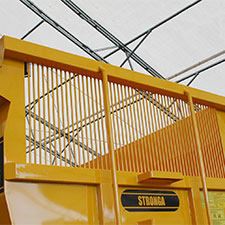 Large front viewing window.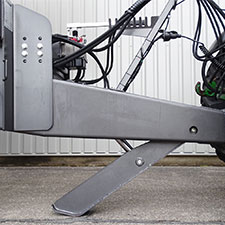 Hydraulic support leg with hand pump.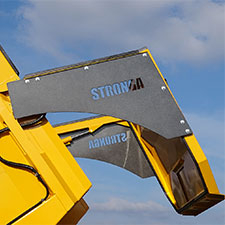 Hydraulic rear door with safety valves.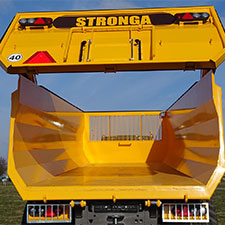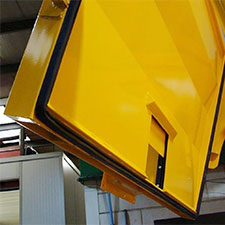 Rubber seal between door and body.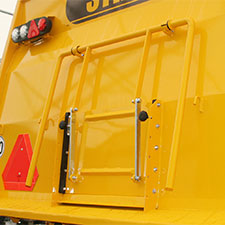 Large PolyGlider™ grain chute with easy opening and closing motion.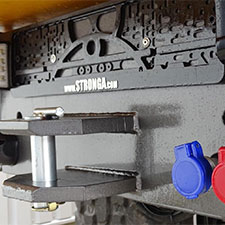 Rear towing eyelet – STR type.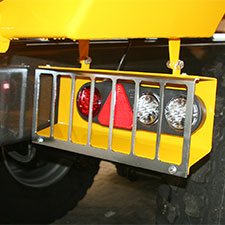 12 V electric system. Sealed loom. All lights super-bright LED.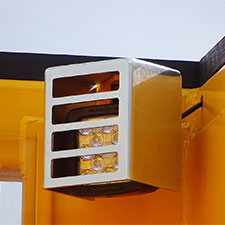 LED working lights inside the body.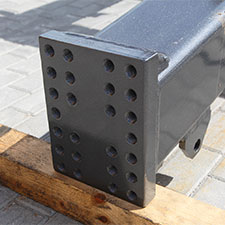 3 position plate for bolting towing eyelet.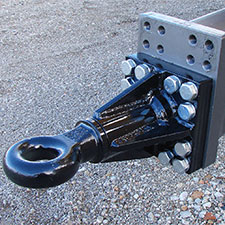 Swivel towing hitch. STR type. 50mm diameter eyelet.
Optional Equipment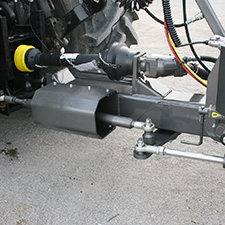 STR-213
Hydraulic steering system.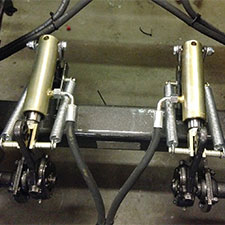 STR-300
Hydraulic brakes on all wheels.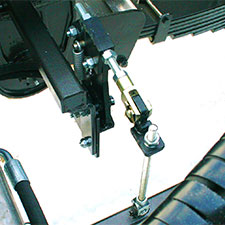 STR-302
Load sensing for hydraulic brakes.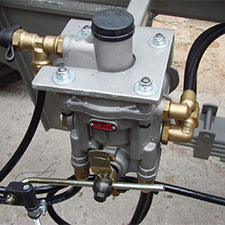 STR-304
Load Sensing Valve (LSV) for air brakes.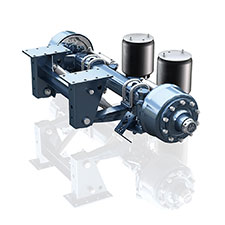 STR-409
Air suspension with height controlling valve (AirLoada™ comes as standard when you buy STR-409).
Watch video >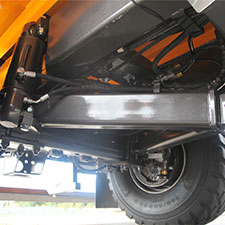 STR-410
Hydraulic suspension for optimum axle travel.
Watch video >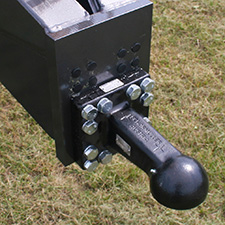 STR-505

Bolted-on ball towing hitch, Scharmuller type, 80mm diameter.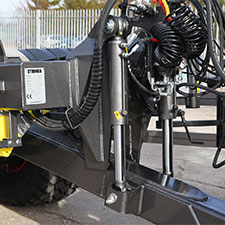 STR-508
Hydraulic drawbar for easy levelling and high comfort.
Watch video >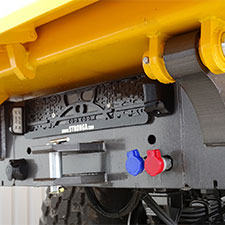 STR-700
Auxiliary hydraulic connections with changeover valve at the rear of the trailer.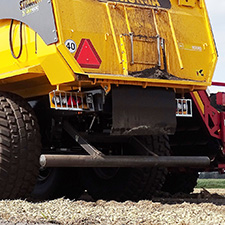 STR-716
Hydraulic folding rear bumper.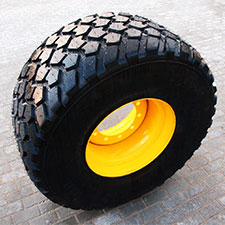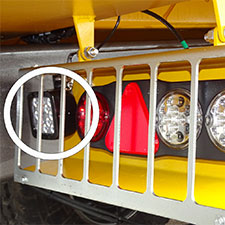 STR-1038
LED rear working lights.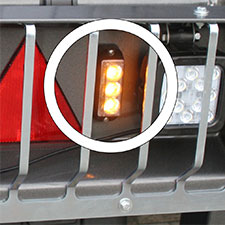 STR-1039
LED rear flashing light.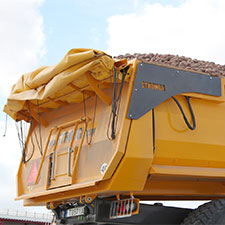 STR-1047
Roll sheet cover rack.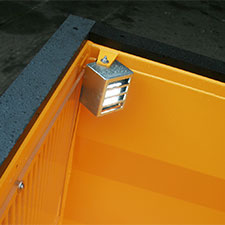 STR-1048
Special, ultra-tough plastic lining the top of the body.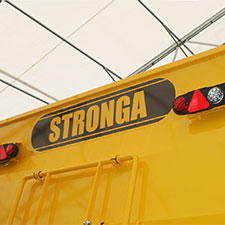 STR-1049
LED lights at the top of the rear door.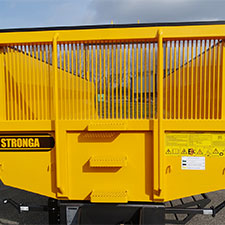 STR-1050
Plexiglass viewing window.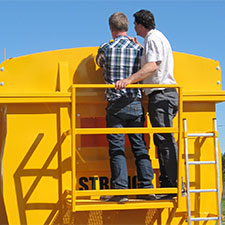 STR-1052
Safety access platform.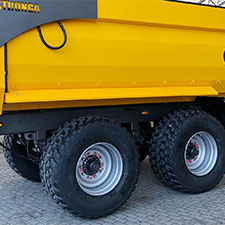 STR-1053
2750mm wide metal mudguards.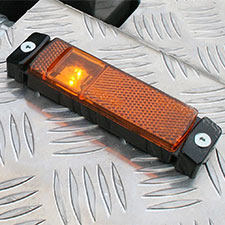 STR-1054
Signal light at the front of the frame so you can see when your steering system is in the middle.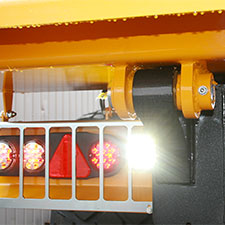 STR-1055
Working lights automatically switch on automatically during body tipping.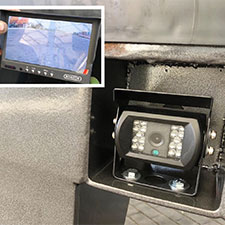 STR-1056
Rear real-time video camera with screen display.
| Model | BL24-18 |
| --- | --- |
| Gross weight | 24000kg |
| Tare weight | ca. 6000kg |
| Maximum Payload | 18000kg |
| Drawbar load | 3500kg (4000kg*) |
| Standard transport capacity | 24m³ |
| Oil requirement | 40 litres |
| Minimum draft requirement | 120HP |
| Hitch height | 510-550-590mm |
| Bottom steel type | Hardox 450 |
| Body height inside | 1400mm |
| Body length inside | 7520mm |
| Total length | 9570mm |
| Total height | 3030mm |
| Maximum width (standard wheels) | 2550mm |
| Standard wheels | 600/55 R26,5 |
| Colour | Yellow |
| Speed | 40km/h |
| Suspension capacity | 32000kg (Parabolic sprung) |
All weights and measurements are subject to potato trailer specification and regional laws. Specification, weights and payload may vary on fast tow models. As we are continually improving our products, technical details, masses and measurements are given as reference values only.